DEV LOG 2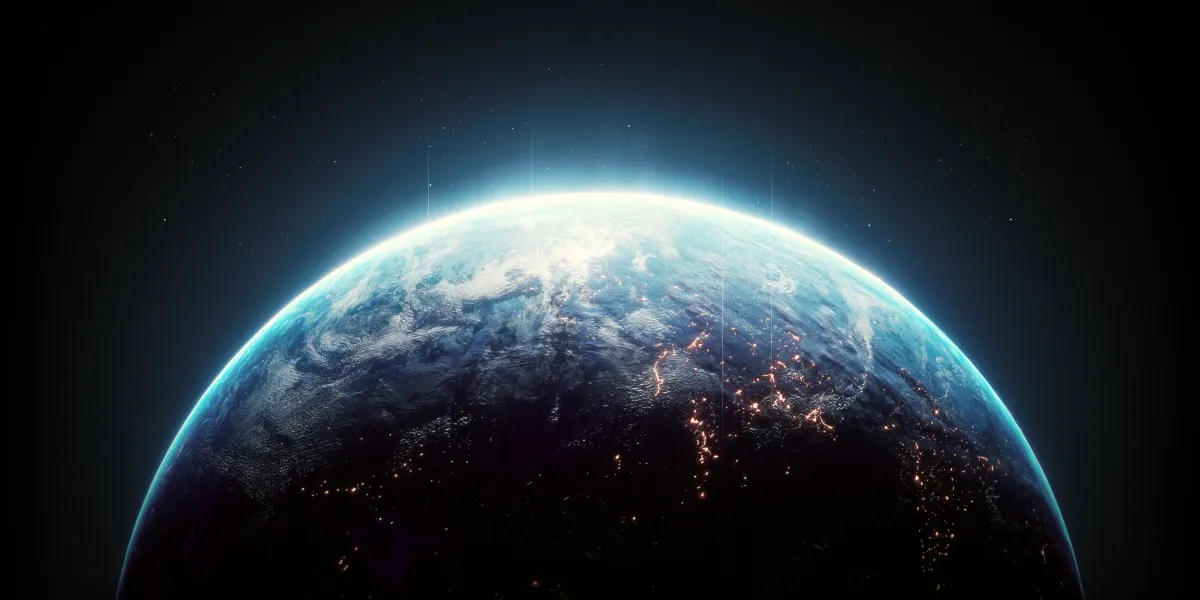 Greetings Wilders:
Gear up for our latest Dev Log as we peer into the future of Wilder World.
In Dev Log 1 we gave a behind the scenes look at Wiami's progress and many of the new systems, neighborhoods and key points of interest in development. In Dev Log 2, we continue this theme with a focus on the release of our first playable experience, along with new gameplay mechanics, blockchain systems and the many exciting innovations that make Wilder World unlike any other metaverse project. Major progress has happened in the last three months.
Without further ado.
Midnight in Wiami
After two years of development, we are nearing the release of our first playable experience that will enable Wilders to experience Wiami first hand. After this moment, Wilder World will technically be live, albeit in a limited and focused testing capacity. Building an open world game (let alone a metaverse) is an ambitious and complex endeavor. One of our primary strategies for de-risking the development of Wilder World is to release unique playable experiences, gameplay systems and infrastructure that is contained in 'sandboxed' environments, which enable us to iteratively improve the metaverse alongside Wilders.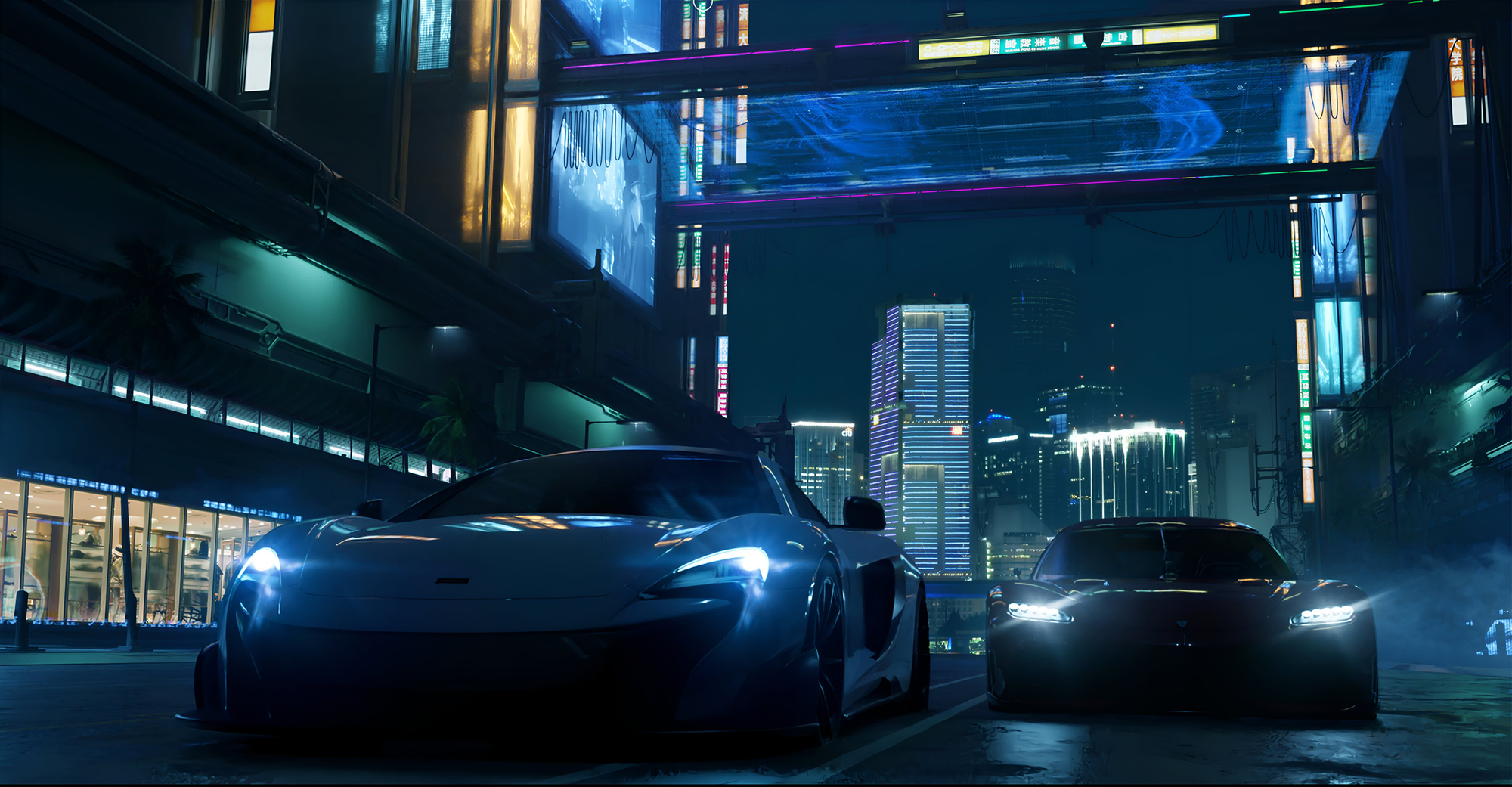 This means launching a series of successive experiences that will begin to build on one another, in order to create more complex, interactive, and emergent gameplay between genres. At each stage, we will use real-world data to develop systems that bring our community and product closer together. This approach increases our probability of success by confirming that each part of the metaverse has been built efficiently, is battle-tested and fun to play.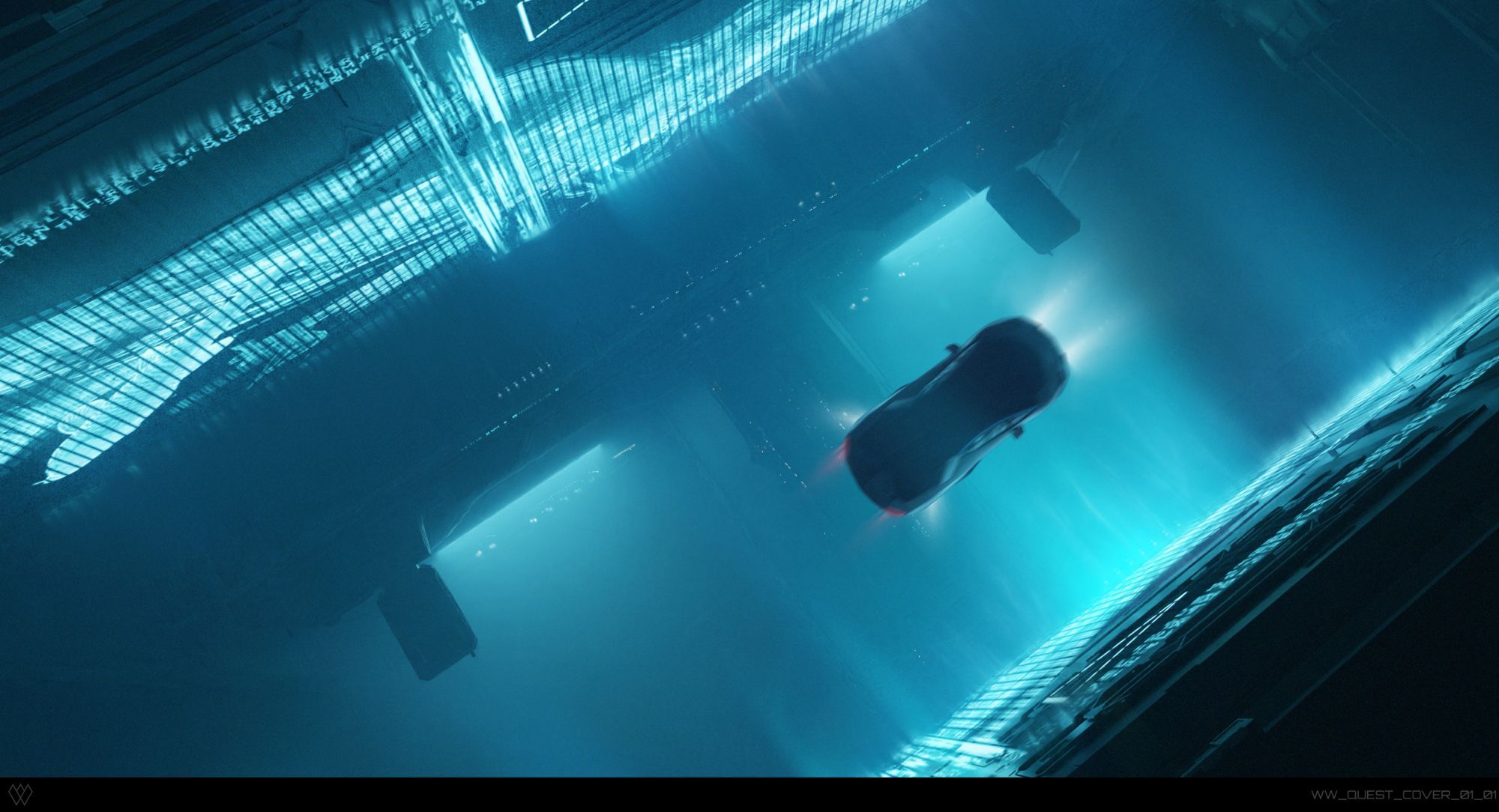 We are currently on track to release the first of such playable experiences—Midnight in Wiami (MIW)—by the end of calendar 2023. The experience is inspired by a fusion of the Cyberpunk ethos and Tokyo's electric underground street racing culture. All prior glimpses of Wiami have been in the early morning or late afternoon. The consummate gamer knows that night-time experiences in any MMO or virtual environment have a distinct atmosphere. This will be the first time Wiami is shown at night, and we could not be more excited.
Wilder racing factions have coordinated to create an illegal street race in the heart of Little Meow, Wiami's first neighborhood. Starting across from the Qube at the KaDon café, moving through the brightly lit cityscape to the south island west freeways, and ending with a long straight-away towards the Trinity Towers.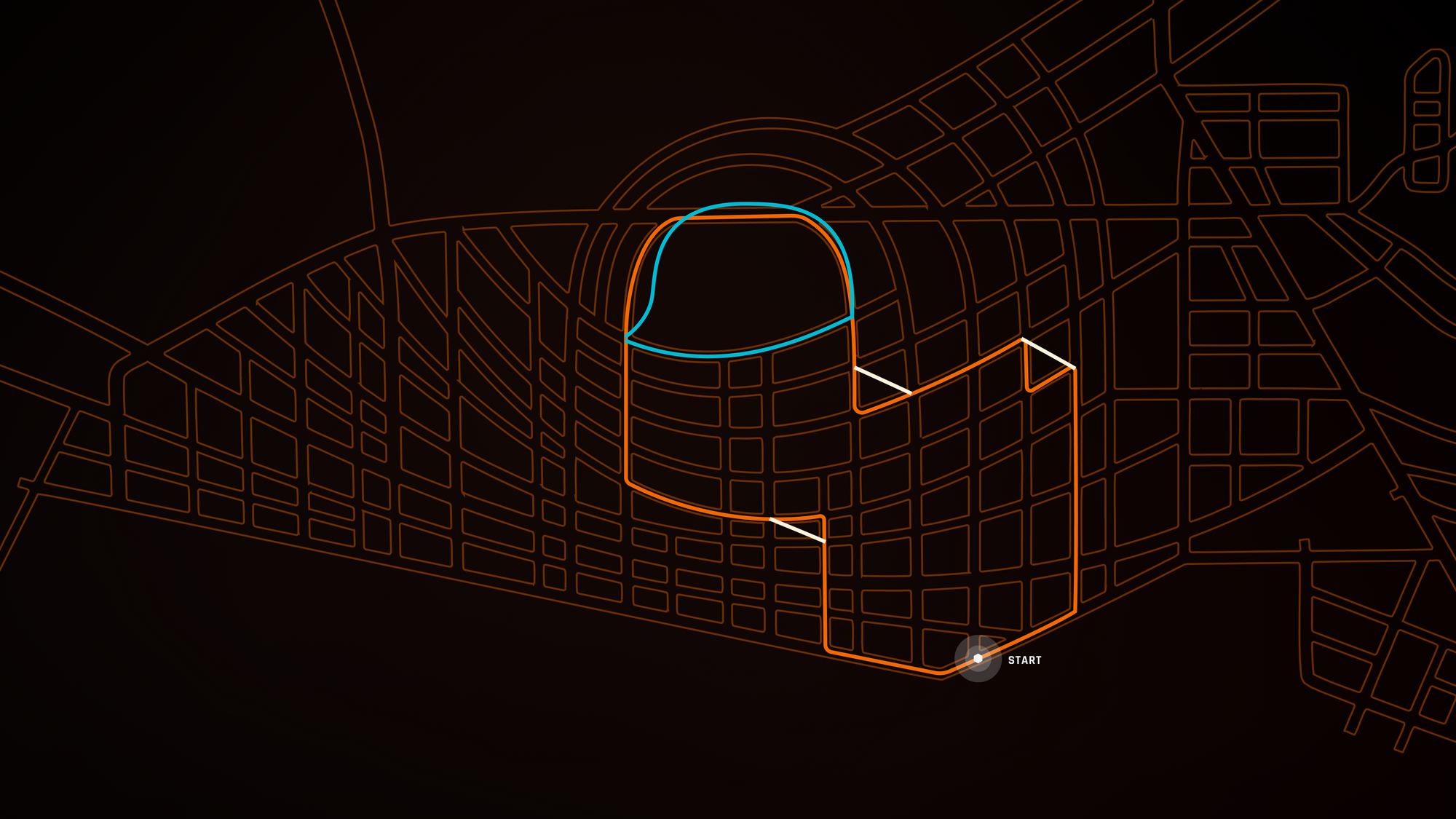 Along the track there are different decisions and routes players can take to secure victory. During competition racers will get a better view of Little Meow and the development of Wiami, as well as discover several new key points of interest that are actively under construction.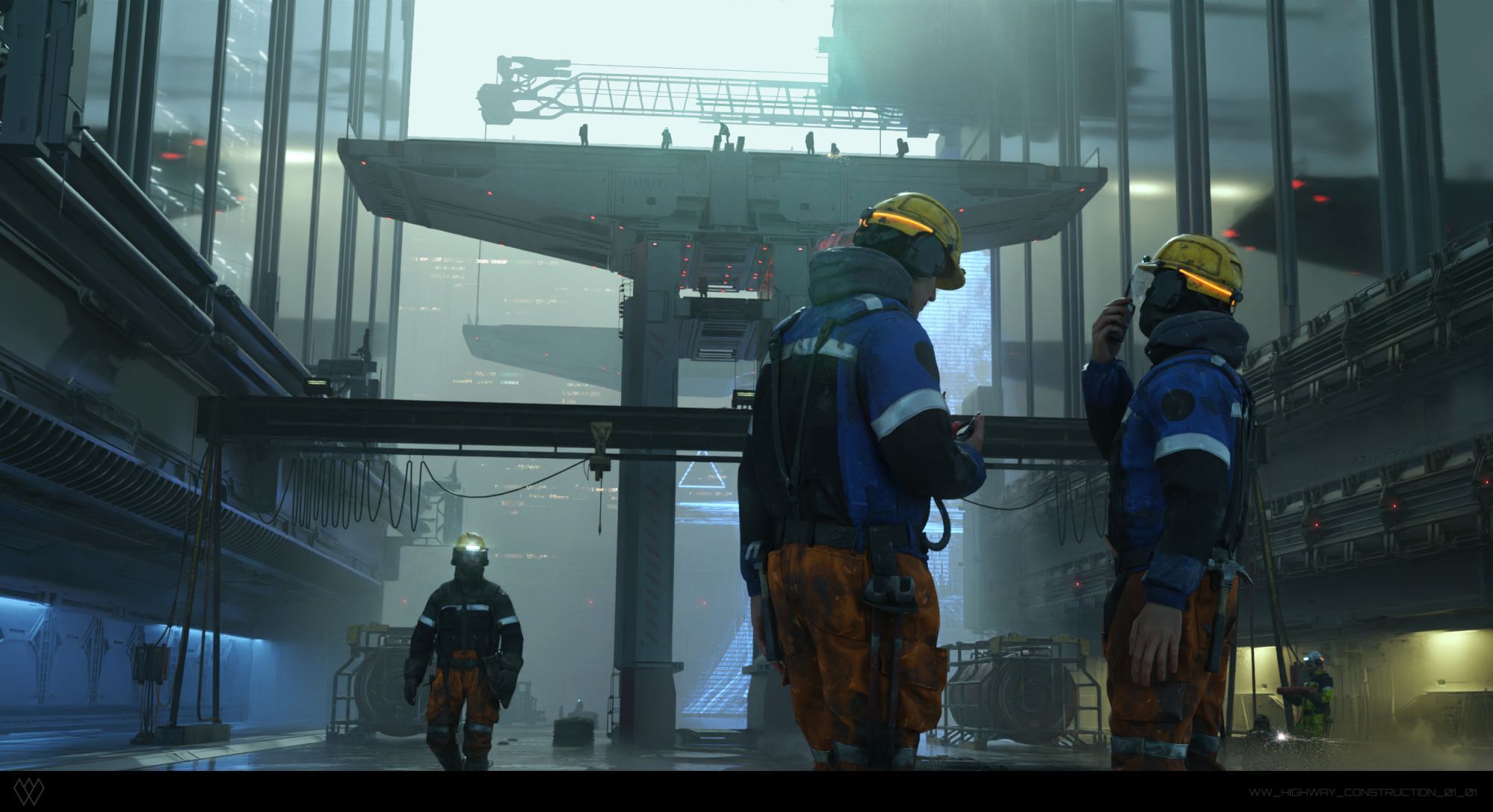 Racing Arcade
Midnight in Wiami (MIW) is the first Season (Season 0) in the Wilder Wheels industry and inspired by traditional sim-cade racing games such as Need for Speed and Forza. The metaphor of a Racing Arcade fits nicely with the novel blockchain mechanics we have integrated into the experience, and is the first major step in supercharging utility for the $WILD token and Wheels industry economies.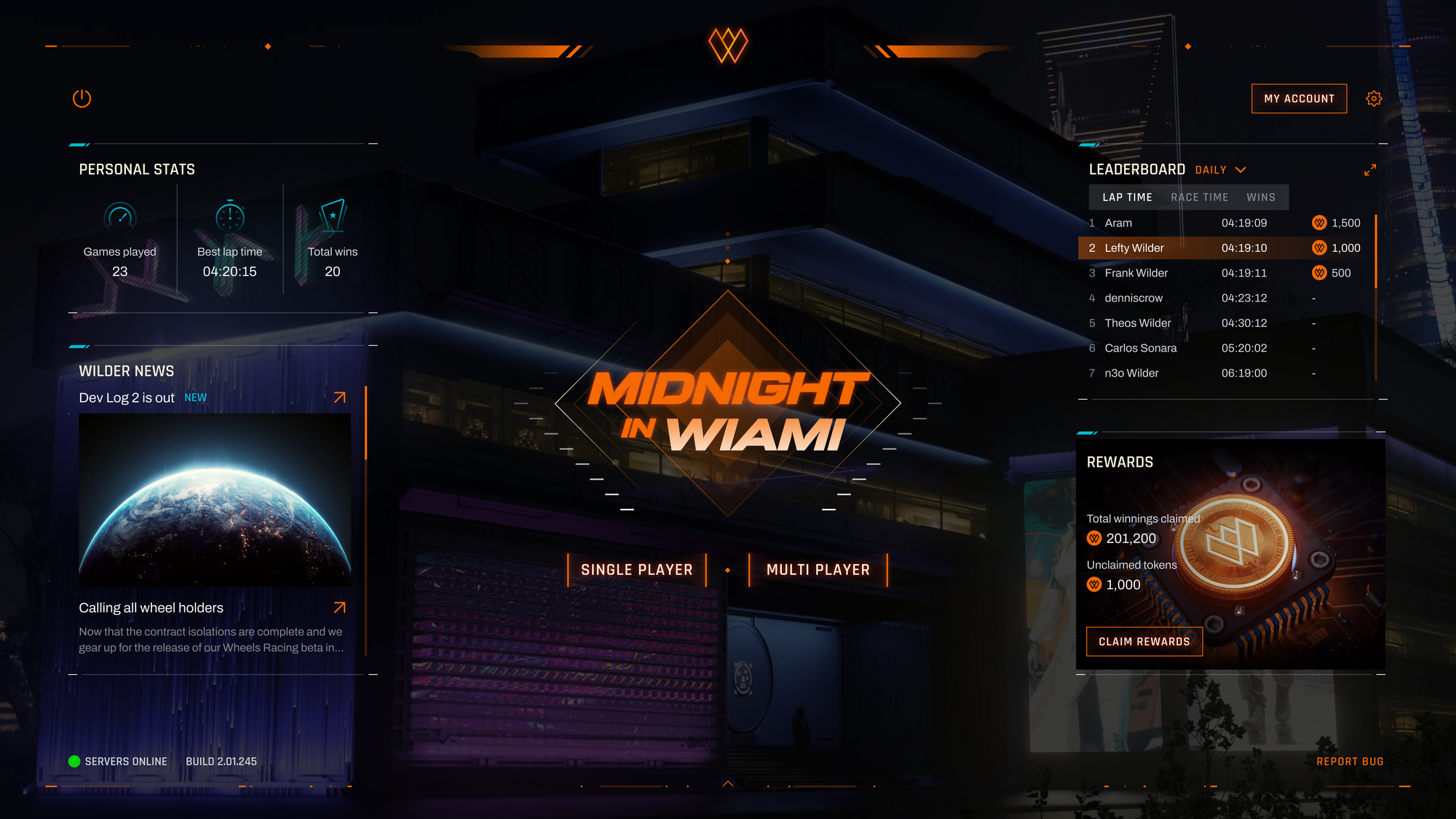 Future Racing Seasons will introduce new gameplay mechanics, tracks, and rewards models throughout Wiami. MIW can be thought of as our first live gameplay experiment and introduces the base layers of functionality that we can build on in subsequent Seasons. If we do our jobs correctly (The Game Studio + Community Studio), the experience should continue to improve between seasons, become more engaging, competitive and fun. As discussed earlier, this is a primary strategy to continually integrate prior learnings and feedback from the Wilder community, which will be the driving force for subsequent development cycles.
MIW is a Racing Arcade inside Wiami and the Wilder World metaverse. It utilizes the core code, city map, and underlying infrastructure of the metaverse, but is intentionally sandboxed to limit specific functionality and exploration.
To access the game, players download a familiar game installer and then authenticate with their ZERO ID using a Web3 wallet of their choice. The system has also been designed to support email authentication, but is initially geared towards Web3 enthusiasts. Once we feel the game is ready for a larger audience we will turn on easier authentication and simplify onboarding.

Win-to-Earn
During our first season, players will compete for a daily rewards pool of 50,000 WILD, or roughly $10,000 at the time of this writing. Based on usage, learnings, and data, this pool will increase or decrease at sole discretion of the Wilder World Project. Eventually the size of reward pools will become a function of the Wheels industry DAO, where holders can vote directly regarding future reward models.
During Season 0, Rewards will be distributed daily based on three game mechanics:
The most absolute wins: 33% of daily pool
The fastest track time: 33% of daily pool
The fastest single lap time: 33% of daily pool
A daily leaderboard will be accessible directly within the game. Winners will be eligible to withdraw their winnings at the completion of day. Days will end at 11:59 PM in the PDT time zone in OBR.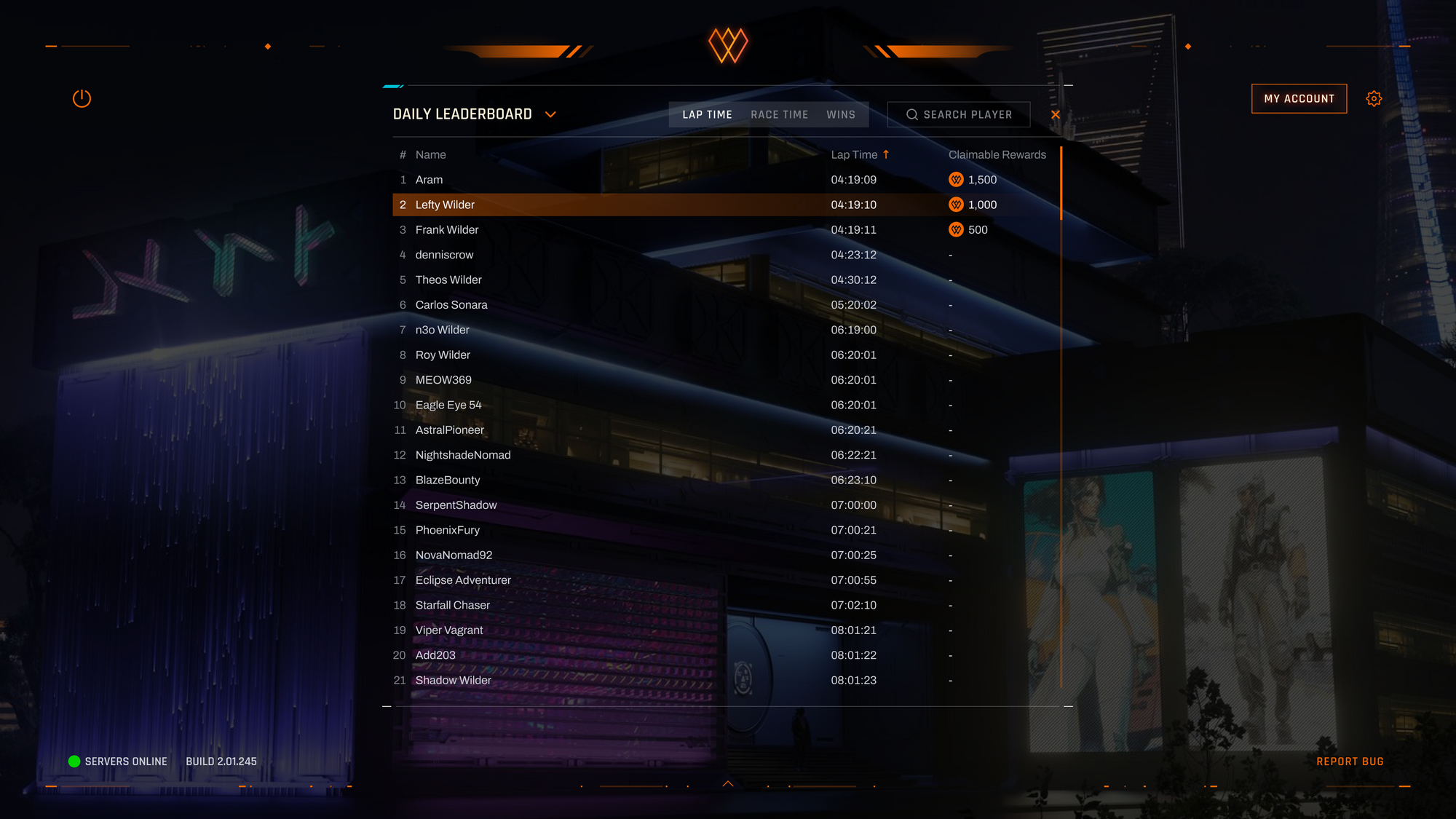 Important: Any cheating will be expressly forbidden and determined in its sole discretion by the Wilder World Project. AI and cheating detection tools will be used and can result in the loss of your staked Wilder Wheel to the Wiami impound lot.
In order to bootstrap the Wheels economy, a proposal will be generated in the Wilder Wheels DAO to allocate a percentage of the current treasury to fund the Wheels racing rewards economy (in WILD). This pool will enable a portion of the original proceeds generated during the Wheels mint to be returned back to players over-time, as the experience and economy evolves. More details on this will be provided prior to the launch of MIW.
Wheels Staking
We are excited to announce that we will be releasing the first version of our long anticipated Wheels Staking System with the release of MIW.
In order to compete, Wheels holders will be required to 'stake' their Wheels NFT and in exchange, will be loaned a finely-tuned high performance vehicle from 9LIVEZ—one of the first racing clubs in Wiami. Racing against similar vehicles ensures that competition in our first season is fair, gameplay is balanced and that rewards are based on skill. In the future, we plan to introduce gameplay mechanics that enable Wilders to upgrade and tune their own vehicles, greatly enhancing how players compete, strategize, and collaborate in the Wheels industry economy.
The Wheels Industry system is an economy that rewards members of the Wheels economy. Rewards for Season 0 will be distributed as follows:
a) 30% of the available daily rewards will be automatically sent to the Wheels staking contract:
10% will accrue to the Wheels DAO Industry Treasury
20% will be issued to any Wheels holders staked in the protocol. As originally promised, Wheels Hideout owners will receive a 2x staking reward compared to other Wheels holders.
b) The remaining 70% of rewards will be dispersed based on the competitive mechanics of Season 0.
Rewards will change between seasons, keeping competition, gameplay dynamic and fun. In the future we plan to offer more staking functionality, such as having the ability to rent your vehicle in exchange for a percentage of a borrower's earnings (basically, GameFi meets DeFi).
The Wheels staking and industry economy is built on ZXP (Zero Experience Protocol) and developed by our sister company ZERO. ZXP enables games and applications to build intelligent gameplay, reputation, and rewards systems that are fully onchain.
Racing Flow
Here are the steps to start competing:
Stake your vehicle on the WWMM
Receive your loaner vehicle in your wallet
Download Wilder World installer
Login to Wilder World
Request a match from the home menu or play in solo mode
Wait to be matched
Race and accumulate rewards
Rinse and repeat
Withdraw earnings to your wallet whenever you want

Access Phases
Our first priority with MIW is to ensure the experience is fun, engaging and satisfies Wilders. This means that you enjoy playing, the system operates with minimal network latency, and runs at an adequate frame rate of over 60 FPS on high-end rigs.
For this reason, it is important that MIW is rolled out to a small number of players to start. We will open the player base using logical cohorts that will be announced prior to the official release of MIW.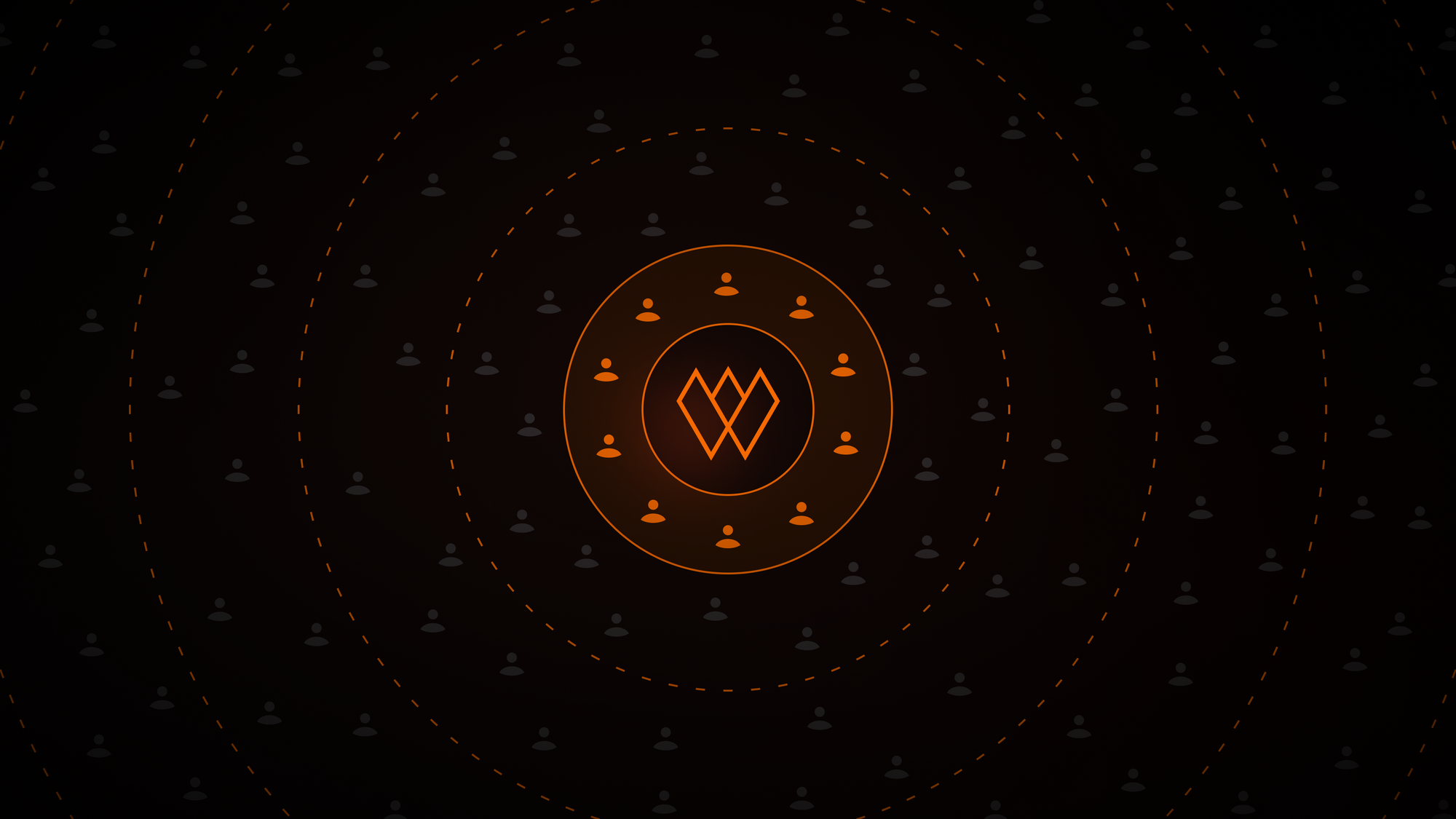 The Wilder World Project will determine when we roll the system out to new cohorts, based on how the experience is performing using community feedback and real world data. This strategy enables us to grow when we know we have delivered an exceptional experience, and will reduce the risk of the empty room problem. This strategy also reduces the strain on development and server resources, enabling for a more measured and smooth roll out over time.
Specs & GPU Streaming
MIW is initially geared for higher-end machines. From the beginning our strategy has been to make Wilder World next-gen, positioning us for the next wave in photorealism, large-scale concurrency and GPU technology. This means that in the beginning, Wilder World will only be available to individuals who have the hardware to run it. Over time however, our intention is to make Wilder World highly accessible, especially as the cost of hardware decreases.
In parallel, we are investigating GPU streaming with our partners, which would enable accessibility from any browser-compatible hardware device, accelerating the accessibility timeline of Wilder World. We are evaluating the feasibility of a GPU streaming experience for MIW, and how this new technology will fit into our long-term plans as we get closer to the full release of the metaverse.
We also intend to provide more customization settings for Wilder World, allowing it to eventually operate on a larger range of machines.
MIW Minimum System Requirements (targeting: > 30fps)
CPU: Intel 10-Gen Processor (8 Cores)
GPU: Nvidia RTX 3060
RAM: 32 GB ram
OS: Windows 10 or 11
MIW Recommended System Requirements (targeting > 60fps)
CPU: Intel 13-Gen Processor (12 Cores)
GPU: Nvidia RTX 4090
RAM: 64 GB ram
OS: Windows 10 or 11
Progress
We are planning to release Midnight in Wiami on December 6, 2023 in Miami. Initially the system will be available at an in-person event in Miami (more below). After that it will open to our first cohort sometime in mid-December.

Design
The design process for MIW began in early August, shortly after our last Dev Log and gameplay video release.
In this process we outlined:
1) three core objectives
2) a unique player journey
3) a number of key design and technical challenges
Our three objectives included:
1) a really fun race for players
2) a deeper look at the city and art style
3) the ability to earn real rewards on the blockchain
The player journey included a real downloadable version of the Wilder World metaverse with integrated ZERO authentication, a fully functioning menu system, effective matchmaking and the ability to install, update, and patch the game.
The biggest challenge was simply that this is our first official release as a game studio, with the expected hurdles of performance, frame rate, multiplayer concurrency, and blockchain integration.
To us, this is a massive milestone. Unlike our original vision for Wheels as purely a stand-alone game, MIW is built inside the Wilder World metaverse, drawing on years of game engineering, procedural systems and protocol development. It has taken more time than expected, but we believe the decision to build it this way is the proper way to do it, and will set us up for future success.
Development
Our five development teams held planning meetings during the first week of September to review the design, break down areas of focus into tasks, and begin estimating. This work created our development plan, which we are currently progressing through.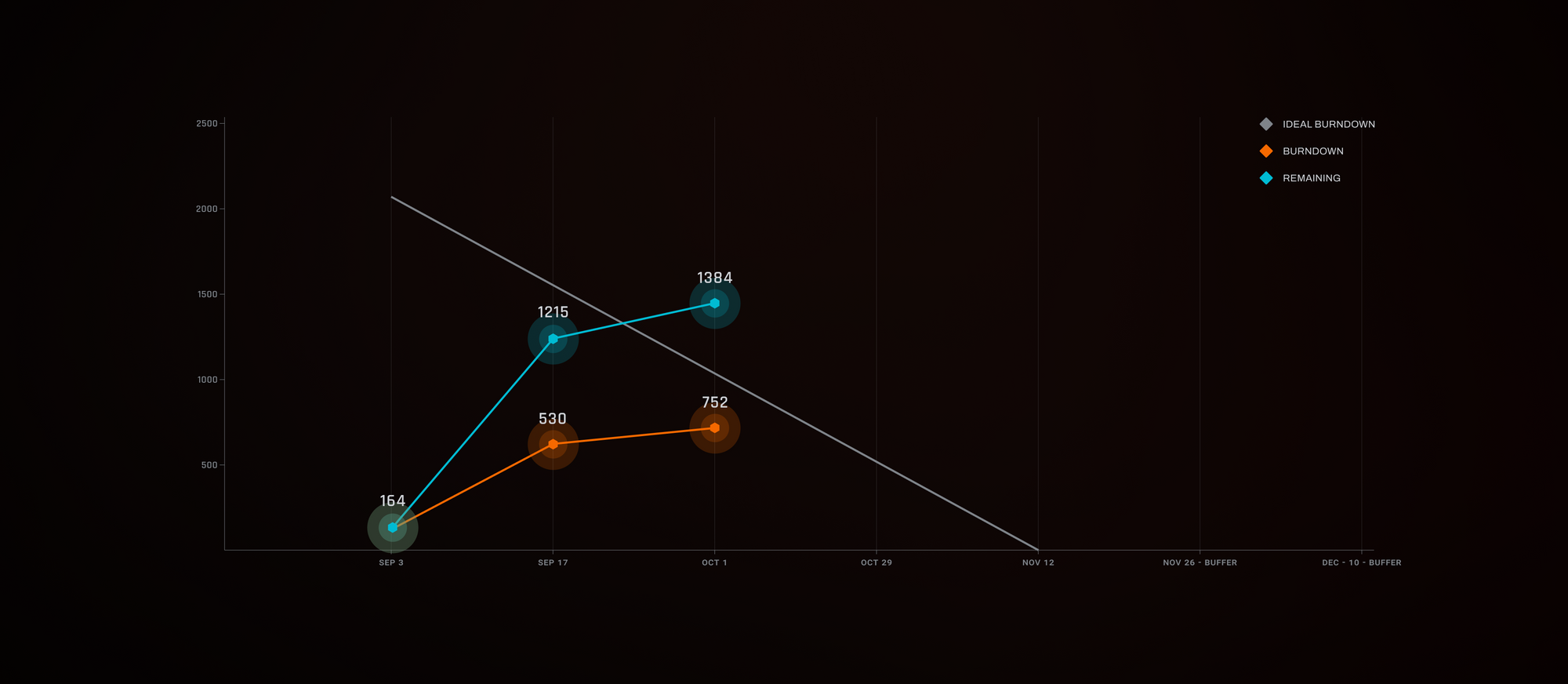 In the chart above, we use story points as a measure of effort remaining on our tasks. We have completed 752 story points and have 1,384 story points remaining for release of MIW. On average, we are completing 477 story points every 2 weeks, which is an all-time-high for the Game Studio. It is important to note that we are likely to add new project scope (measured in story points), as the team works to make Midnight in Wiami as good as possible.
Testing and Polishing
Our current plan projects us to be feature complete by November 5, 2023. After this date, we will spend the final month (November 5 - December 6) focused on polishing, bug fixing, packaging and compatibility testing.
Brand & Website
As part of the forthcoming milestone, it felt necessary to upgrade the Wilder World brand and online presence. Our objective was to present Wilder World as the one-of-a-kind cinematic experience it is, drawing inspiration from the iconic works of DUNE, Blade Runner, Star Wars, and The Matrix.
Our new site focuses on engaging the reader and unveiling more of the Wilder World ethos, vision, and technology innovations.
The site describes Wilder World simply as:
"Wilder World is a massive multiplayer metaverse that leverages the latest advancements in photorealism, artificial intelligence and blockchain technology. You, as a Wilder, control its future."
The site introduces our four core gameplay pillars:
Race: Racing and multi-modal transportation.
Explore: Classic exploration, leveling, and quests.
Combat: First person and group combat.
Earn: The ability to earn real money inside of Wilder World.
The new site introduces more of the Wilder World story and lore you will be transported into. We describe Wiami's magnificent scale and show multiple shots of the city, as well as share more on our upcoming Avatar collection, in conjunction with existing Wilder World industries.
We introduce the four key technological pillars that differentiate Wilder World.
Immersive Photorealism
Community Ownership
Massive Scale
Sovereign AI
We illustrate the utility of the WILD token, our currently planned development phases, as well as introduce our senior leadership team for the first time, along with a detailed FAQ section aimed to help guide new Wilders.
Moving forward, the brand will begin to reflect a more cinematic and story-driven tone. Wilder World is transforming to reflect the feel of the city and vast virtual world that is being built. The classic purple has been banished. Neon orange is in.
Check the new website out at: www.wilderworld.com
The Story
The most interesting thing about Wilder World is that it is based on a true story.
--
2023 in Our Base Reality.
A battle between light and dark is taking place in OBR. Our species lives on the razors edge of extinction; our societal systems on the verge of ruin. Corruption and greed exist in plain sight. We never asked for this. How did we end up here?
First came the ancestors and then the monarchs, followed by the prophets, the politicians and the capitalists. Global markets gave rise to unbound technical innovation. That which was once science fiction—quantum super colliders, genetic engineering, and artificial intelligence—have become common place. Nearly everyone is connected to everything, yet something feels terribly wrong.
We have created a world where anything is possible and yet nothing is real. A time dominated by rationality that no longer makes any sense. Our minds have become the battlefield, shelters have taken over our streets, and our lack of collective solidarity has made our systems of governance vulnerable to puppets, narcissists, and psychopaths.
We've fallen folly to the prophecies warned by the ancestors. We've traded our wisdom for intelligence, our humility for praise, and our faith for security. Humanity now lays dormant—responding to the beckon and call of algorithms, which hold our minds hostage in exchange for cheap dopamine.
This is our situation.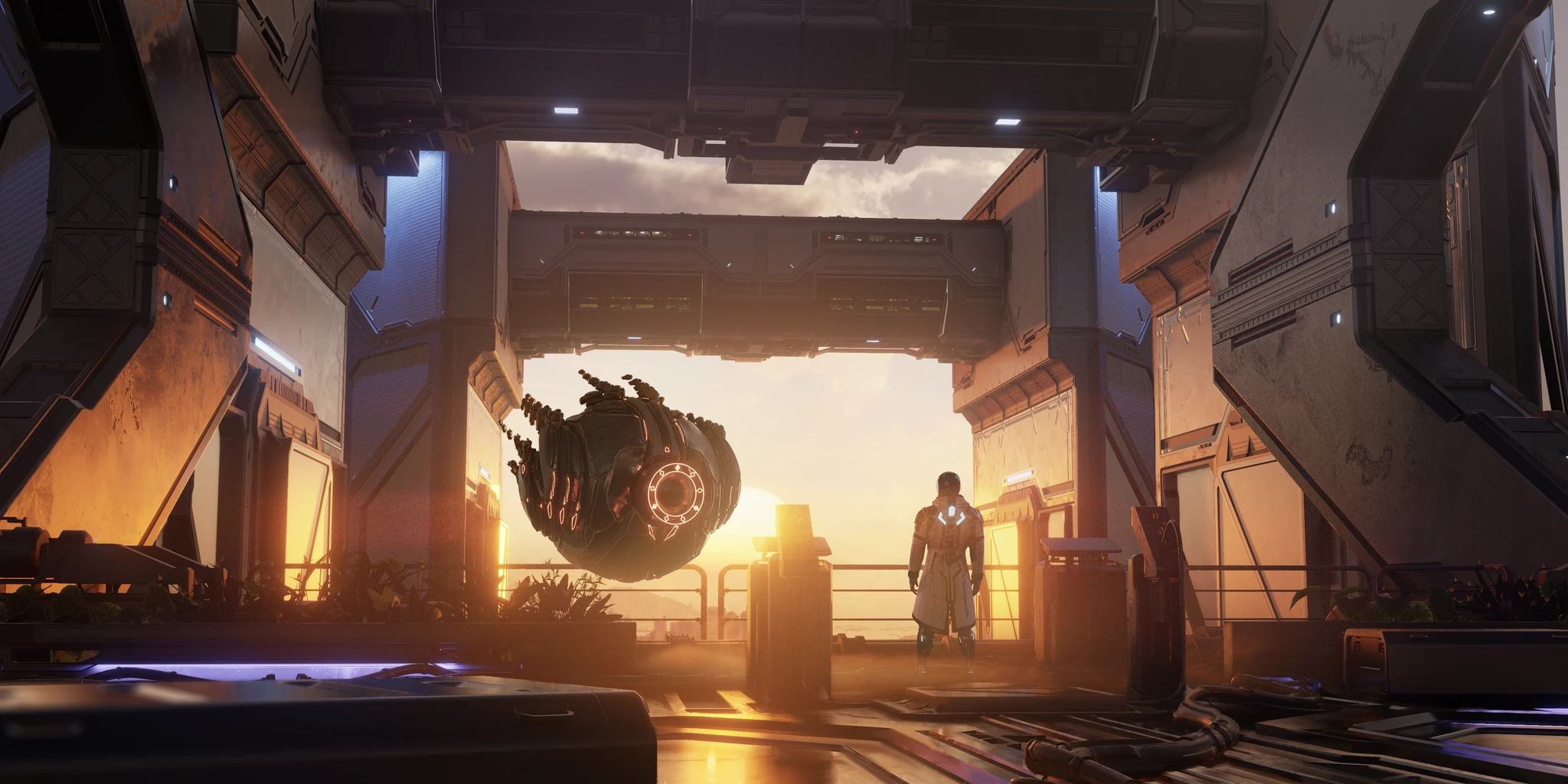 --
Could the discovery of parallel dimensions be possible?
Two weeks before his death in 2018, Stephen Hawking's final paper—A Smooth Exit from Eternal Inflation—proposed a theory to detect whether other universes could exist outside of OBR. In his final act, Hawking's paper gives us the clues to practically discover parallel worlds using the measurement of fine-grained gravitational waves.
Hawking's paper became the theoretical basis for the discovery of new worlds using Portal Reactor technology.
--
Another world, not dissimilar from our own.
In 1945, the detonation of the atomic bomb altered the gravitational wave structure of our base reality, resulting in the creation of a parallel version of our reality. The new timeline became known as FBR, our reality became known as OBR, and this moment became known as The Great Fork.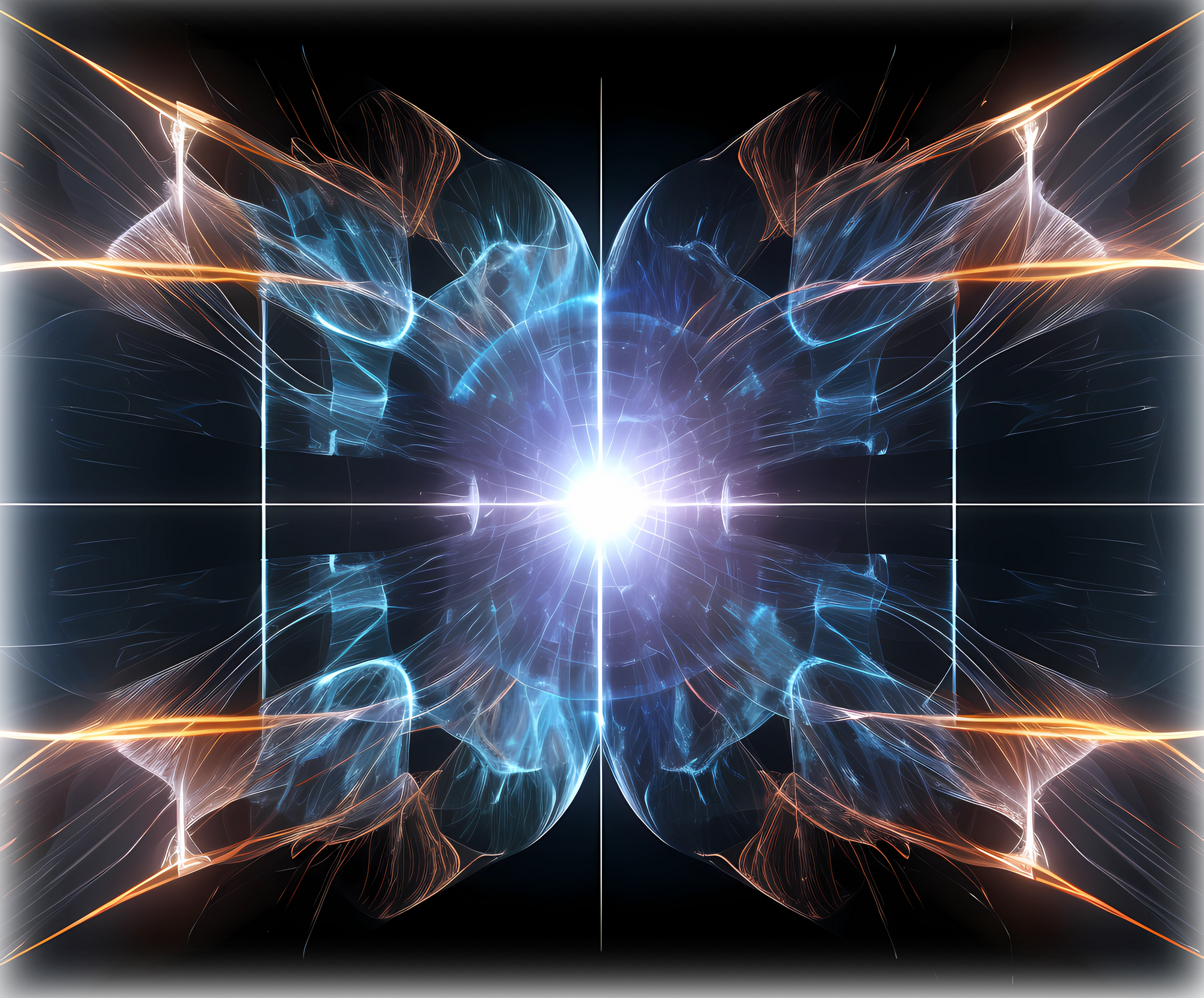 Despite originating at the same point in spacetime, after the fork OBR and FBR began to follow their own respective evolutionary trajectory. We know what happenes in our reality, because we've been here. In FBR however, immediate challenges following World War II lead to a near extinction level event. The citizens of FBR were forced to mobilize and rapidly evolve. Soon after the fall however, an unexpected Cambrian Exposition of technological progress happened, making FBR unrecognizable from the perspective of our reality.
Relative to OBR, everything in FBR happened faster. Much faster. A similar version of our modern Internet was created in the mid-1950s, followed by quantum computing and AGI shortly thereafter. In the mid-1960s, Steven P. Jobs and DARPA formed a secret joint-venture called MEOW Inc., with the vision of eliminating the biggest existential risks facing FBR at the time.
Lead by the prominent scientist F.G. Wilder, his solution was that of a virtual simulation, capable of modeling all possible future outcomes in FBR. This invention enabled FBR to rapidly advance itself, almost entirely removing the risks of climate, war, famine, and economic inequality.
This simulation was called Wilder World.
--
When did things go wrong?
Shortly after release, Wilder World began to not only predict the future, but to create it. Its power was unlike anything FBR had ever witnessed before.
Despite the fact that FBR had effectively achieved protopia, it was not long before the desire for ego, greed and the thirst for individual power began to destabilize the simulation–along with an entire reality that had become dependent on it. After all, the only thing necessary for the triumph of evil is for good men and women to do nothing.
The Forum, a shadow government powered with advanced AI technology, began a subtle, deliberate and eventually ruthless campaign to breach the Kernel—the core source code responsible for ensuring the decentralization and sovereignty of Wilder World.
It all began on that ride home.
--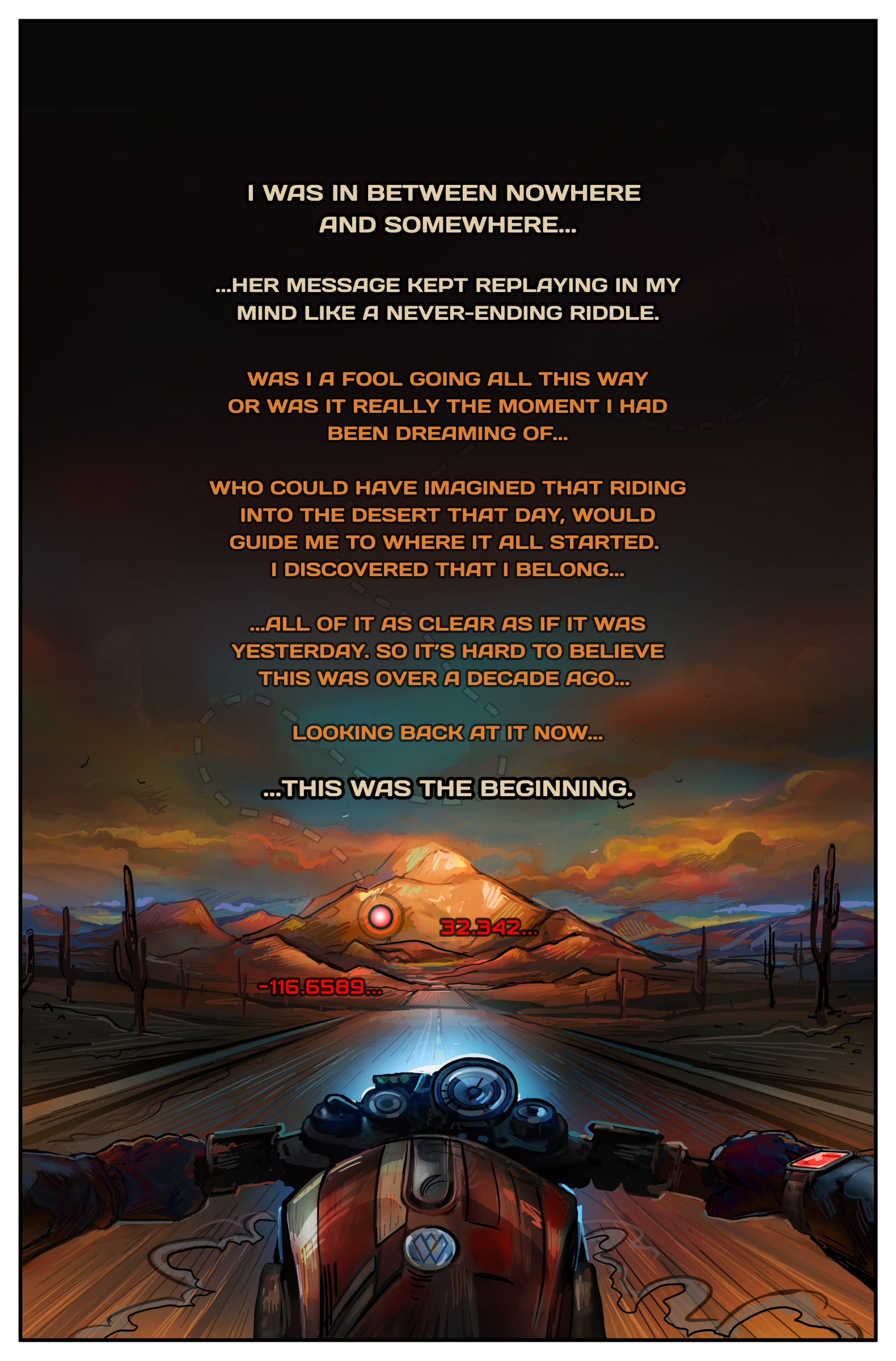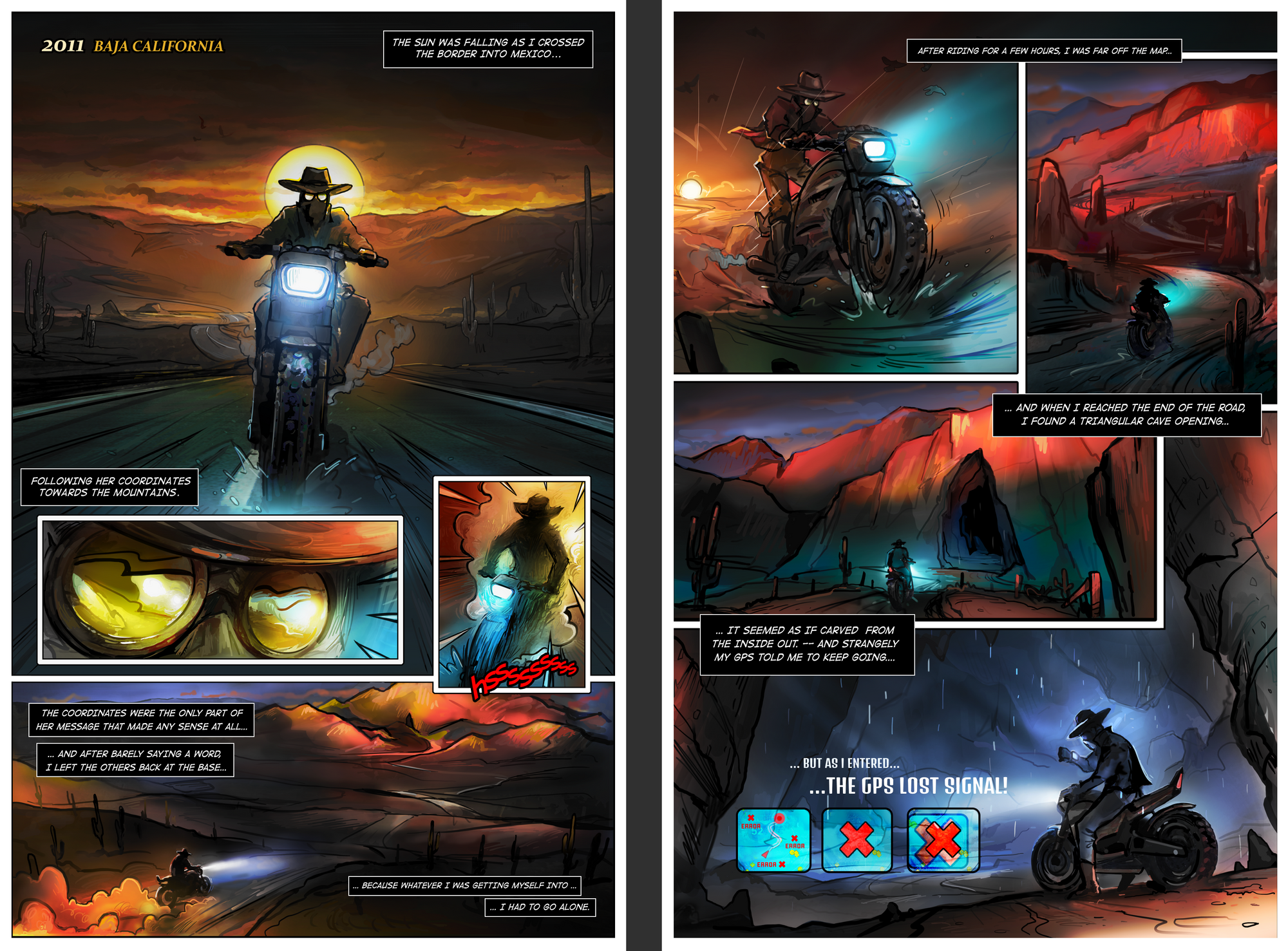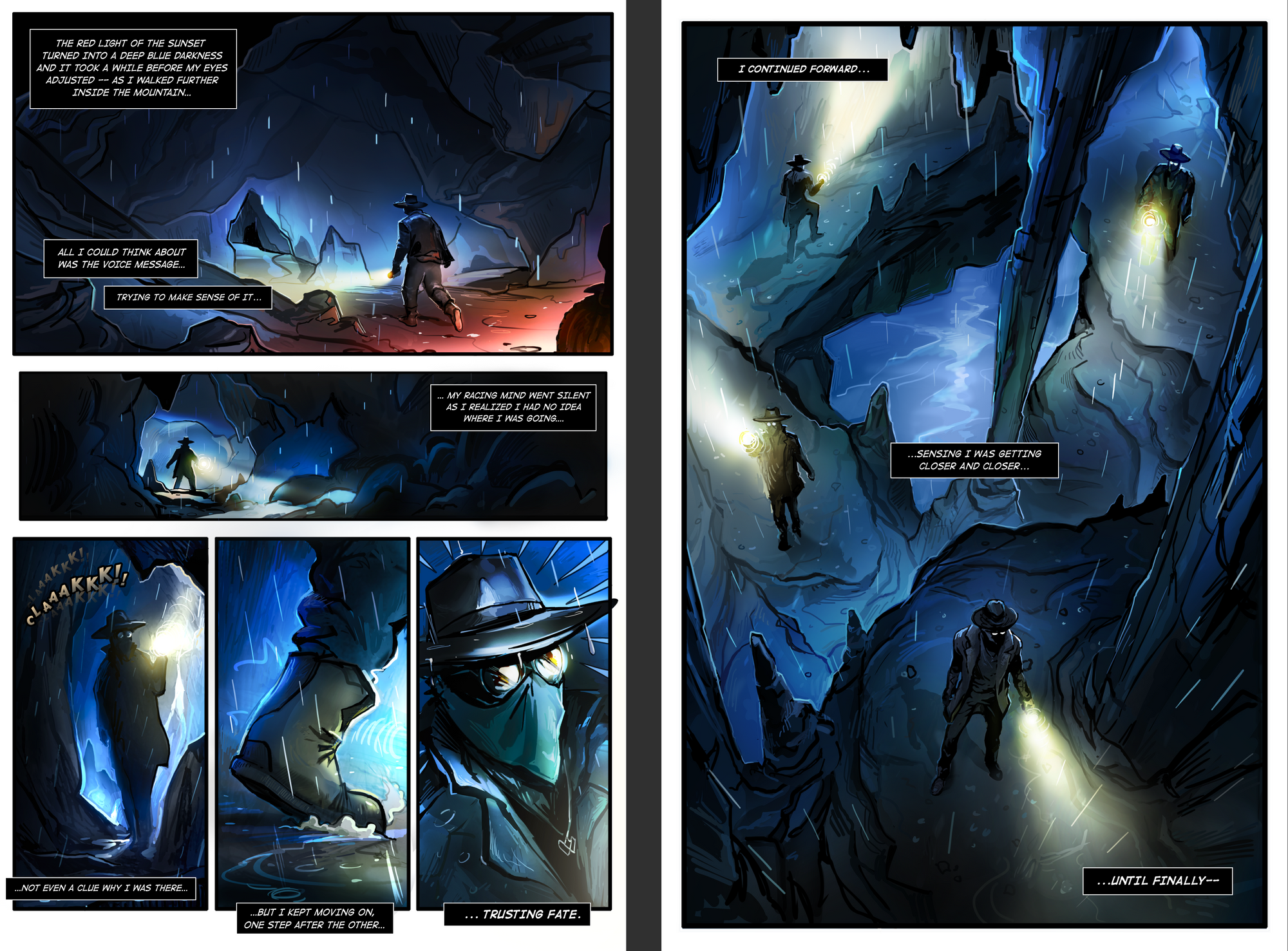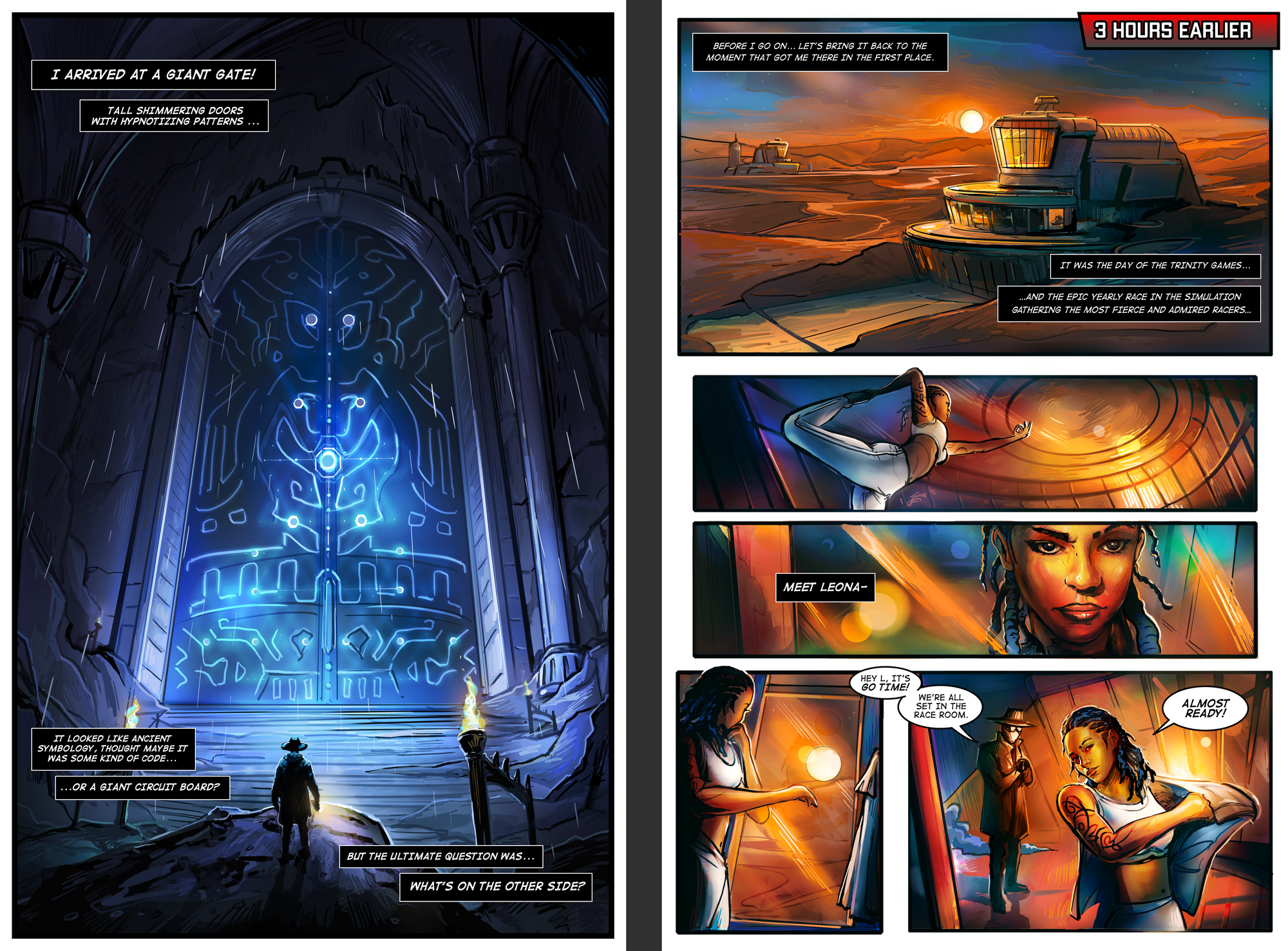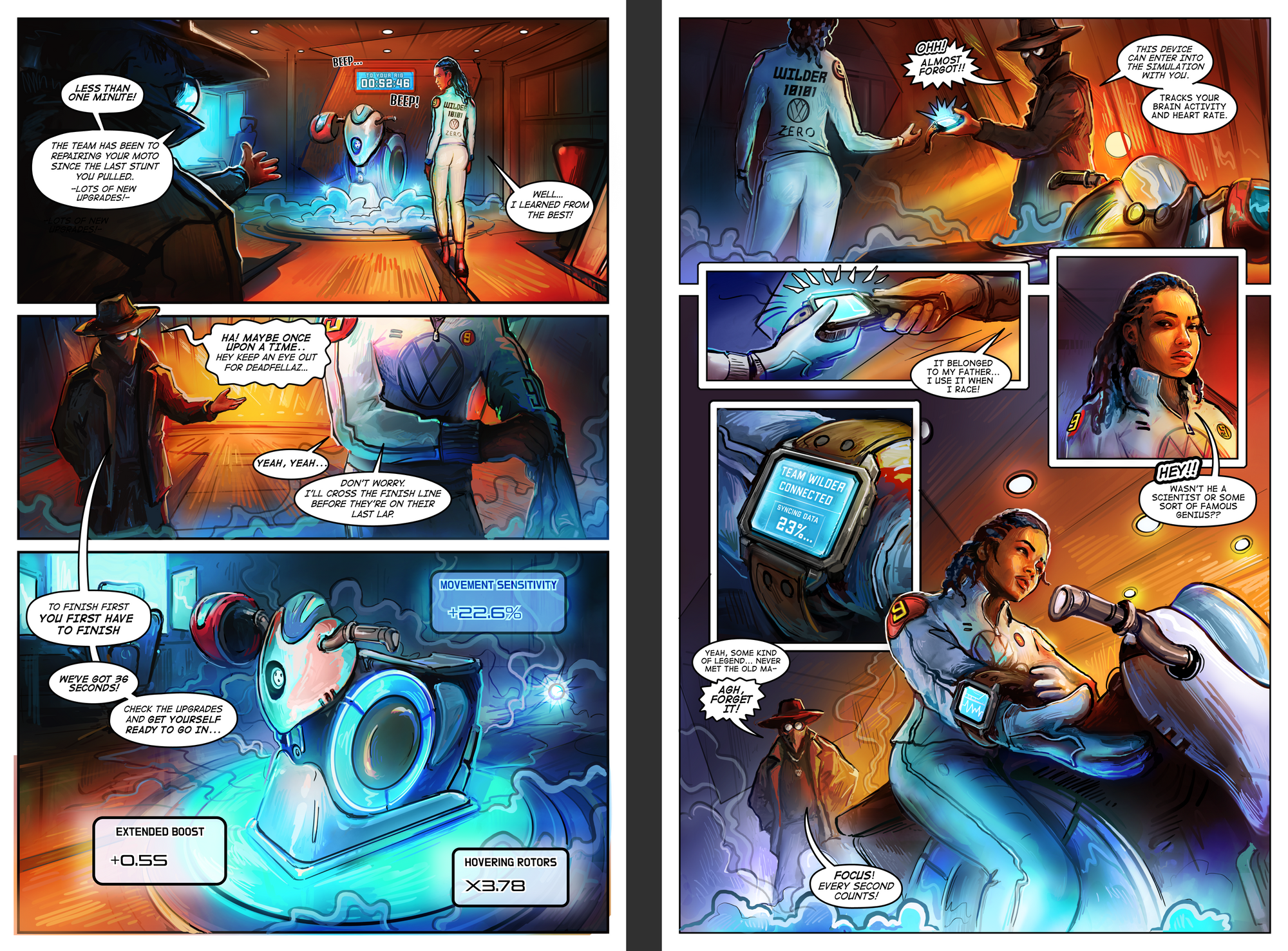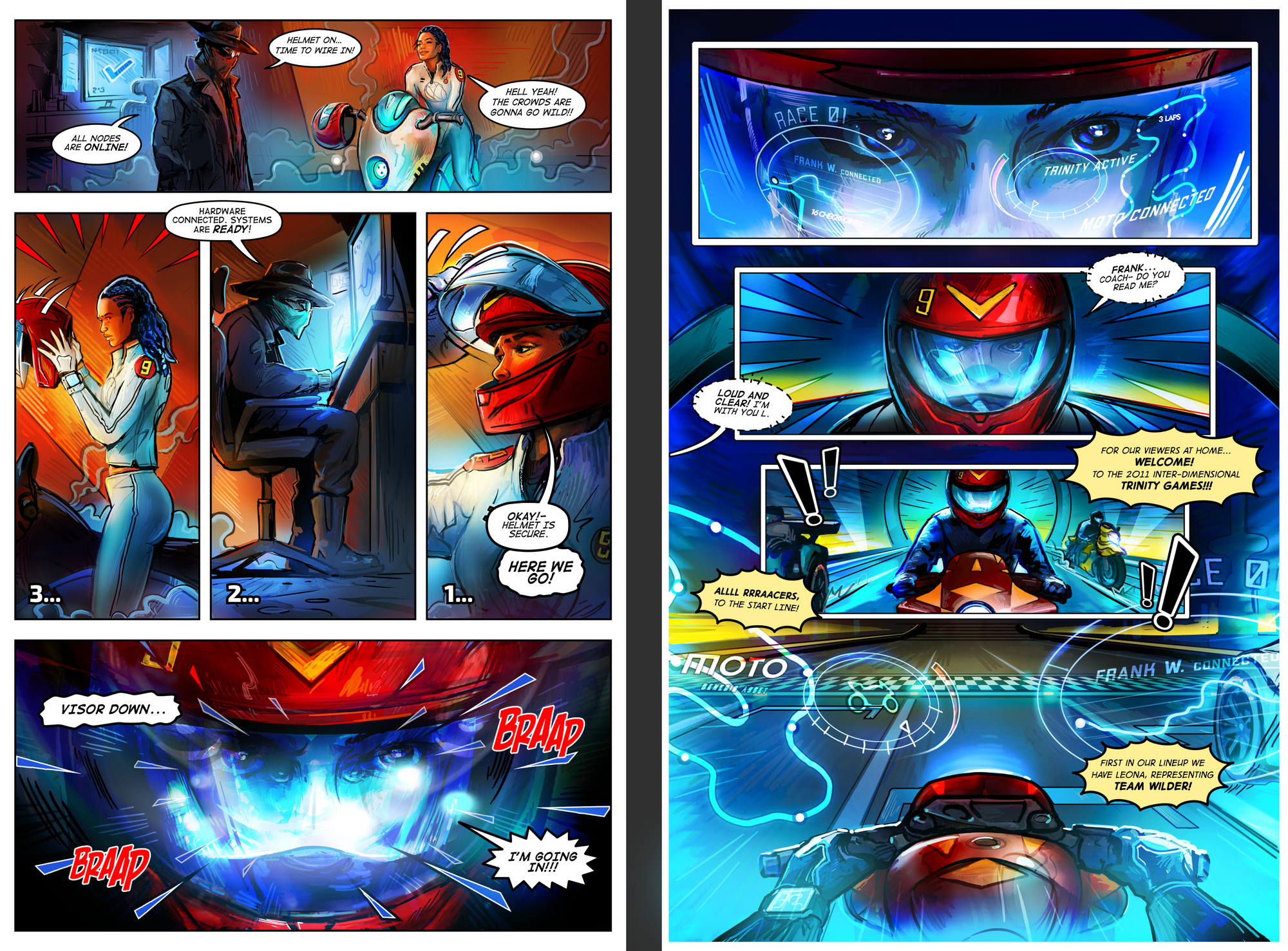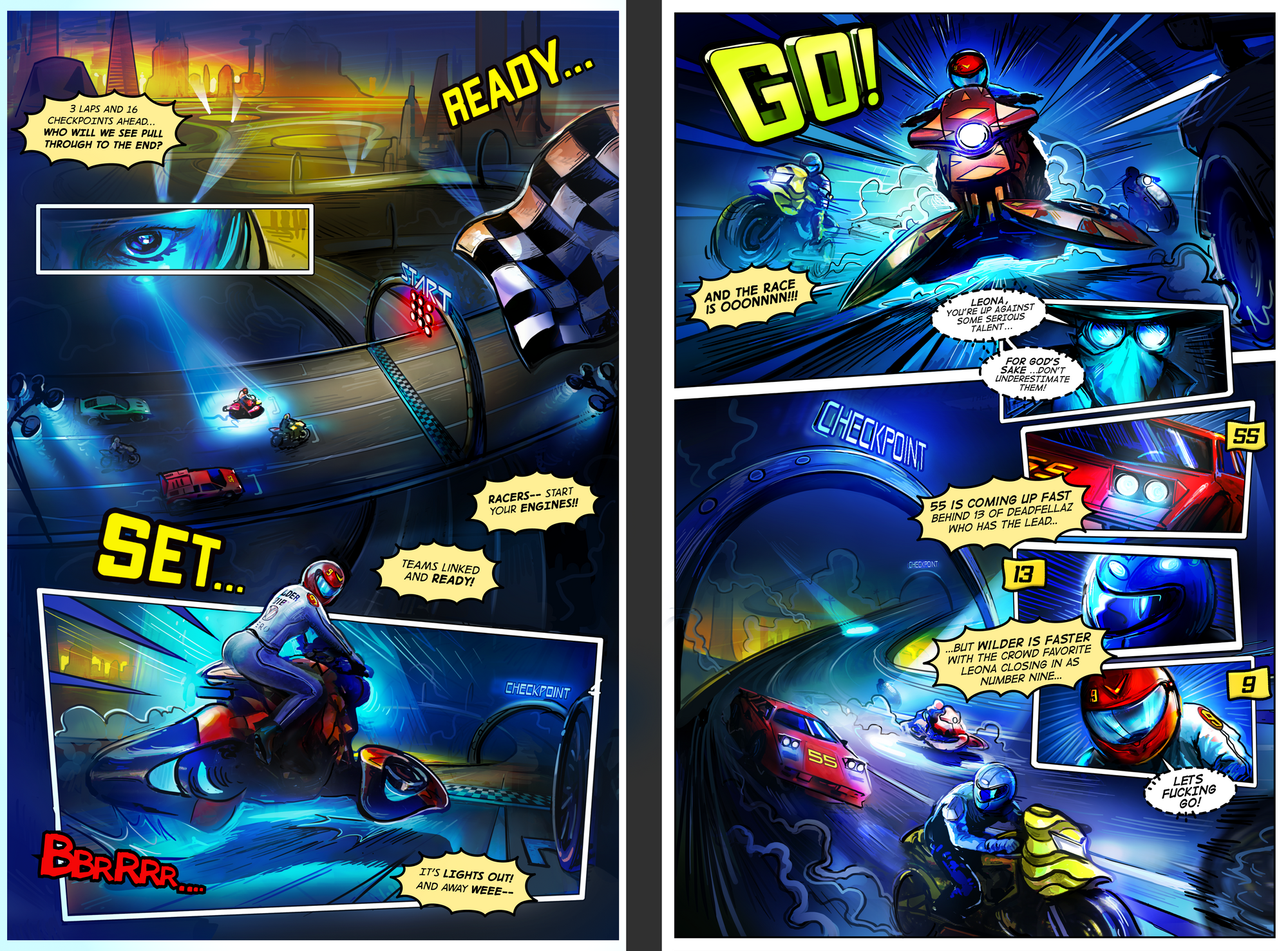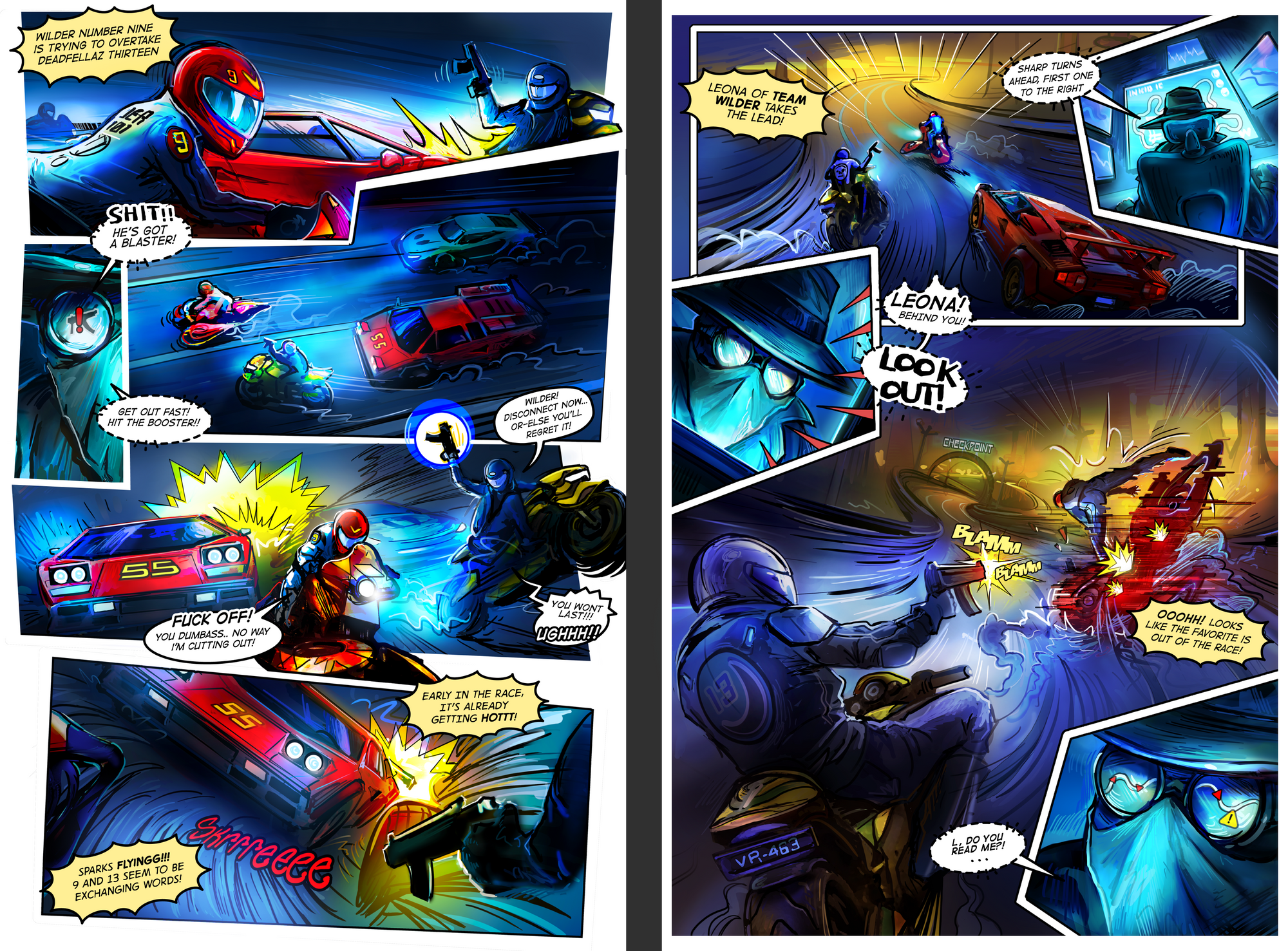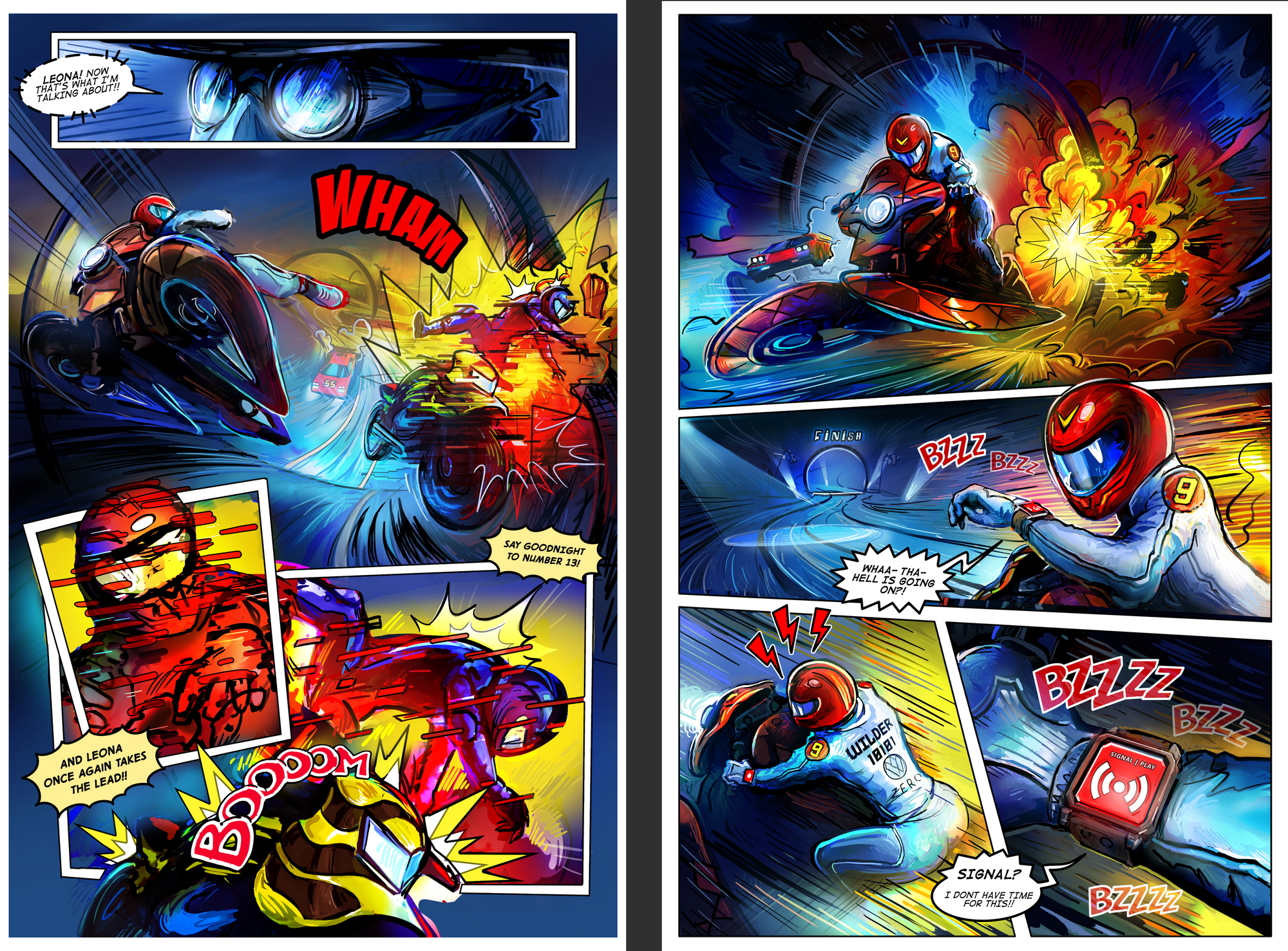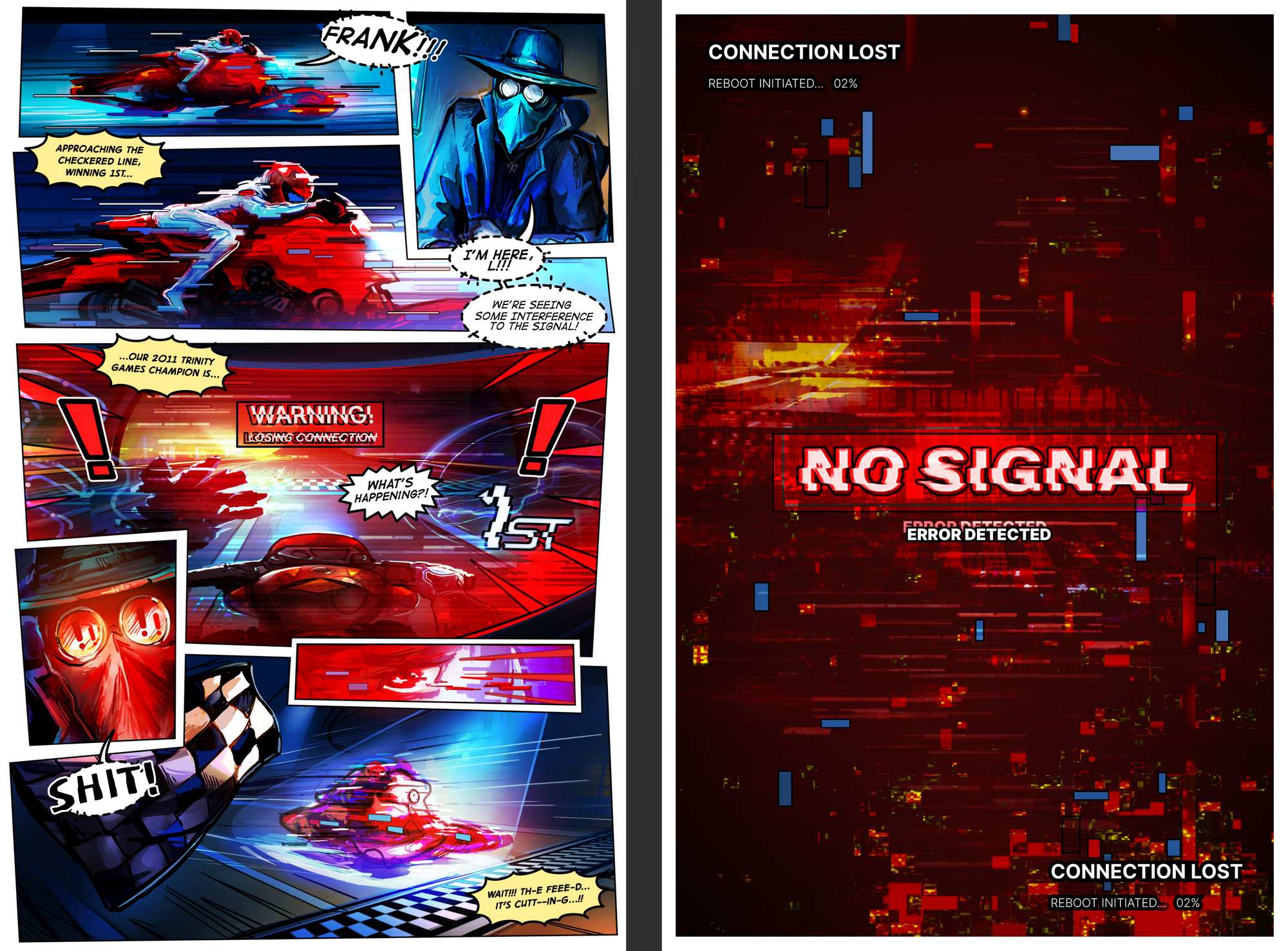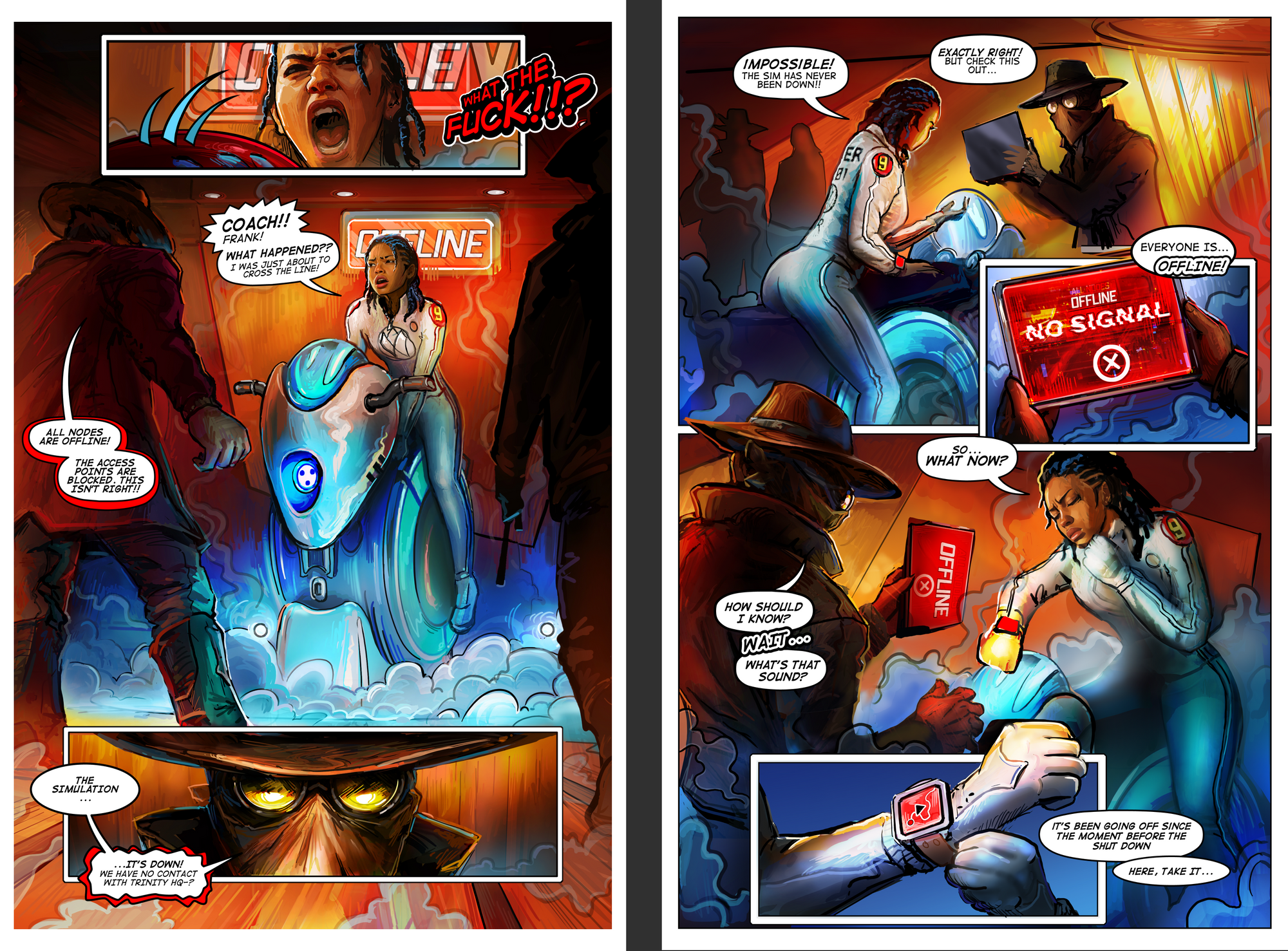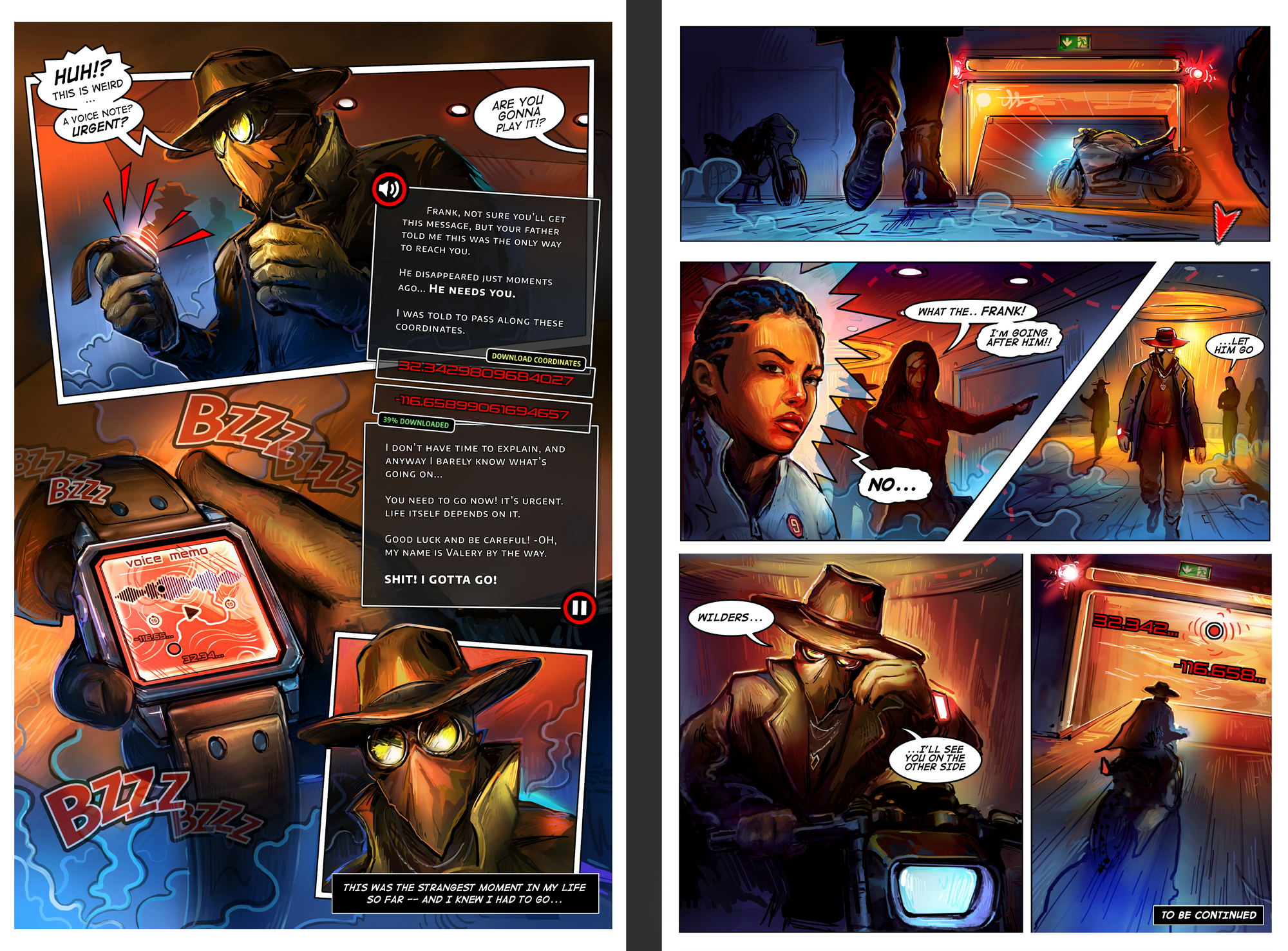 The first public record of the Wilder World story is told in the first instalment of our comic series. In the future we plan to release this as a limited edition digital collectible. Our main goal is to get community feedback on the current comic. Once the comic is finished, we will create the Comic DAO, release the first collection, and work on subsequent editions.
A special thanks to Wilders: R7 and Artist Zach for their heroic work on this initiative.
Avatars
Collection
We have made considerable progress on Wilder Avatars, which will be central to your Wilder World experience. All Trinity holders will receive the right to claim a free avatar (plus gas) prior to the official drop. There will be a total of 9,999 Wilder Avatars in the Genesis collection that will be presented in what we are coining as an 'Emergent Mint'.
From within the Wilder World game menu, players will engage in a character customization process via our Avatar Creator. This will enable them to select from a limited and random combination of base attributes that create a truly unique, one of one Wilder Avatar like no other. The final step will be to mint this avatar to the Ethereum blockchain, which will show up as one of 9,999 unique assets in what will become our APEX Genesis collection.
Trinity will remain our highest tier rewards program, representing three or more genesis assets, however Avatars will be our primary single genesis collection.
Release Date
Given that the NFT market is completely in the gutter, we have decided to wait until Q1 or Q2 next year, once market conditions have ideally stabilized. We feel strongly this is in the best interest of the project and community, and will increase the probability of attracting new Wilders to the project.
Avatar Creator
We are exploring the use of ERC-6551 for Wilder Avatars
In the context of an Avatar NFT designed for use in Wilder World, think of ERC-6551 as the underlying framework that enables this NFT to act as a specialized container for other digital items, much like virtual wearables and equipment. Within this system, the ERC-6551 standard comes into play by creating token-bound accounts specifically tailored to these Avatar NFTs.
With the help of Ethereum, ERC-6551 brings to life a unique wallet for each Avatar NFT. These token-bound accounts establish a strong link between an individual Avatar NFT and its exclusive wallet. Within this new wallet, you can securely store various digital assets, ranging from cryptocurrencies to proof-of-attendance records. This unique combination empowers your Avatar NFT in Wilder World, allowing it to not only represent your virtual persona but to also serve as a versatile container for your virtual assets.
For example: This would allow you to hold your Air Wild kicks in your Avatars 6551 wallet, and equip them from your in-game inventory in Wilder World. This would also allow you to sell a single avatar, along with all of its equipped items, which can each be their own specific NFTs.
Development Progress
We have been primarily focused on building a dynamic system for our Avatars that can enable an ever expanding experience, allowing Wilders to revise and evolve with their avatar over time–just like IRL. This is a key milestone towards our long-term goal of continuing to release Cyberwear following our Genesis Avatar drop, in order to keep an expanding library of assets you can collect, trade and equip to your Avatar.
Our primary achievements include:
Building our avatar system and pipeline along with core content.
Creating a system that allows avatar assets to be interchangeable with one another.
Creating a system that allows avatar assets to scale and fit dynamically based on what base model your are using.
Building a pipeline to create unique modular assets that can be broken into a variety of items.
Ensuring that avatars perform at a high frame rate in a high concurrency environment.
Ensuring avatars look as photorealistic and epic as possible.
Assets completed to date are:
Base mesh: x6
Skin types: x7
Face decals: x6
Eye wear: x6
Head wear: x6
Race suits: x4
Hair styles: x7
Projected number of assets for the whole avatar project:
Base mesh: x6
Skin types: x7
Footwear: x6
Jacket: x12
Bottom wear: x12
Top wear: x12
Masks: x6
Jewelry: x12
Headwear: x13
Face decals: x18
Hair types: x24
Racing Development
Game Mode
We have updated the multiplayer racing game mode, added instancing and lobby support, and have successfully tested multiplayer races in game. We are also able to scale up multiplayer races with our new infrastructure to support large scale server parallelization. In game, we are able to support large races, but will focus on a two player experience, in order to make MIW a smooth, heads-up racing experience to start.
Vehicle Handling
We have made significant strides on vehicle handling, although we are only at the beginning of things to come. The following video illustrates internal handling testing tools (don't pay attention to the graphics).
Key improvements include:
Cars are now generally stable and responsive.
Improved development testing environment and tools for rapid iteration.
Working to remove clipping on road surface.
Adjusted FOV (Field of view) for camera.
Adjusted position of car on screen during acceleration.
Improved suspension.
Working handbrake (allows for "kicking" out the brakes).
Improvements to gamepad controls.
Rescaled and repositioned wheels for cars, resulting in a more realistic look and feel.
Control Scheme
We are beginning to iterate on our control mapping. This is not final, but an example of our current thinking: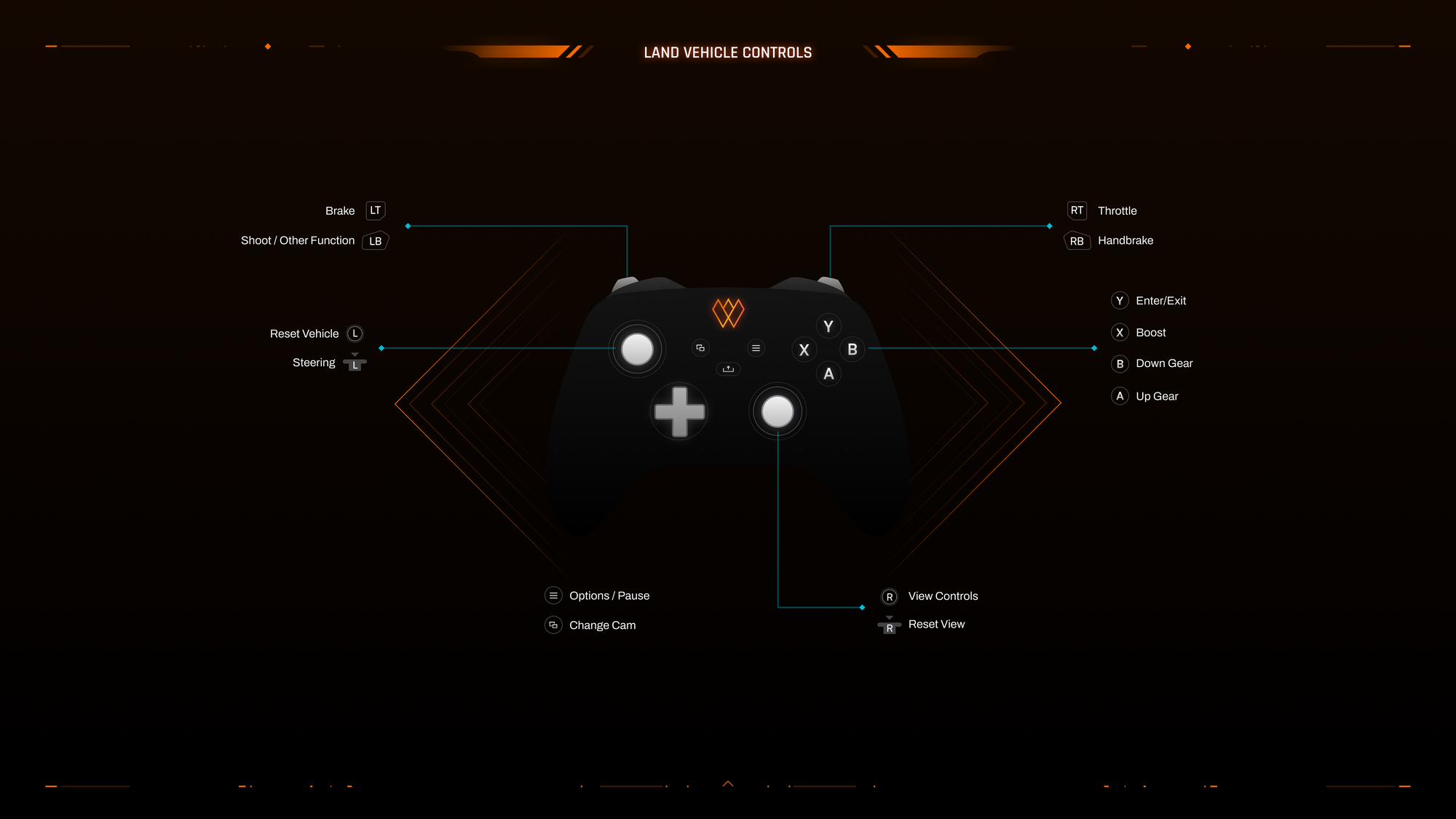 Vehicle Camera
We are continuing to work through a nasty bug that is causing the third-person camera to jitter when played in Multiplayer. This bug is caused by rapid changes in the server-authorized physics data stream during multiplayer replication. The bug is significant enough that it prevents us from shipping Midnight in Wiami until it is fixed. Unfortunately, this is a bug exists within the Unreal Engine. In order to fix it, we are working directly with Epic to find a solution.
In the meantime, we are evaluating our options so that we can have a great experience for Midnight in Wiami.
Option #1: Write our own camera in an attempt to work-around the issues present in the physics data stream.
Option #2: Switch to a first-person camera for Midnight in Wiami. This camera would work perfectly, but would give a different player experience than we originally envisioned.
We will keep Wilders updated on this issue as we learn more.
Vehicle Destruction
We have continued to make improvements to our destruction systems:
Improved vehicle destruction in multiplayer by adjusting the data replication sensitivity.
Improved the glass destruction for windows and headlights.
Vehicle VFX
The way a vehicle interacts with its environment makes all the difference. Currently we are in development of various vehicle VFX to make driving feel as real and exciting as possible. Current developments consist of real-time tire marks, burn out and drift smoke, muffler bursts, and high speed motion blur effects developed using Unreal Engine's Niagara VFX system.
Environment Art
Our world team has been focused on creating a streamlined process and art style that matches Wiami, while following best practices to build a next-gen game. This means we follow strict guidelines on the number of assets we have to make modular systems that give for a vast variety, while meeting our budget requirements for a highly performant experience.
This is a process of making some assets manually, then feeding them into procedural systems to scale that work across a lager surface area of the city. While procedural systems help scale the work of our art team, we still focus on key points of interest to bring the artistic touch to certain locations around the city. Most recently we created our first full fledged AIR WILD store that is currently functional in Wiami.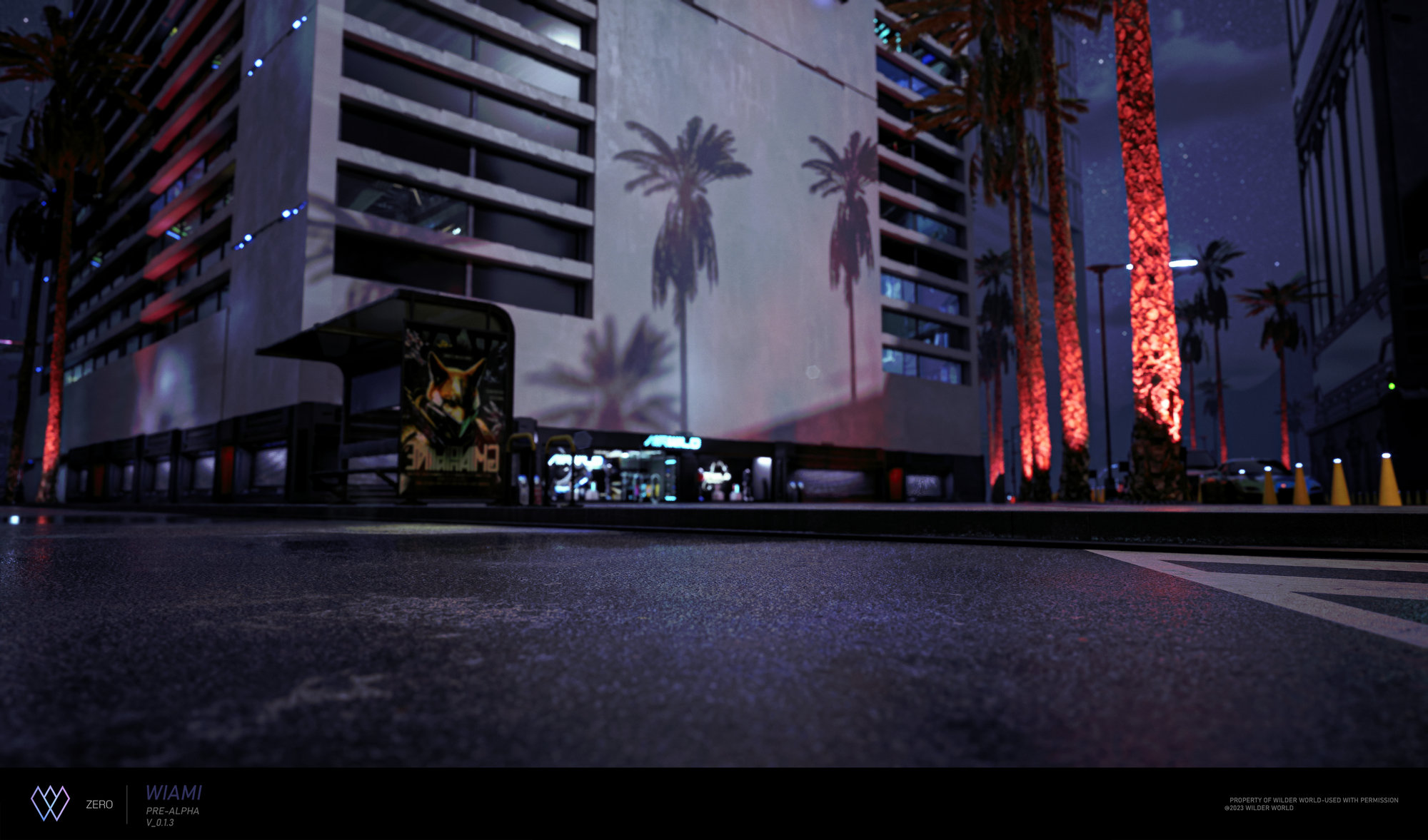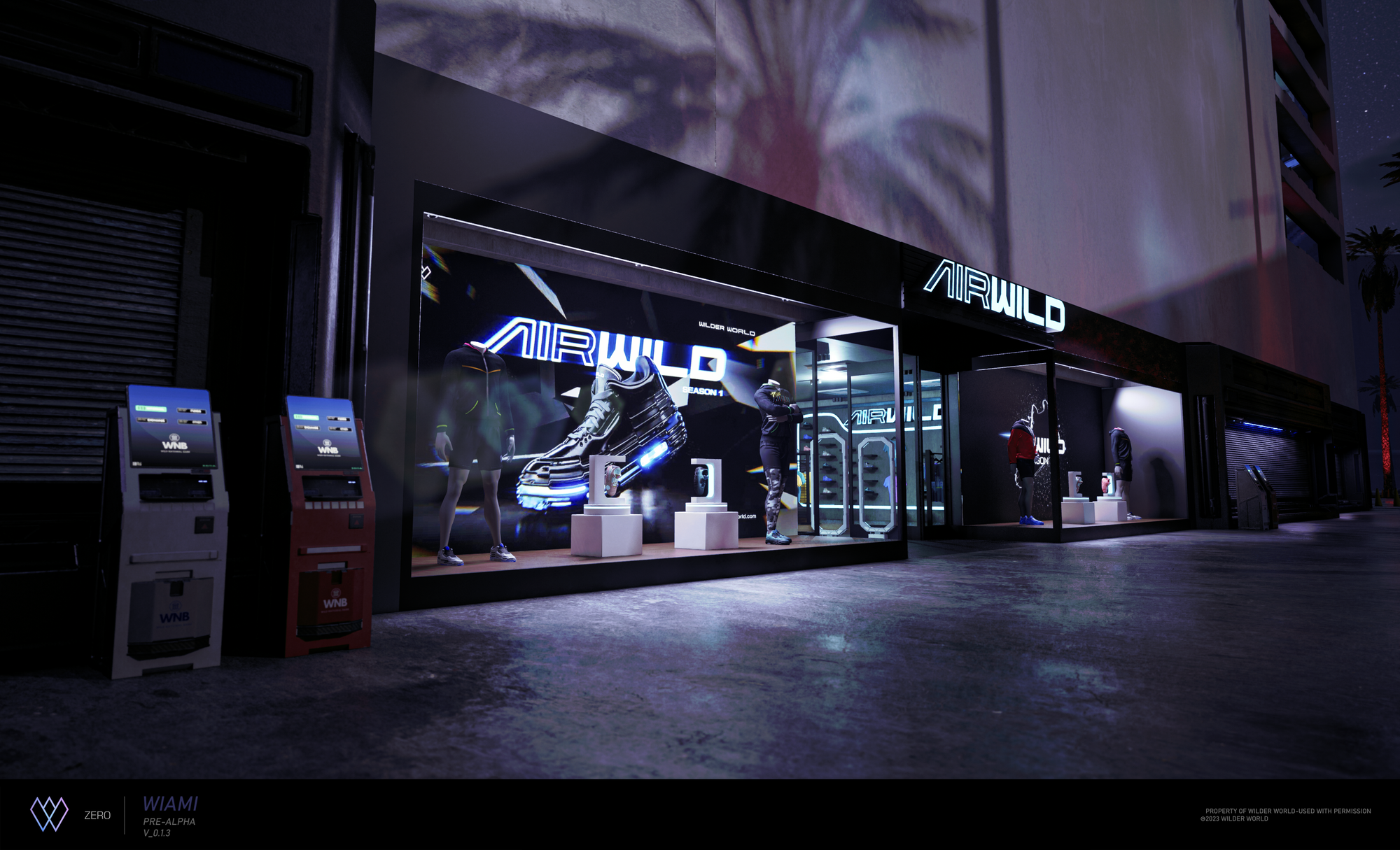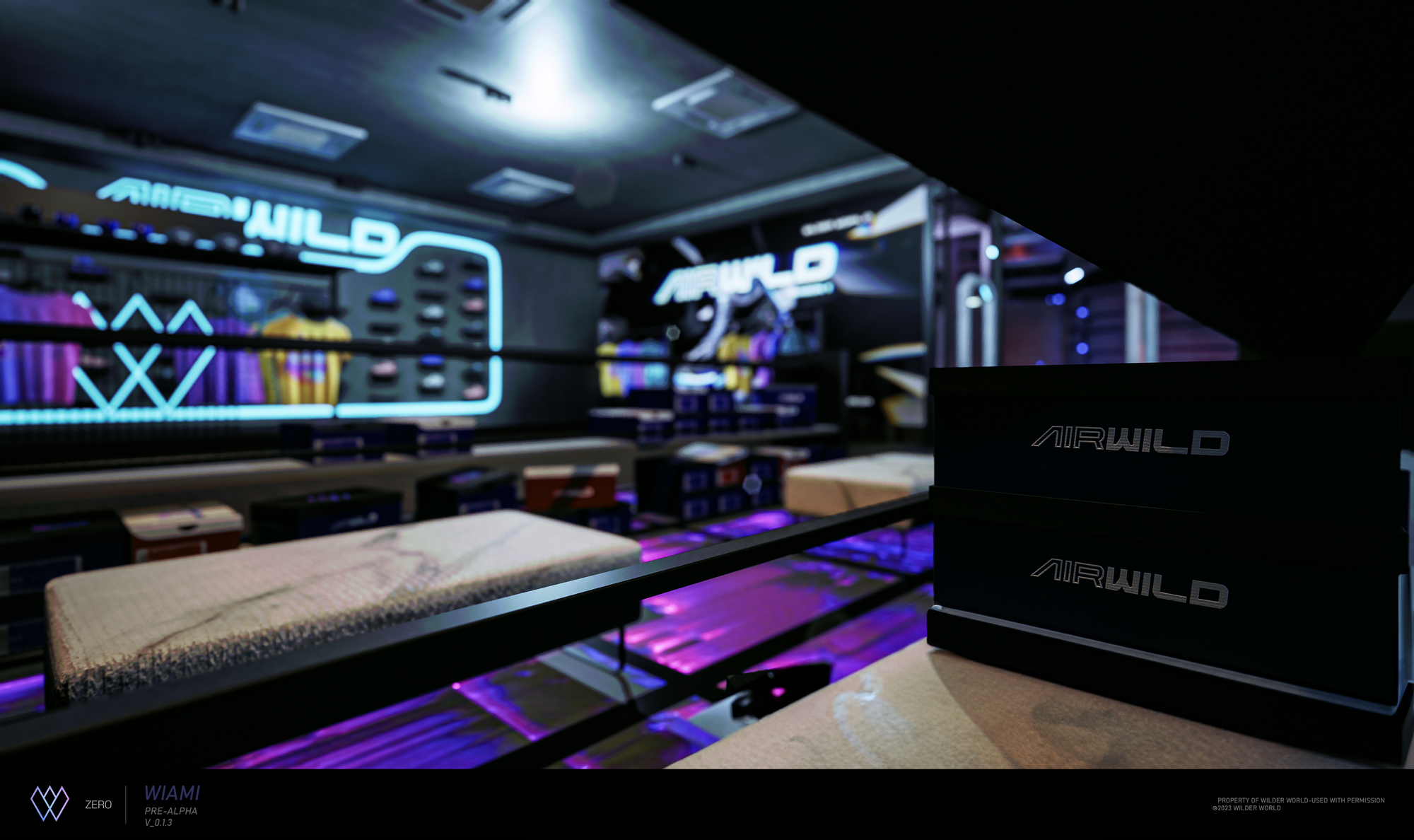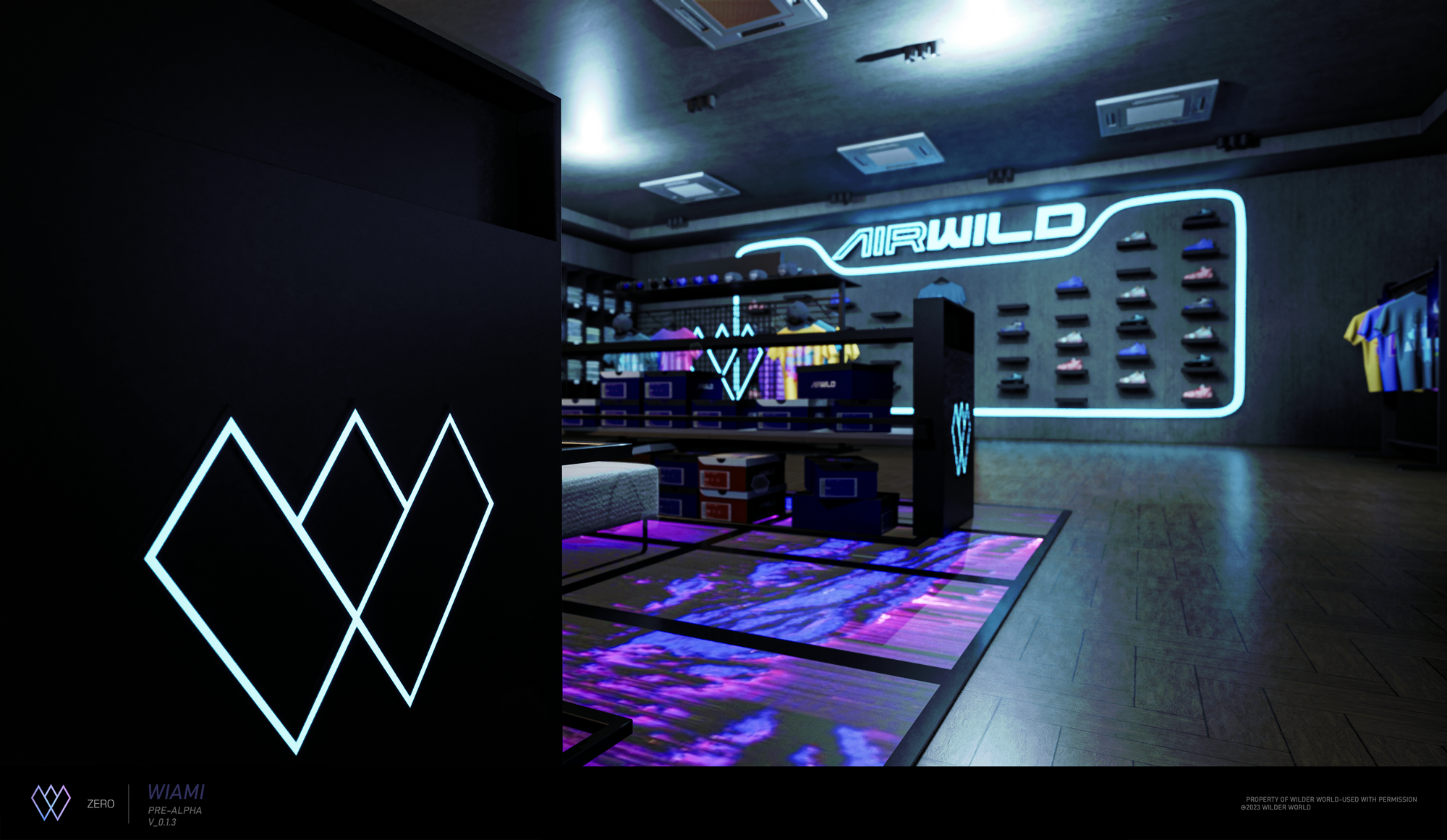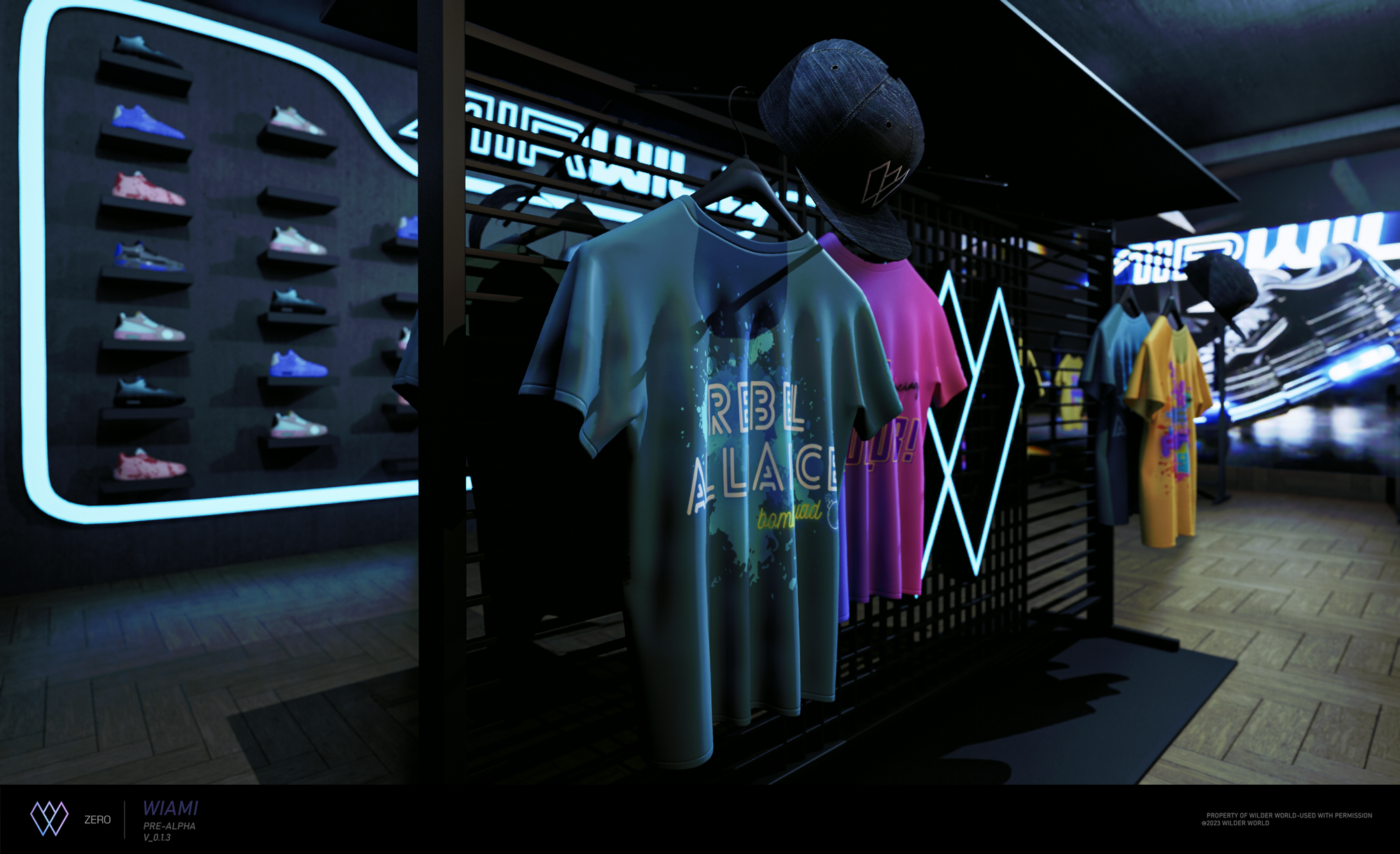 Procedural
HDA Procedural Tool Development
Our procedural team is always full swing on developing new tools and systems for our world building. HDA stands for "Houdini Digital Asset" and are tools developed inside of Houdini for real time artist use in Unreal Engine. These tools account for flexibility of design and easy user manipulation for artists to build the world with ease. Following the previous Dev Log, there has been a significant enhancement in these systems, and uniform tool menu standards have been integrated universally. This ensures that each tool within Unreal Engine is now user-friendly and easily editable. Consistency and clarity are key when building complex tool systems.
HDA_Building
The most complex tool the Procedural team is building is the Building Generator. This generator is continuously growing in layers and complexity and allows artists to make full detailed buildings with a ton of variety by drawing a ground floor shape, assigning panels, and adjusting easy to use settings. Diversity is essential for a vibrant city, yet it should maintain a consistent design style. This is why this system is built closely with our concept artists and is informed by their 3D models. Artists design plug-and-play modules for items such as façade panels, windows, doors, storefronts, roof equipment and various other props while the Building Generator assembles these items into completed adaptable buildings in real-time. All the models which get assembled by the Building Generator are instanced, keeping game play performance at optimal levels.
HDA_Skyway
The Skyways (enclosed pedestrian bridges between buildings) employ a system similar to the Building Generator. In this system, a kit of parts is designed and modeled based on concept artists' input, and the generator then assembles these parts. All the user has to do is draw a path from one building to another and the Skyway materializes with its proper panels and structures. The Skyway generator has angle settings at each end that can be adjusted to align perfectly with the side of any building it is connecting to.
HDA_Overpass
A huge governing part of the city is its roads. Since roads are ubiquitous throughout the city, the Overpass Generator had to be adaptable enough to handle any condition or situation that arises. This Overpass system is controlled by two main components, a guiding path curve and a section profile designed by concept artists. The tool takes this profile and interpolates it along the path creating all the proper driving conditions. It can automatically add on and off ramp connections, allow the user to draw down ramps to the streets below, and even create the merge lane connecting to those streets. Along the route, the generator appropriately places structural elements to the ground by detecting the meshes below and even generates the street lights and road lane markings. All of this is achieved in an artist-friendly and flexible tool with various customization parameters.
HDA_Tunnel
Tunnels can provide an enjoyable driving experience, and Wiami includes them as well. The Tunnel Generator is akin to the Overpass Generator in that it relies on a path curve and artist-designed section profiles as instances. However, the Tunnel Generator differs in that it automatically excavates and shapes the ground along the designated path as it passes through it.
HDA_Pipe
Set dressing and accent props make the world but these kind of details take a lot of work. Our goal is to speed up the process with tools like the Pipe Generator. This generator utilizes kits of artist-crafted pipe components and arranges them into intricate pipe systems, reducing the manual workload. The Pipe Generator has two modes, Path Curve and Bounding Box. Path Curve mode lets artists draw paths with get transformed real-time into a detailed pipe. Bounding Box mode generates various assemblies of complex pipe networks automatically within the box. Each mode has settings for adding additional pipe parts around such as valves and junctions.
HDA_Cable
Realism is important in everything we do at Wilder World, that's why we embed real world conditions into our tool logics. In the case of the Cable Generator tool, it employs realistic physics and gravity simulations to create lifelike effects. The tool suspends cables between specified points and applies a physics simulation, resulting in accurate real-world representations of hanging, tangling, and bundling.
HDA_Array
Placing props around the map can be a huge time consuming task. That's why we developed the Array Generator tool to make repetitive placing as easy as drawing paths. This tool takes objects and arranges them along these paths, offering a range of settings like spacing and offsets for customization. The Array tool also has various randomization options to create planned imperfections with rotation, misalignments, sizes and deletion. The real world isn't perfect and these nuances on the map make everything feel real. The tool even works on slopes, aligning the objects to the correct angles.
HDA_Barrier
The Barrier Generator is quite similar as the Array Generator but with added logic specifically meant for barrier type conditions such as gates and fences. In this case the barrier object is also arrayed along a drawn path but the barriers stay linked together automatically with custom resizing and interval options.
HDA_Screen
Art and visuals make the city alive with color and movement. The Screen Generator uses custom noise algorithms to generate unique artwork screens that can be placed anywhere in the city and on buildings. An artist can jump into the tool and create interesting glowing screen art with the click of a few buttons that is ready to give Wiami some good vibes.
AI Procedural Research
We are always on the bleeding edge of technology and its integration into making production smarter and faster. Behind the scenes we have been developing a system to generate 3d panel modules via AI. Our custom Stable Diffusion model is being trained on the already existing work of our artists to output models in the same style. The Stable Diffusion results are then interpreted by Houdini into 3d models that can be used in other procedural tools such as the Building Generator.
Continued Procedural Developments
Along with all the latest tools being constructed, we have also advanced development on our tools seen in the previous Dev Log such as our Signage Generator and Projection Generator. Make sure to check out Dev Log 1 to see them. As always, we are continuously thinking of new tools to develop for making world building easier, like our newly started Smoke Generator utilizing Unreal Engine's Niagara VFX system.
We are very thankful to PALs far and wide. Without them, building Wiami could take a millennia.
Contract Isolation
We recently completed the onchain contract isolation for all key Wilder World Collections. This was a monumental project that has been planned for over 18 months. The primary issue was ensuring that changes were minimal for holders, security risks were mitigated, and all collections properly reflected state changes from the blockchain across marketplaces. The project required a significant amount of planning and the coordination of multiple teams to ensure there were no issues.
From a practical perspective, the completion of our contract isolation will make browsing Wilder World collections much easier and more clean across various NFT marketplaces, including OpenSea, where we've now created our "Explore Wilder World" page. It will also allow for collectors to more easily identify Genesis assets when creating Trinities for future rewards. In addition, it unlocks the ability to have all industry DAOs in Wilder World fully functional — giving the holders of any Genesis NFTs across industries the ability to submit proposals and guide the future development of Wilder World. It also gives us better mechanisms for how we can carry out NFT staking, enabling more advanced reward systems for Wilders.
Check out each isolated collection here:
Metropolis
Metropolis is the underlying economic system that connects Wilder industries with creators and the WILD token economy. Each Wilder World industry (such as Wheels, Crafts, Beasts, etc.), is defined as their own economy and represented as their own onchain DAO and ZNS domain on the ZERO protocol. Each respective DAO is controlled by the industry's Genesis collection. Revenue in Metropolis is distributed as follows:
50% of future proceeds generated by the industry and distributed to the Industry DAO, with;
The remaining 50% distributed to the Wilder World DAO (less production costs).
We are proud to say, all industry DAOs will be live in the very near future and open for voting:
Wheels
Kicks
Moto
Beasts
Cribs
Crafts
PALs
An announcement will be made in our community Discord when the switch is flipped.
Massive Concurrency
Wilder World is a next generation multiplayer experience, and we continue to focus on ways of bringing Wiami to the masses.
Over the past month, we have continued our integration with Epic Online Services. This will provide us with a scalable and performant solution for Midnight in Wiami.
As we scale into larger concurrency gameplay, we have a number of options that we are vigorously exploring. Some of them allow for large concurrencies into tens of thousands of concurrent players (or more). They also offer support for the complex simulation of Wilder World that we will need. We are doing our homework here, and have established some internal development milestones for the concurrency testing that we are pursuing:
Milestone #0 (In Process): Integration of replication technology in Wilder World client. Evaluating suitability for existing avatars, wheels, and world systems.
Milestone #1: Add support & test for thousands of avatars in Little Meow neighborhood.
Milestone #2: Add support & test for thousands of avatars & vehicles in Little Meow neighborhood. Verify that physics-based interactions needed for vehicles work at scale.
Milestone #3: Add support & test for thousands of avatars, vehicles, and gameplay elements in Little Meow neighborhood. Add enhancements to neighborhood verify performance.
Important Note: We're definitely in the experimental phase with some of the technologies we are testing. As we move forward , these specific milestones are likely to change. We are focused on doing what it takes to enable a fast, physical, and accurate simulation replication at a massive metaverse scale.
MIW Limited Edition Swag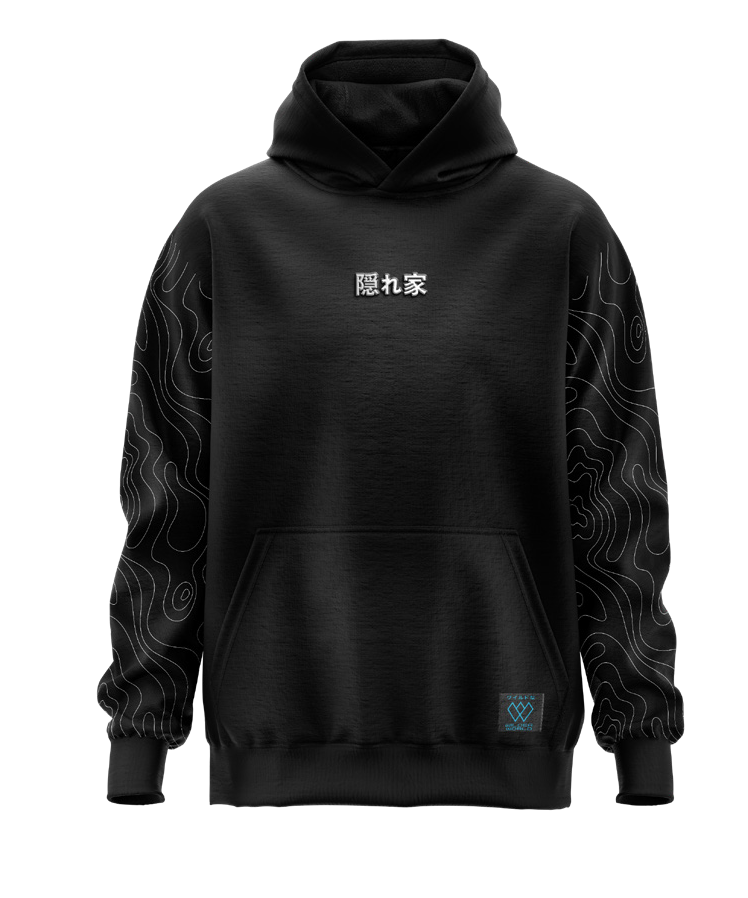 We plan to start dropping more apparel so Wilders can represent IRL. Our goal is to drop very high quality items on limited runs that will be planned around key milestones for Wilder World. Midnight In Wiami is the next drop we're working on. Our current thinking is releasing an incredibly dope Hat, Hoodie and Tee. Above you can see an early mock up on the design direction. The production process is underway. More details will be shared soon.
Midnight in Wiami IRL: Art Basel Showcase
Last, but certainly not least.
Wilder World has been committed to delivering a photorealistic, super fun and massive-scale metaverse experience before wasting a single WILD on IRL events.
To honor this moment, for the release of MIW we are putting out the bat signal and inviting Wilders for our first IRL event, which will take place at Art Basel Miami later this year.
As we work through solidifying plans, here's the Community lens we've been thinking about it through. Launching at Art Basel is a strategic move, underscored by several pivotal objectives aimed at understanding the gamer's experience first-hand, fostering team and community connections, and bridging the gap between the virtual and real worlds.
The main focal points of this event are:
1) Real-Time Player Feedback:
Presenting the game at a global platform like Art Basel allows for immediate and diverse player interaction, feedback and discourse. This real-time engagement is invaluable, offering the Wilder World team firsthand insights and feedback from players.  It enables our Game Studio to identify areas of improvement, understand player preferences, and adapt the gaming experience to meet the expectations and needs of Wilders, refining and optimizing the overall experience of Wilder World.
2) Uniting the Wilder Community and Team:
On a human level, we want to cultivate an authentic and unforgettable experience that encourages deep bonds that compound those built within our community over the course of the last two years. If we were to launch at Art Basel, it would serve as a unifying moment for the Wilder World community and team, in a whole new dimension of materialized reality. Bringing together individuals who share a passion for the metaverse, gaming, art, and technology fosters a sense of belonging and togetherness. We think a physical congregation after a prolonged virtual existence will reinvigorate the collective spirit in ways that will power us through the portal reactor to FBR.
3) Enhancing Project Visibility:
Art Basel has a global reputation and diverse audience, which offers a unique opportunity for Wilder World to gain visibility and and build awareness for pioneering artistic exploration through technological innovation. Showcasing the project at such an event offers promises to attract attention from art enthusiasts, gamers, technologists, and potential collaborators, thereby expanding the reach and influence of Wilder World in both the art and tech communities.
4) Showcasing Technological and Artistic Innovation:
Art Basel provides the perfect backdrop to highlight Wilder World's amalgamation of artistic creativity and technological advancements. It allows the project to demonstrate its unique blend of game mechanics, blockchain technology, and immersive art, beginning to position us as a pioneering force in the metaverse gaming landscape.
In Closing
As the plans for Art Basel crystallize, we will inform our community in Discord, Telegram, X and via the ZINE with specific dates. Event details will follow so that you too can join us in Wiami… err... Miami. ;)

The Wilders Salute you,

MEOW