Wilder World Partnership with Immutable X Empowers a Metaverse without Gas Fees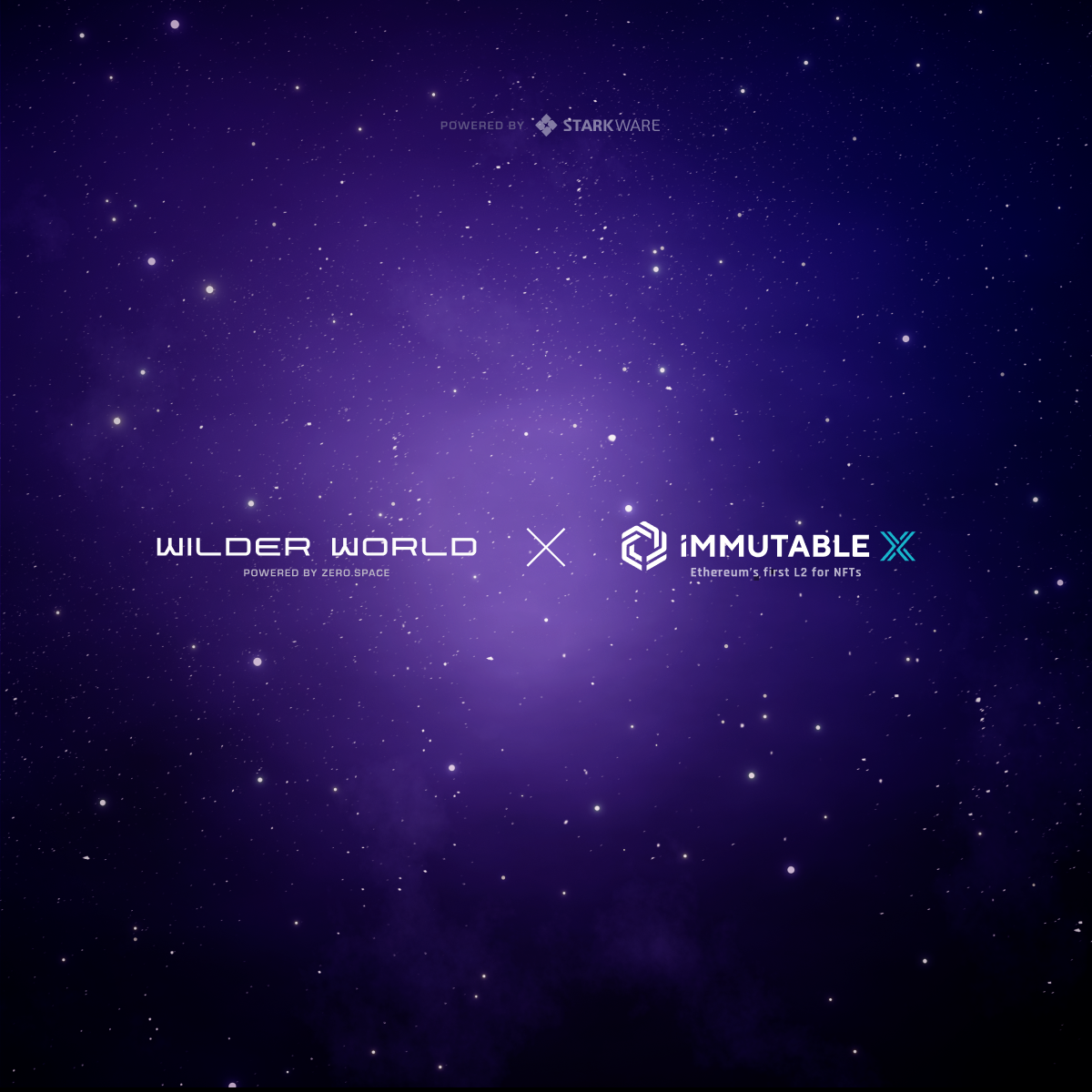 We are excited to announce that in conjunction with Zero.Space we have formed a strategic partnership with Immutable X, the first layer-2 scaling solution provider on Ethereum, to fuel the next evolution of NFT utility in the Metaverse.
The Wilder Metaverse economy is fueled by our uniquely designed Liquid NFT Marketplace, which is similar to traditional NFT exchanges in that artists and collectors alike can simply mint, collect and sell rare digital art. But Wilder World's Marketplace is the only one with a focus on 3D immersive NFTs that have utility and programmable liquidity features.
Immutable X was created by Immutable, the team behind one of Ethereum's highest-grossing trading card games, Gods Unchained. Immutable X teamed up with leading zero-knowledge proof provider StarkWare to provide instantaneous, gas-free transactions while retaining the security of Ethereum.
Since its official Alpha marketplace launch in early April this year, Immutable X has proven to enable 4X more NFT 24-hour trades than Ethereum layer-1.
The strong partnership with Immutable X will allow us to rapidly scale with the layer-2 provider's engine supporting over 9,000 transactions per second. This is a massive 600x improvement over most native limits, all while keeping Wilder World users protected with the security of the world's leading public blockchain, Ethereum.
Most importantly, the collaboration will enable Wilder World to build a Metaverse unconstrained by the limitations of increasingly high gas fees, removing economic barriers currently being faced by the market.
Enhanced user experience and tackling high gas fees are just the tip of the iceberg for these two projects; conversations are already underway to develop cross-NFT-exchanges between the Wilder Metaverse and Gods Unchained, where NFTs would hold utility in both realms. The two teams see this as an enormous opportunity, essentially building interoperability between Metaverses and games by using this shared platform.
Wilder World Co-Founder and Chief Architect, n3o, shared his thoughts on the partnership:
"The biggest thing preventing massive adoption for crypto right now is the cost of gas. This is particularly a problem with games and metaverses, where players need to be able to trade many different types of items quickly. Literally everything in the Wilder Metaverse is an NFT — vehicles, avatars, clothing, land, and accessories. With gas fees currently so prohibitive, it's near impossible to build a Metaverse powered by NFTs unless you are using a layer-2 solution like Immutable X's platform.
"We experienced this recently with the $WILD IDO, where some Wilder fans were paying over $1,000 dollars in GAS just to participate in early trading. This creates a huge disadvantage for those less economically advantaged. GAS fees are a huge problem and we are extremely excited by the opportunity to work with Immutable X on solving this industry wide issue for the Wilder and Immutable communities."
Immutable X President, Robbie Ferguson, opened up to us about the partnership:
"The Wilder World team deeply believes in the future of asset trading being open and decentralized in order to build a metaverse that lasts decades, rather than a bull run. Leveling up users' experience in a 3D world is a game changer — and we are incredibly excited to help realize their vision of making these NFTs accessible and frictionless on Ethereum, rather than a centralized alternative."
###
About Wilder World
Wilder World is an Immersive 3D Universe powered entirely by NFTs.
In collaboration with Zero.Space, Wilder World enables multi-leveled, photorealistic and mixed reality worlds where Wilders roam freely, acquire virtual land and express themselves through unique avatars, decorative assets and fashionable accessories. Wilder World is fully owned and governed by its community — creators, players and fans alike are enabled to participate via the Wilder DAO on the Ethereum blockchain.
About Immutable X
Immutable is an Australian-based company and market leader in scaling blockchain marketplaces. Immutable is creating a trading ecosystem that's more accessible, empowering and rewarding people in digital ownership. Their goal is to make the whole world tradable on Ethereum.
Through the Immutable X platform, the company is bringing transparency to the opaque world of digital asset economies (NFTs, non-fungible tokens), providing sellers and buyers true digital property rights. Immutable builds infrastructure for marketplaces that developers can use to provide better value to their users, and to introduce free-market economies inside their games.
Immutable X is the first layer-2 scaling solution for NFTs on Ethereum, with instant trade confirmation, massive scalability (at least 9,000 trades per second), zero gas fees — all without compromising user custody.
Immutable is responsible for launching the most successful blockchain Trading Card Game, Gods Unchained, which is headed up by Chris Clay, the former director of Magic the Gathering Arena.
Companies minting on Immutable X include: SuperfarmDAO (defi NFT farm), Epics.GG (collectibles), Illuvium (auto battler RPG), Lucid Sight (MLB Champions Baseball, Crypto Space Commander), War Riders (post-apocalyptic MMO), Gods Unchained (TCG), Guild of Guardians (mobile RPG), Mintable (NFT marketplace) and double jump.Tokyo/MCH+.
To learn more about Immutable visit: https://www.immutable.com/ Twitter @immutable