Important Update #2: ChainSwap Hack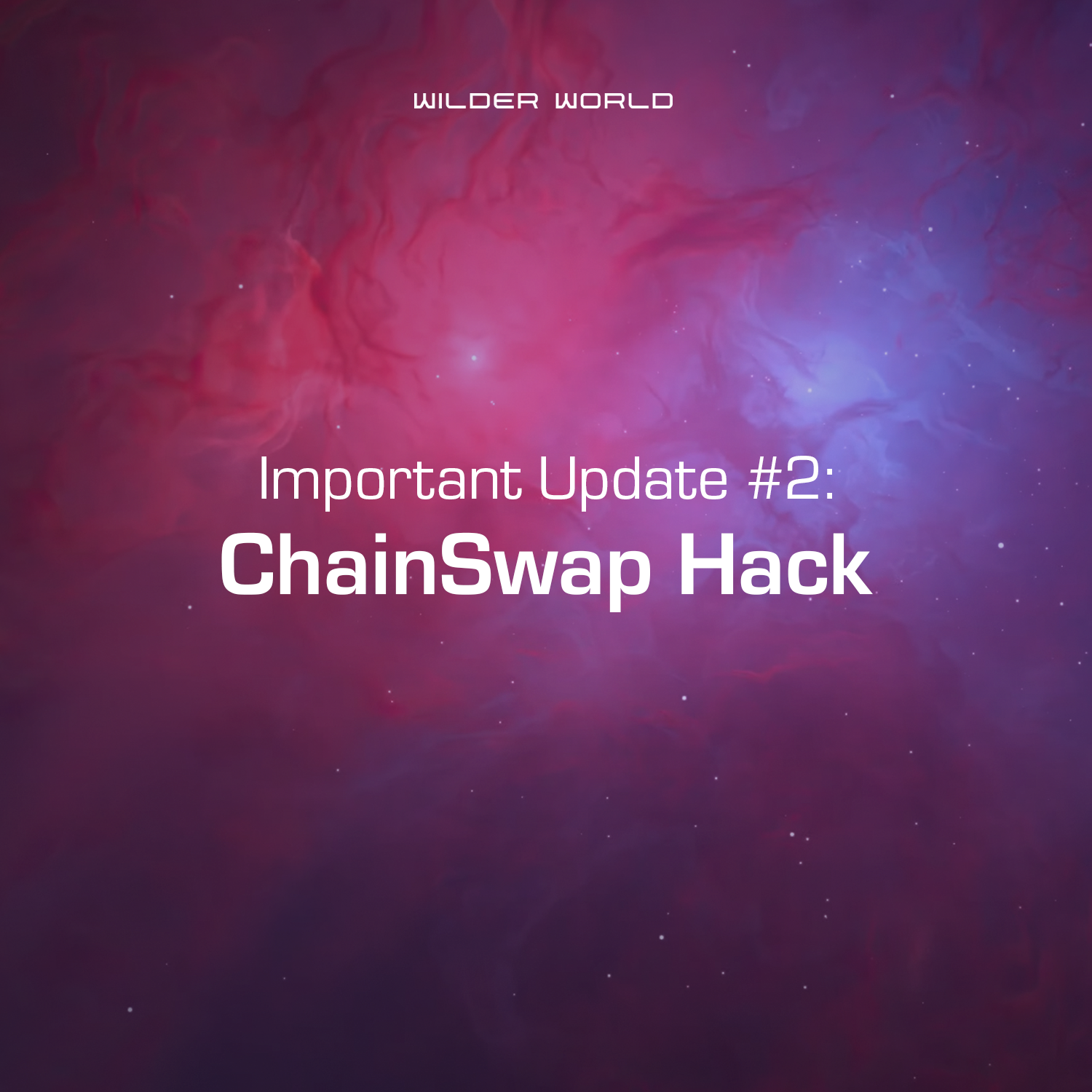 It's been a $WILD 48hrs in the cryptoverse; we continue to honor and acknowledge the Wilder community for your patience and support.
For those unaware of the matter at hand, on Saturday July 10th, 2021 at 20:47 UTC:
There was a vulnerability exploited in the ChainSwap protocol that impacted our community members trading on Binance Smart Chain (BSC) and PancakeSwap.
Roughly 2 million $WILD was stolen from the ChainSwap Bridge Contract on Ethereum and ~652.44 WBNB ($207,216.47 USD) on PancakeSwap.
Wilder World was one of 17 projects impacted by the ChainSwap Hack.
This was not a vulnerability in the $WILD ERC-20 token on Ethereum, but within ChainSwap, a system used to bridge tokens between Ethereum and BSC.
For further details, please review our first update on this situation, which provides an in-depth analysis of what took place on chain: Important Update #1: ChainSwap Hack.
Trading of the $WILD token on Ethereum-based exchanges, including Uniswap and Gate were NOT impacted and continue to operate as normal. Our contracts have been comprehensively audited by ConsenSys Diligence, one of the industry's leading auditing firms.

The Remuneration Plan
The Wilder World founding team have agreed to donate 2 million $WILD (ERC-20) from Wilder treasury to all BSC token holders impacted and will receive the equal amount of $WILD they had before the ChainSwap Hack.
Additionally, ChainSwap has reimbursed Wilder World with $215,000 USDT, which will be used to purchase $WILD in the Uniswap Liquidity Pool shortly after this announcement.
After consulting with community members, we have formulated an immediate plan of action for the two primary groups (Group A, B) impacted by the event.
Even though the Hack is technically an attack on the ChainSwap Bridge and constrained to the BSC ecosystem, Wilders always do what is right.
Group A: $WILD token holders on BSC / PancakeSwap.
Given the ChainSwap hack occurred on the Binance Smart Chain Network, we have made the decision to migrate all holders of $WILD BSC (BEP-20) over to $WILD Ethereum Mainnet (ERC-20) via an 1:1 Token Conversion with no lock up period.
Within the next 72 hours our community team will provide a link, where $WILD token holders on BSC 'prior to the attack' will be able to withdraw tokens equal to their BSC balance.
A snapshot of the BSC blockchain (prior to the hack) is being coordinated right now. We will provide the code utilized to generate this snapshot in our next update.
This will ensure no permanent loss and full value recuperation of your BSC balances prior to the attack.
For security purposes, claiming will happen on Ethereum Mainnet, and the $WILD token contract on BSC will become invalid and deprecated.
Group B: Purchased $WILD BSC (BEP-20) after the ChainSwap Hack.
We are aware there was approximately $30,000 USD of $WILD purchased on BSC immediately after the hack took place.
Many of these holders accumulated a large number of "phantom" $WILD on BSC at fractions of a penny, without realizing that the liquidity pool on PancakeSwap had been compromised.
Our team did their best to respond within minutes of the attack occurring, advising people not to buy or sell on BSC, in our official ZERO, Twitter and Telegram channels.
Despite this, it is our objective to recover funds from the now deprecated $WILD liquidity pool and refund those who had purchased on BSC after the hack in BNB.
We will provide more detailed information on the exact process for this within the next seven days (and likely sooner).
We also understand that some community members, against our clear communication, sold on Uniswap when the Hack had begun and the attacker started to sell the stolen $WILD tokens.
While we deeply sympathize with those that sold their $WILD during this period. Unfortunately there is nothing we can do in this situation. At no point during the attack did the $WILD Uniswap Pool (or any other Ethereum-based exchanges) malfunction or become compromised.
The Future of ChainSwap, PancakeSwap and BSC
Until further notice and our investigations are concluded, Wilder World will cease to use ChainSwap, PancakeSwap and Binance Smart Chain.
Until a secure path is determined on BSC, we encourage you to trade $WILD on Uniswap and any ERC-20 compatible token exchanges.
What's next?
We will be in touch within the next 72 hours with instructions and next steps for those who have been directly impacted by the ChainSwap Hack.
Until then the $WILD ERC-20 Token continues to be safe, secure and open for trading on any Ethereum-based exchange, including Uniswap and Gate.io.
Our team will continue to investigate this situation with ChainSwap directly and we will continue to send updates via ZERO, Twitter and Telegram as new information is discovered.
As always, we could not be more grateful for the Wilder Community. This event has strengthened us.
We salute you.
Wilder World