A Wilder Week: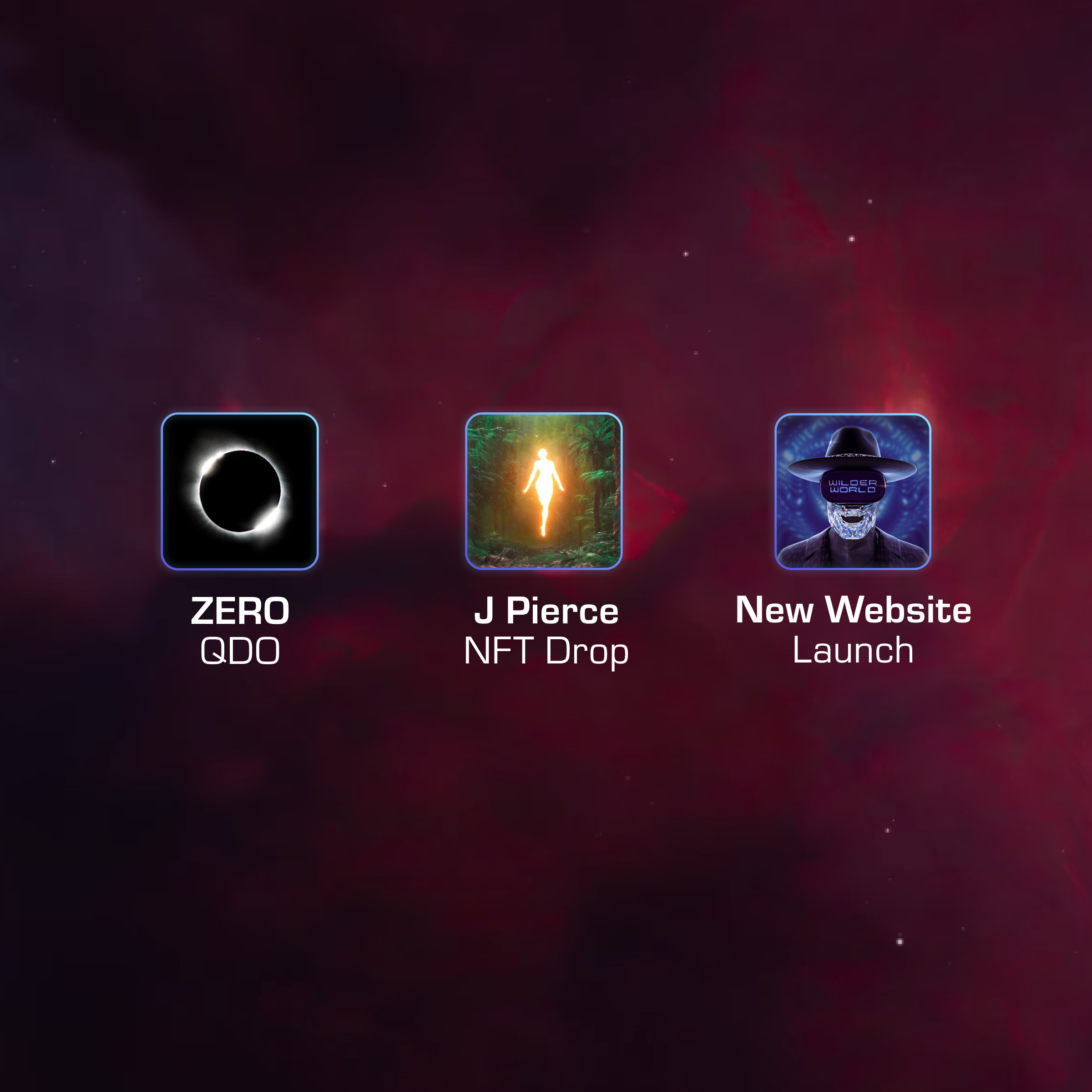 TLDR:
Ahead of the launch of the $ZERO Token, we provide important information for the Wilder Nation regarding the $WILD Snapshot and structure of the Quantum DEX Offering (QDO)
We drop a little surprise update to the community on the brand new Wilder World Website update to introduce a new dimension of reality.
We go 1:1 with transcendental artist J. Pierce as he joins Wilder.Guild and drops his stunningly beautiful NFT titled "Enclosed Serenity" hitting the WWMM on Wednesday Sept 29, 2021 at 6PM (PST).
Wilder World and ZERO Go Quantum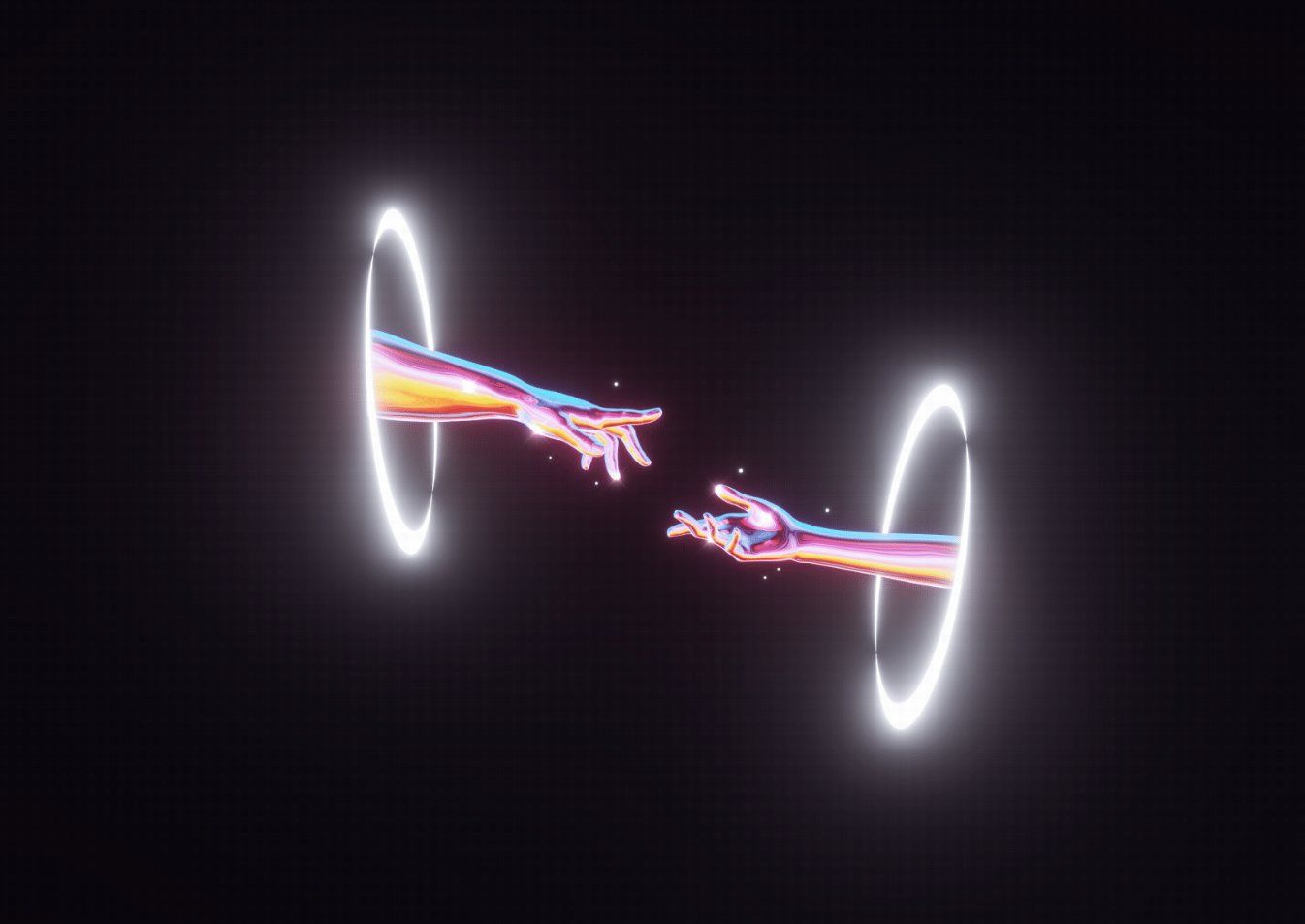 Last month n3o announced the QDO (Quantum DEX Offering) — a brand new mechanism to birth one ZERO Universe from another.
A 'Universe' within ZERO is a root domain on the ZERO Name Service protocol (such as '0://Wilder'). Wilder World is the first of many Universes that will launch on ZERO. The primary purpose of the QDO is to reward citizens of existing Universes (such as Wilder World) every time a new Universe launches on ZERO.
Important information on $WILD Snapshot:
The first QDO rolling out is for the launch of ZERO itself via the $ZERO Token. This will be achieved by snapshotting and issuing $ZERO tokens to $WILD tokens based on the following structure:
The initial $ZERO issuance formula will happen using three separate $WILD snapshots in time; A, B, and C, respectively. Each snapshot is weighted equally and results in a total of 100% for the allotted QDO allocation:
Snapshot A: August 1, 2021 — This is intended to reward those who purchased $WILD early and held it though the $WILD summer (33.33%).
Snapshot B: September 29, 2021 — This is intended to reward those who purchased $WILD before or after the initial QDO announcement.
Snapshot C: September 29, 2022 — This is intended to incentivize citizens to think long-term and HODL. After all, good things take time (33.33%).
The principle behind this snapshotting structure is pretty straightforward, we want to reward those who buy early and HODL, irrespective of market conditions. We want to incentivize those who encapsulate the Wilder Spirit and believe in our long-term vision. We know real Wilders will appreciate this sentiment.
Here is quick example of how the snapshotting will work:
Joe Wilder acquires $WILD using the following timeline:
Purchased 100 $WILD tokens on or before August 1, 2021
Purchased an additional 100 $WILD tokens on September 28, 2021
Purchases another 100 $WILD tokens on January 1, 2022
Joe would receive the following allocation at each specific snapshot:
1/3 allocation for 100 tokens on August 21, 2021
1/3 their balance of 200 tokens on September 28, 2021
1/3 allocation of their 300 balance on January 1, 2022
Balance Calculations as at September 29, 2022:
Total $WILD Balance: 300
Total 'Eligible' WILD: 200 (based on weighted calculation)
Calculation: (1/3 * 100) + (1/3 * 200) + (1/3 * 300) = 200 eligible $WILD
In this example, Joe Wilder would receive their pro-rata allocation of 'the $ZERO QDO Token Drop' (totaled at 2% of ZERO's supply) based on a total calculated holding of: 200 $WILD.
Over the coming weeks (prior to ZERO trading on Uniswap), we will provide access to a 'token claim website' where you will have the ability to 'claim' your $ZERO holdings (based on the QDO vesting structure).
Head into the Quantum for a deeper dive
A New Dimension of Reality
It's hard to believe it's only been five short months since we launched Wilder World and the $WILD Token into this realm; it's even harder to fathom how rapidly our project has evolved in this time.
As we enter the Quantum and need to keep up with this astronomical pace and progression of the Wilder Nation, we have given our website an update to reflect the magic we are creating at Wilder World.
Introducing a new dimension of reality, https://www.wilderworld.com/ - updates include:
Join our ZERO Network
Easily enter the WWMM and start collecting
Scroll through our Metaverse projects
Keep up to date with all the latest on $WILD Token
Access Wilder community and socials all in one place
We are super proud of the team for creating this masterpiece. Head to Twitter to tell us what you think of the new looks!
Introducing Wilder.Guild artist #2: J. Pierce
It is an honor to welcome to the Wilder.Guild Visual and Motion Graphics Artist Josh Pierce. A true leader in the digital art space known for his aethereal art and juxtaposition of natural environments with futuristic energy forms. Evoking a sense of serenity and calmness manipulating light in a way that showcases the beauty of nature which can transport the viewer through space, time and dimensions. Using high-res textures and procedural generation, Pierce is able to create otherworldly, yet photorealistic environments within his 5D software.
Outside of his own art, he also regularly supports other upcoming artists by promoting their work to his audience, helping to promote positivity and a supportive environment within the community.
"Enclosed Serenity" - Displaced from its home in the forest, this magical tree brings the aura of natural presence and serene contemplation to its ultimate home in Wilder World. Pierce's work has a consistent theme of creating a space in the viewer that opens up in the present moment. His hope is that the audience takes a deep breath when seeing it, and remembers to feel the beauty and power that is present in the here and now.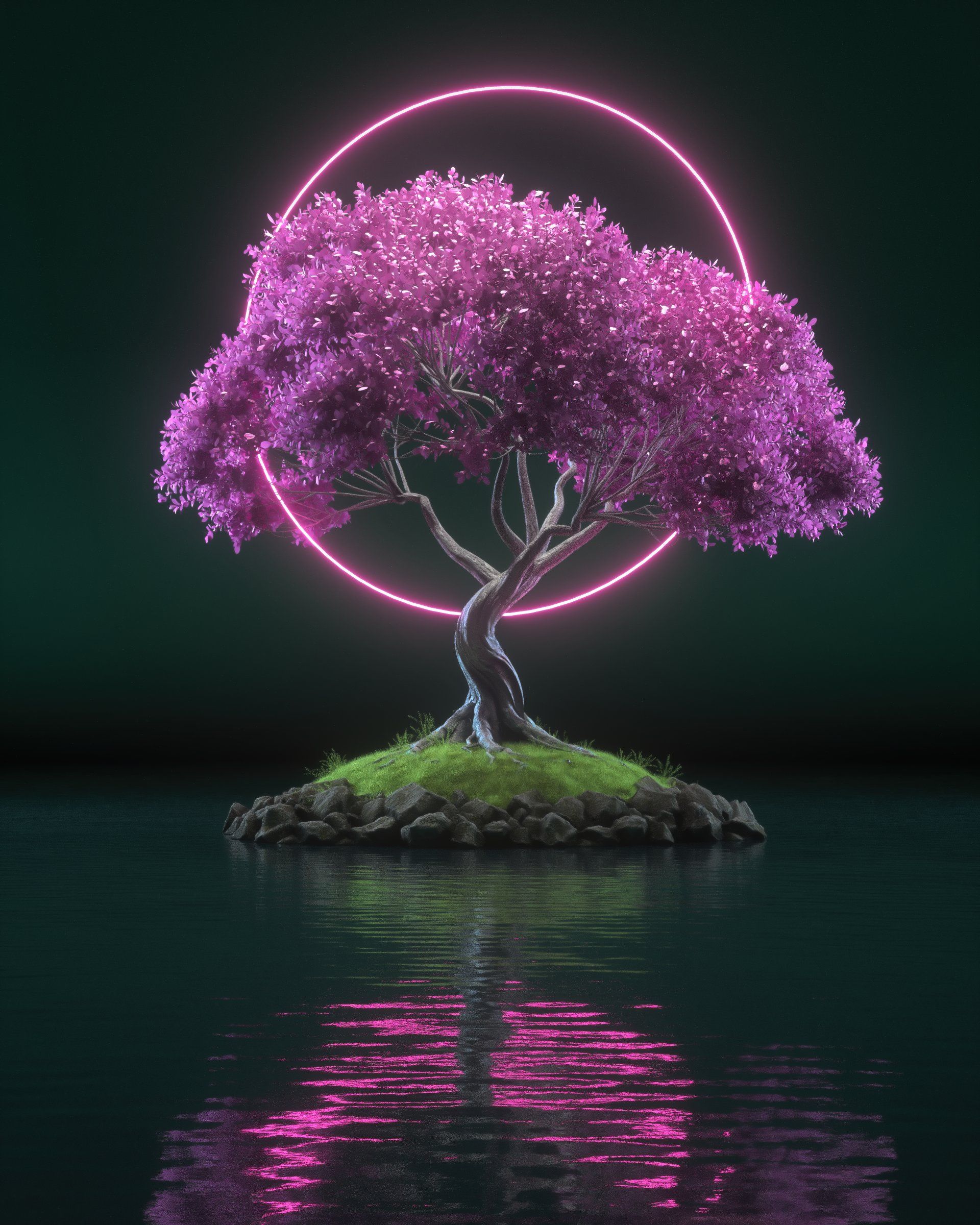 We can all be caught up so easily in the fast pace of life in our modern techno paradise, but slowing down for a gentle reminder of our place in the universe can help us to refresh and recharge. Doing this kind of daily reflection leads one to a more open, fun, and positive attitude about life, love, art, technology and the community we all are a part of!
We sat down with J. Pierce ahead of his drop on Wilder World  to get a deeper insight of this extremely talented artist's view of the industry and world in general - as you will see, he's a Wilder all the way.
1:1 with Wilder Guild artist J. Pierce:
How were you introduced to NFTs as a concept?
I was approached by Tommy K at Nifty Gateway in November 2020. It was pitched to me as a way for digital artists to gain the unique authentication of owning their art using the blockchain. That being something that was only available previously to artists in traditional mediums. I had been around crypto long enough to understand blockchain technology more or less, so turning a digital work of art into a token made sense to me. I was amazed at how easy it was and how quickly people could understand the concept, and want to own NFTs.
How does the world around you inspire/impact your work?
I'm inspired all the time by the world around me and by nature. Just yesterday saw the glowing full moon coming up on the horizon just breaking through the trees and it was really awe inspiring. I try to recreate these kinds of magical moments when the mind stops. I use meditation to inspire my art, and when I create, the art itself becomes meditation. I think art is a language that expresses something that, by its nature, can't be put into words.
How do you think DAOs should develop to increase their impact?
I'm only very generally aware of DAOs and all they have to offer. My understanding of their capacity for community ownership and decentralized decision making is very in line with the way I believe financial systems, governments and community organizations need to be structured going forward in the future if we are going to survive and thrive as a species on this planet.
What is your favourite piece in your collection and why?
Well, I think it's very hard to answer that question but I'll try! Everything I create is part of an ongoing process of discovery. There have been breakthroughs, sudden explosions, happy accidents, and so many other joyful moments. I want to say today that my genesis piece "Pristine" is one of my all time favorites and holds a special place for me since it's the first NFT I ever minted. It was minted Jan 22, 2021.
What themes/emotions do you aim to portray through your work?
My art is really about bringing my audience into the space where I create. I do everything I can to remain present during the practice of creating. That means I'm feeling the flow of energy in my hands, in my eyes, in my chest, and all around me as I work with the forms and colors on the screen. There's an intimate space of truly divine creation that I want to share. I use surreal and natural themes with abstract energy forms to suggest the presence of the beyond in the here and now.
What would be your dream mode of transport for the Metaverse?
Flying. Superman style. I like the purity of floating and I'm always having dreams of floating, gliding and flying. Or if there was some kind of lazy river that I could swim/raft everywhere in that would also be awesome!
Have you ever experimented with physical art mediums?
I have a lot! Mostly I do acrylic paintings which are abstract and not really anything like my digital work. I used to do a lot of pen and ink style intricate line drawing that I would color with colored-pencil. I really enjoy sculpture as well and want to do more of it, probably with clay at first.
How do you think the NFT community can promote long-term prosperity?
I hope that people see NFTs as the future of collectables and authentic ownership of digital goods. I think there are a lot of different groups who see the value and want to be involved in NFTs. I think the art community is a specific group within the space and I think it's really important for artists to recognize that not everyone sees the NFTs the way we do and that we really need to stick together and support each other.
What role do you believe marketplaces should play within the community?
I think a marketplace serves the necessary function of being a place where people can exchange the things they want to buy and sell. But a marketplace also has its own platform by virtue of its existence and can therefore promote certain artists and has the power to ignore others. I think there should be democratization when it comes to who is promoted so everyone has a fair chance to have their art seen!
What do you think is the best way for artists to build value for their collectors?
I may be naive in saying this but I think it's really about integrity and consistency. Following trends and chasing dollar signs will leave a trail behind you. Especially on the blockchain! Doing that will leave a hodgepodge of different ideas in your wake and collectors will not really know what your art is all about. I've been really consistent from the get go that my art carries a personal and meaningful message and that it is valuable from a purely artistic perspective. It's also a good idea in the space to reward and engage with collectors. I want to give back and say thank you.
How do you ensure that you maintain a high state of well-being as an artist?
I have to live my life today in a way that promotes mental, physical, emotional and spiritual health. I can't really function otherwise. In a lot of ways, creating art is a part of my mental health maintenance. I do a lot of meditation, reading, and writing. I exercise regularly especially running, and surfing. I have an incredible support system of people I talk to regularly, and I've learned to be vulnerable. Keeping stuff inside is poisonous for me, so letting it all out, whether that's through creating art or sharing with a trusted friend, keeps me connected and grounded.
What drove your interest in bringing your creations to Wilder World and where does it differ from other platforms?
I think honestly it was just about being approached by the Wilders, seeing their passion and genuine character and kindness. I get a really good vibe from you guys and the platform looks incredible.
Important Wilder.Guild drop details:
Join us as we release Pierce's 1/1 artwork, exclusively on the new Wilder World Metaverse Market.
The J. Pierce Wilder.Guild release titled "Enclosed Serenity" will drop on Wednesday Sept 29, 2021 at 6PM (PST) - The auction will close on Sunday Oct 3, 2021 at 6pm (PST).
Follow more of J. Pierce's work below: