Important Update #3: ChainSwap Hack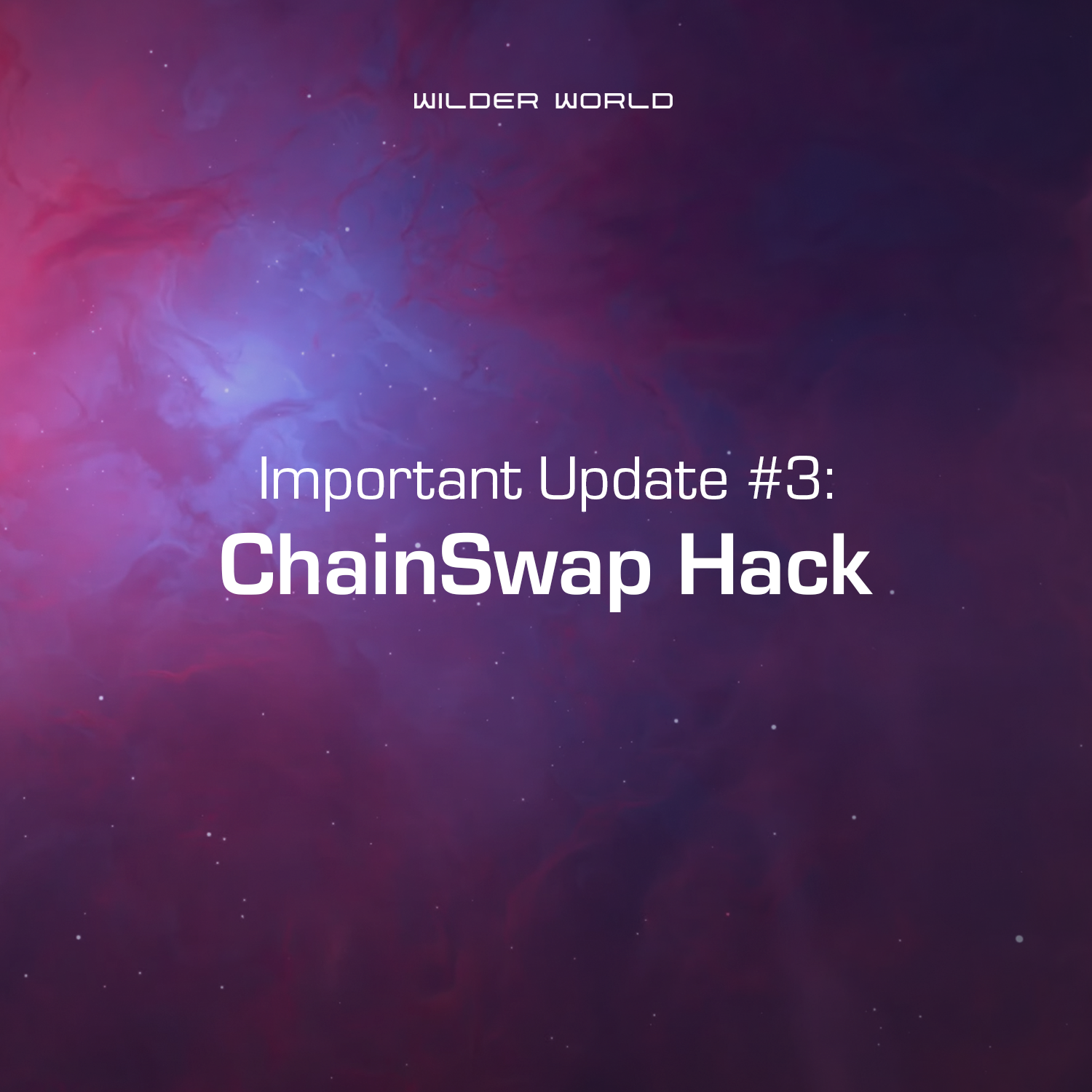 It's been a monumental effort but the Wilder team have risen to the occasion and we're happy to report that our redemption site is live and ready to claim for community members from Group A that were impacted by the ChainSwap Hack.
Summary of events
There was a vulnerability exploited in the ChainSwap protocol that impacted our community members trading on Binance Smart Chain (BSC) and PancakeSwap.
Roughly 2 million $WILD was stolen from the ChainSwap Bridge Contract on Ethereum and ~652.44 WBNB ($207,216.47 USD) on PancakeSwap.
Wilder World was one of 17 projects impacted by the ChainSwap Hack.
This was not a vulnerability in the $WILD ERC-20 token on Ethereum, but within ChainSwap, a system used to bridge tokens between Ethereum and BSC.
For further details, please review our first and second update on this situation, which provides an in-depth analysis of what took place on chain.
A quick reminder that trading of the $WILD token on Ethereum-based exchanges, including Uniswap and Gate, remained functional during the attack and continue to operate as expected. Our contracts have been comprehensively audited by ConsenSys Diligence, one of the industry's leading auditing firms.
In true Wilder Spirit, the founding team has agreed to donate 2 million $WILD (ERC-20) from our treasury to all BSC token holders impacted and will receive the equal amount of $WILD they had before the ChainSwap Hack.
Group A Redemption Process: $WILD token holders on BSC / PancakeSwap.
A snapshot of the BSC blockchain (prior to the hack) has been facilitated here to ensure no permanent loss and the full value recuperation of BSC balances prior to the attack. It's important to note that there will be two transactions with Gas fees that are required in order to redeem your tokens. The first will unlock them, and the second to claim them.
To offset the gas fees we have given an extra 55 $WILD to all accounts holding 20 or more $WILD tokens. As you may know gas prices can heavily vary based on activity when using the Ethereum network so we encourage you to keep a close eye on the ETH gas tracker and redeem your tokens when prices are low (i.e. < 15 GWEI). This site is also a good monitor of gas prices overtime in GWEI.
Please visit our ChainSwap Hack Channel in ZERO if you have any issues with the redemption and need further assistance from our team.
Our engineers have made it super simple to claim your $WILD Tokens. We have also prepared a step by step process of our redemption software and simple steps to claim your $WILD Tokens. Please use chrome browser for best results.
Step 1 — Visit the Wilder World redemption page
Step 2 — Choose your wallet to connect - we use Metamask
Step 3 — Connect your wallet
Step 4 — Unlock your tokens
Step 5 — Claim your tokens
Step 6 — Release your tokens
By following these steps you will receive your $WILD tokens securely inside your wallet.
Group B Update: Purchased $WILD BSC (BEP-20) after the ChainSwap Hack.
We continue to work closely with ChainSwap to retrieve approximately $30,000 USD of $WILD purchased on BSC immediately after the hack took place.
It is our objective to recover these funds from the now deprecated $WILD liquidity pool and refund those who had purchased on BSC after the hack in BNB. This process is very close to being finalized.
If you belong to the Group B cohort please fill out your details via this Typeform so we can personally contact you with next steps.
Once we have retrieved the funds from the unfrozen liquidity pool, you will receive a communication from Wilder World with a redemption link or the tokens will be directly sent to your wallet.
In Closing
Pending further analysis, Wilder World will cease to use ChainSwap, PancakeSwap and Binance Smart Chain. While we have great confidence in the audited $WILD token contracts and NFT systems, we have learned through this experience that we need to become even more vigilant regarding any third-party infrastructure used in the Wilder eco-system.
Until a secure path is determined on BSC, we encourage you to trade $WILD on Uniswap and any ERC-20 compatible token exchanges.
As always, we are grateful for the way the Wilder Community has come together under these unique circumstances. We believe our steps taken will result in a full recovery of all funds for those directly impacted by the event, and are very happy with the outcome.
Join the conversation via the ChainSwap Hack Channel on our ZERO network to keep up to date.
We salute you.
Now, back to building the Metaverse.
Wilder World