Metaverse
Tales of our Journey: The Wilder World Roadmap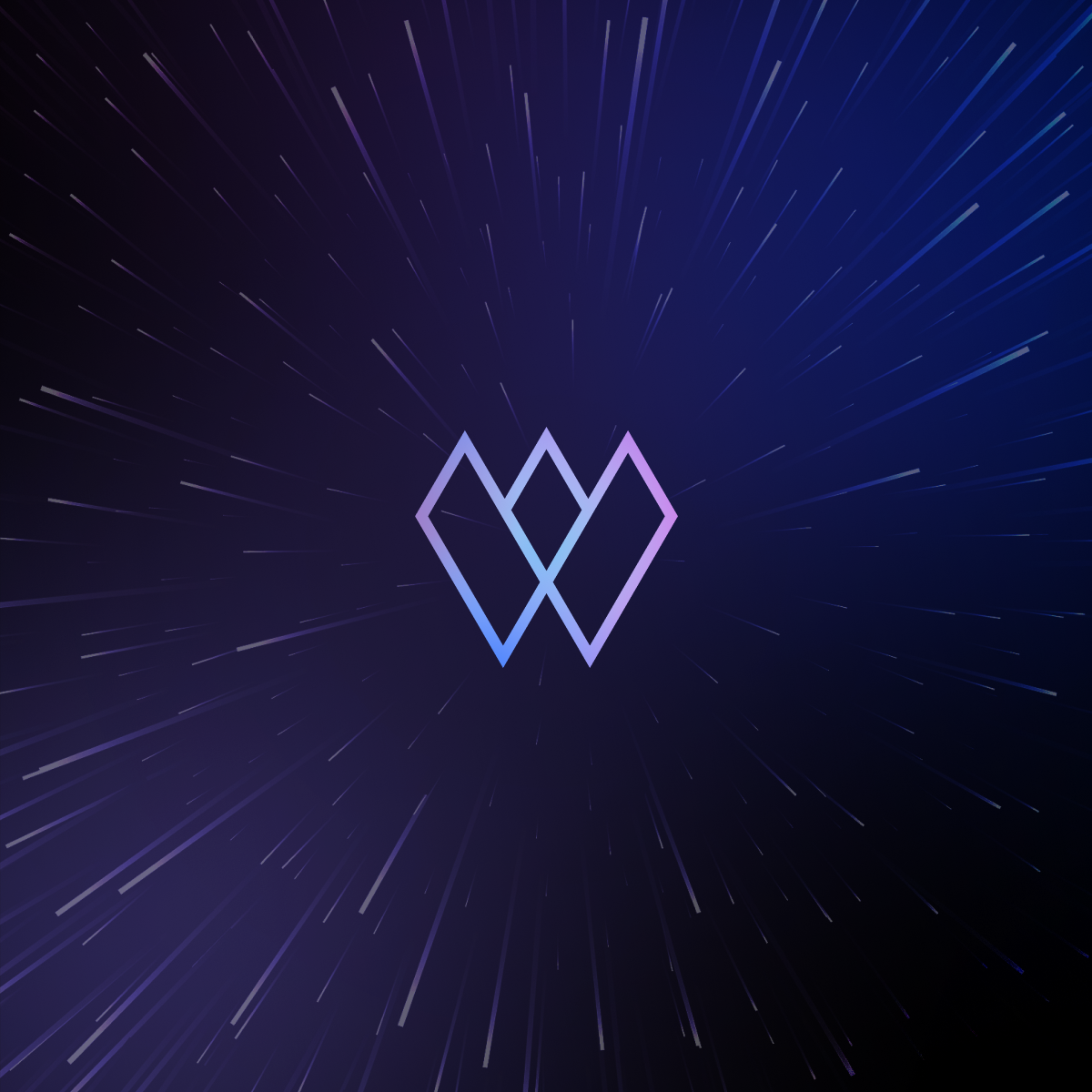 Wilder World officially entered the public realm with our IDO on May 11, 2021. But long before that, there was a plan and a vision. The Wilders all along wanted to build metaverse-ready NFTs that could solve the main problems with NFT markets today: lack of liquidity, lack of utility, and centralization.
Wilder World NFTs have Utility
With the decentralized Artist Guild and liquid NFT marketplace, Wilder World provides a zero-fee DAO for 3D artists (network fees apply) while ensuring that NFTs are tradeable and usable after they are minted or purchased. The Wilder community will be able to mint, trade and collect immersive, fractionalized NFTs. Once you get to know the Wilders a bit, you'll understand that this is just the tip of the iceberg.
Our goals are lofty but are already being realized. Today, we want to give our community a detailed roadmap to see what has been accomplished so far, what's in the works, and what the bright Wilder future holds for us all.
Wilder World Roadmap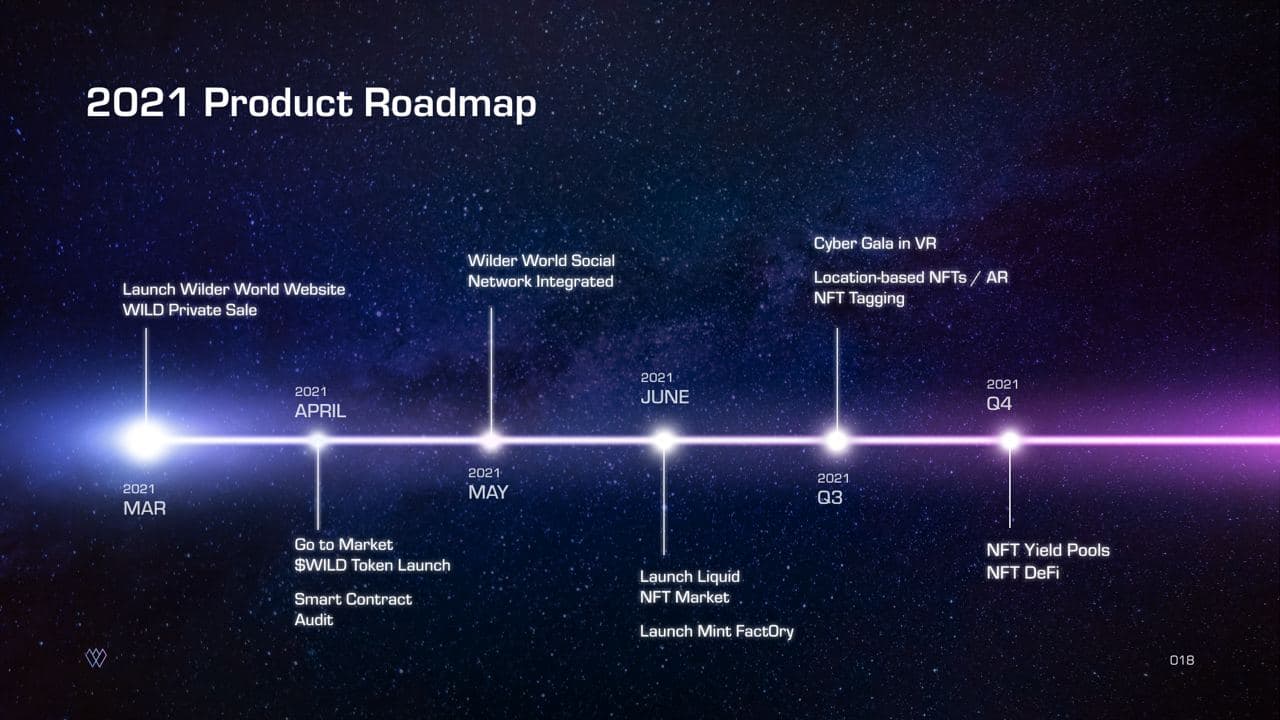 Q1 2021
Launch of Wilder World's Website- Complete
After years of building the Zero.space decentralized metaverse OS, the Wilders officially launched the WilderWorld.com website to introduce the first iteration of an NFT-powered universe built on Zer0. The site immediately began drawing in Artist Guild recruits as well as immersive NFT collectors and a fast growing email list of supporters.
$WILD Private Sale - Complete
As the DAO token for Wilder World, $WILD became available to our community of investors, advisors and supporters. The private sale price was the same as during our $WILD IDO in Q2: $.048, making the process as fair to our community as possible. Now Wilder World is backed by some of the biggest names in the NFT space, including Metapurse and 888.
Q2 2021
Smart Contract Audit - Complete
Prior to the public launch, a full smart contract audit was completed in Q2 by a leading industry firm to ensure a highly secure ecosystem.
$WILD IDO Launch - Complete
As a decentralized entity, Wilder World utilizes programmatic governance fueled by the $WILD token, which was released to the public in an Initial DEX Offering (IDO) on May 11, 2021. The launch was held on Polkastarter to raise $250,000. After 25,000+ community members completed a #CyberHeist whitelisting event to grow awareness of Wilder World and get chances to be whitelisted, about 1000 verified entrants were drawn to participate.
In typical Wilder fashion, the DEX offering was fully subscribed within six minutes, getting listed directly afterward on Uniswap. The same week, $WILD became available on Binance Smart Chain (PancakeSwap) after our community overwhelmingly recommended it to avoid high gas fees.  
Some of those who were whitelisted could not participate due to high gas fees on the Ethereum Network. After hearing from the Wilder community, the team quickly began a plan to somehow compensate those who completed all the requirements and were drawn for the whitelist but were still unable to receive their IDO allocation due to extremely high gas fees.
Wilder World Social Network Integrated - Q2 May
Wilder World has its own vibrant, secure social network built on Zero.space. Community members will be able to browse profiles of other artists and members and use the network to find collaborators and patrons. Tailored chat channels will encourage collaboration and the sharing of ideas within the Wilder community.
Liquid NFT Market Launch- Q2 June
Wilder Word's NFT market is different from anything out there. It's the only 3D-focused platform, the only one with zero artist fees, and the only NFT market with programmable liquidity.
Beta Version for Stress Test
During our Beta Version, we'll stress test and harden the Wilder World marketplace and Artist DAO while carefully considering community feedback.
Celebrity Mint Factory Launch - Q2 June
Our algorithmic artist talent matchmaking tool allows 3D artists to connect with IRL artistic talent (i.e. music, TV and film influencers) to design, mint and drop meme NFTs on our platform. Fractionalized meme NFTs (such as 1 out of 100 and so on) will also become available, leading to the development of liquidity pools.
Q3 2021
Metaverse Launch with Cyber Gala
This exciting milestone will see the first public launch of the Wilder World Metaverse, which our Artist Guild is busily building out now. The launch will lift off during the Cyber Gala, a virtual reality art gala showcasing 3D NFTs that will go on sale on the Wilder World platform. Soon, you will be able to travel through Wilder World and start collecting immersive NFT art!
Viral AR NFT Games Roll Out
With our exciting scavenger hunts, we'll use viral Augmented Reality NFT games that combine IRL with the Wilder World Metaverse. Prizes will be limited edition, immersive NFTs created by the Artist Guild DAO.
Q4 2021
$WILD Integrates with DeFi
Our $WILD governance token will integrate with various decentralized finance (DeFi) models to incentivize liquidity and earn yield.
Metaverse Property Sales
For those who wish to stake a claim in the Wilder World Metaverse, we'll initiate sales for immersive NFT property, all created by the decentralized Artist Guild.
Streamline Tech Stack
The Wilder World team remains true to decentralization and will streamline open-source development of the Metaverse and tech stack.
Ongoing Initiatives
Onboarding of 3D Artists
By early 2021, the Wilder World team had already secured over 250 of the world's top 3D artists to be in the decentralized Artist Guild. Artist applications continue to flow through the website. The Guild has already been extremely busy building out the Wilder World Universe with photorealistic 3D personas, real estate and accessories. They've also created rare, immersive NFTs for Wilder World #CyberHeists, including the 1/9 Ferrari Testarossa Limited Edition NFT.
Partnerships
As we journey forth and new Wilder Products roll out, we'll be able to partner with additional industry players in the realms of NFTs, DeFi, gaming and digital assets.
Stay Tuned and Stay Wild
Wilder World is continually reimagining and elevating the NFT experience to be Metaverse-ready for artists, gamers, and collectors alike. Be sure to join us to stay informed of all the coming milestones as we edge into the Metaverse. It is Wilders like you that make the journey possible.
Website | Twitter | Telegram | Instagram
Roadmap Snapshot
Q1 2021
Launch of the Wilder World Website - Complete
$WILD Private Sale - Complete
Q2 2021
Smart Contract Audit - Complete
$WILD IDO Launch - Complete
Social Network Integrated
Liquid NFT Market Launch
Beta Version for Stress Test
Celebrity Mint Fact0ry Launch
Q3 2021
Metaverse Launch with Cyber Gala
Viral AR NFT Location-Based Games Rolled Out
Q4 2021
Initial Metaverse Property Sales
Streamline Tech Stack
Ongoing
Onboarding of 3D Artists
Partnerships