Metaverse
Welcome to the Wilder World Tour 2021 - The Road To The Metaverse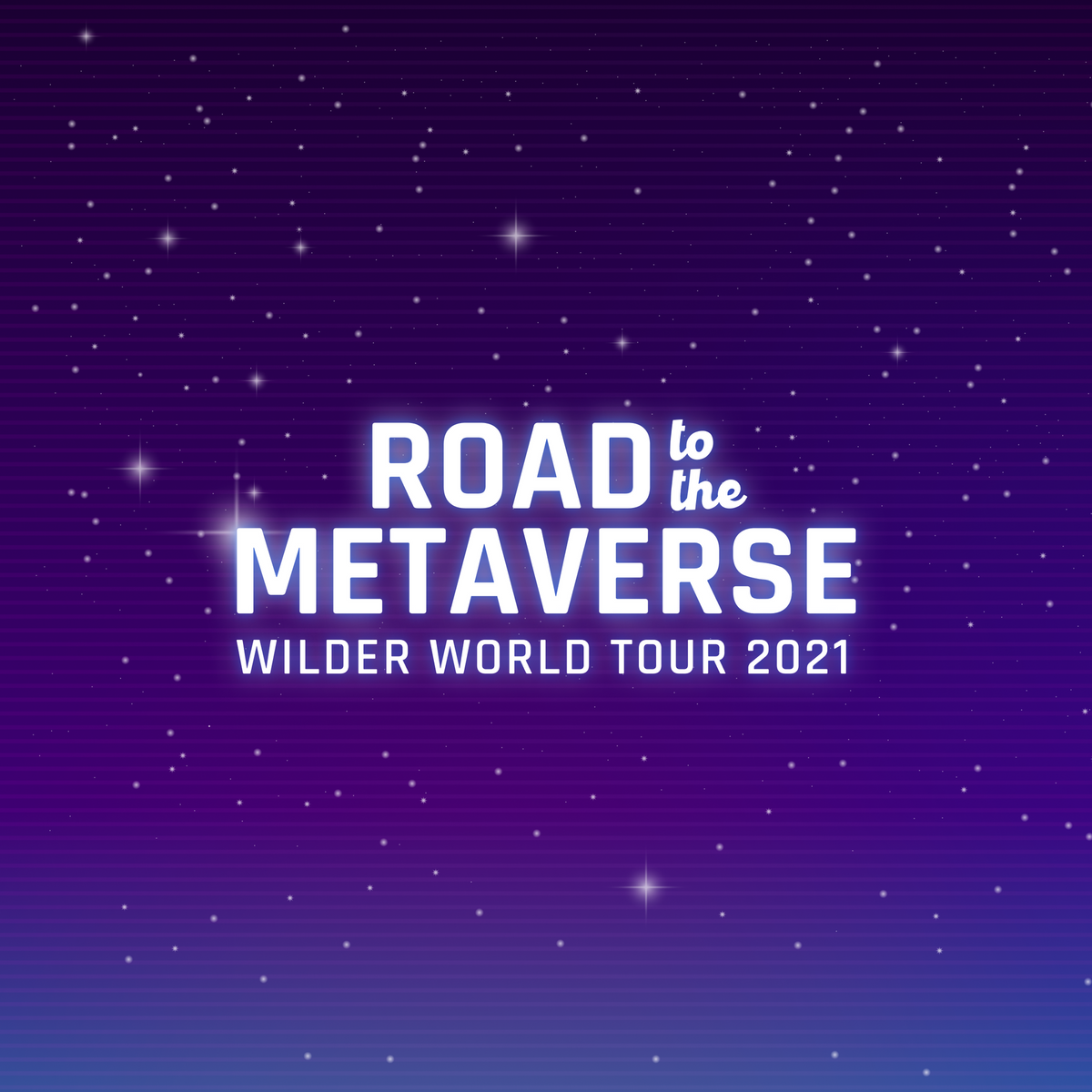 First and foremost, from the bottom of our hearts, the Wilders are so grateful for our brilliant and super supportive community!
It's been a $WILD ride since our IDO, and we're thankful you have been with us every step of the way. Through both the highs and the lows, in true Wilder Spirit.
We have said it before and we will say it again, you can't fake the Wilder Spirit, it's a universal unspoken language that lives inside all Wilders. We have witnessed this Spirit through our community support over the past several months and it continues to enable us to co-create magic together.
The Wilders have been in the lab paving the road to the Metaverse. As we begin to transcend deeper into our 5D immersive universe, we wanted to give you an update on some exciting initiatives that will be happening between now and the end of the year.
Thanks again for being on this journey and believing in us — this is just the beginning. We could not be more excited to cross the threshold with you into the unexplored territory of the Metaverse.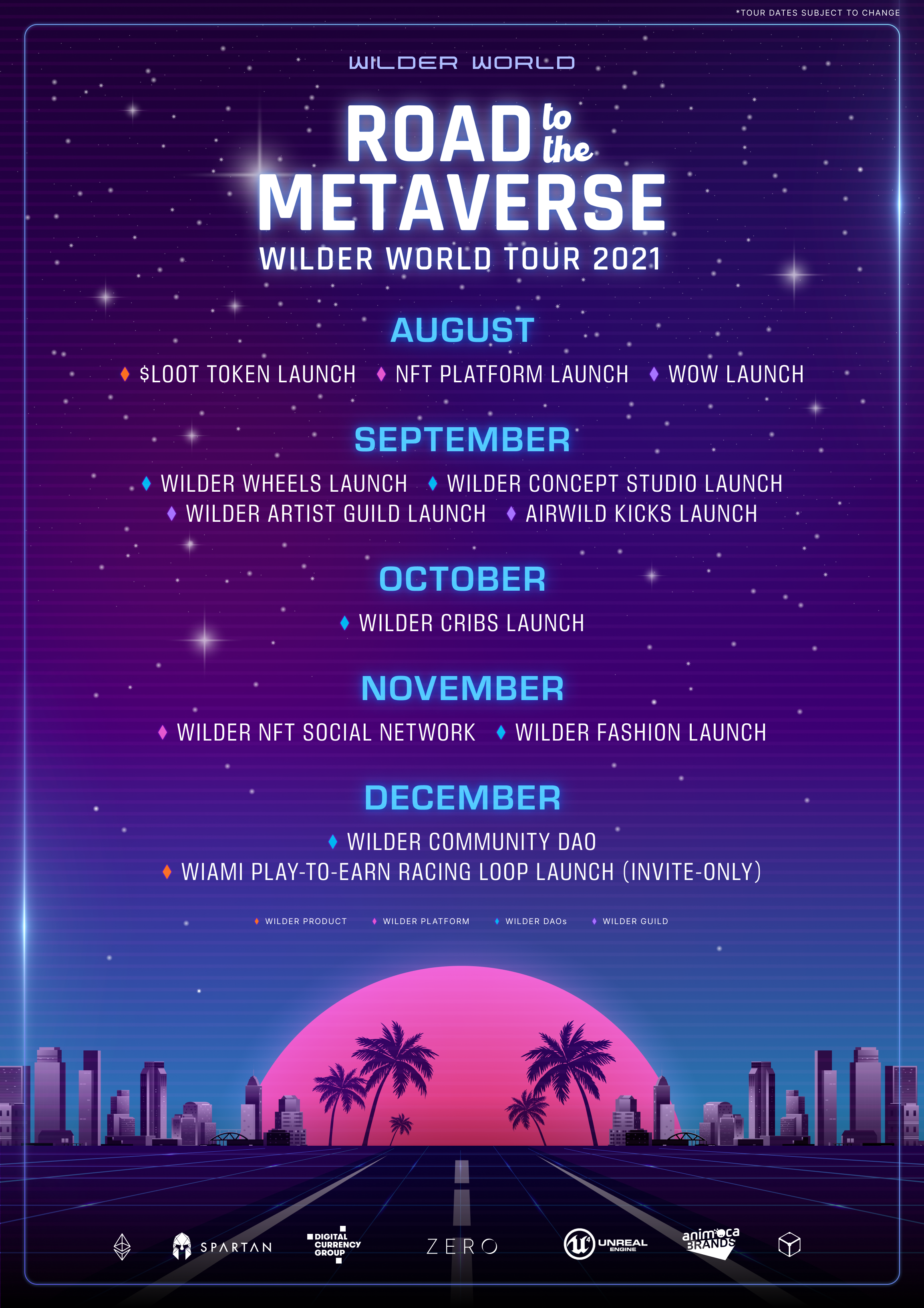 Roadmap to the Wilder World Metaverse
August:
$LOOT Token Launch
$LOOT is Wilder World's 'raw material'. Similar to how you would require iron ore or steel to cast an object in the real world, staking $LOOT is required to mint new NFTs in the Wilder Metaverse. As the $LOOT reserve grows, the Wilder Community DAO will have more access to capital to improve the Metaverse and fund community projects.
NFT Platform Launch
Our Metaverse economy is fueled by our uniquely designed Liquid NFT Marketplace, which enables Wilder Guild members to mint, collect and sell 3D digital art using $WILD. Our marketplace is focused on 3D content that lives exclusively in the Metaverse (in-game items, real estate, vehicles, etc.) and is fully decentralized.
WOW Launch
World Origin Wilder (WOW) is a never-ending story of interdimensional rescue missions to other worlds in danger. This is Wilder's first original series that will be launched as an animated comic series as NFTs on Wilder World. Telling the origin story via a collection of comic posters gives our community an opportunity to also own a piece of Wilder history. The WOW comic strip also has plans to become a fully-featured animated series in 2022/23.
September:
Wilder Wheels Launch
One of the first and coolest activities available in our Metaverse is the ability to street race your vehicle and race other Wilders around Wiami (the first city in Wilder World) for pink slips. In honour of this cool ability, we're releasing 10,101 limited-edition, 1 of 1, fully drivable 3D vehicles as NFTs. To our knowledge this could be the first large scale procedurally generated 3D NFT project.
Wilder Concept Studio Launch:
We are assembling the greatest artists of our time into a Guild to collaborate on stories, characters, landscapes, and environments to create the Metaverse; it's a project far more ambitious than any single artist could create on their own. The Wilder Concept Studio is focused specifically on creating high quality concepts that inform the aesthetic, feeling, and back story of the Metaverse, gameplay and animated series, which will all be sold as unique 1 of 1 NFTs.
Wilder Artist Guild Launch
A fully decentralized DAO where Artists become members of the Guild in exchange for $WILD token and receive a percentage of sales based on the art they contribute. There is no company or platform in-between Guild members, patrons and collectors. There are also 0% artist fees taken (other than Ethereum Gas until we move to Layer 2).
AirWild Kicks Launch:
The first release of AirWild, a Metaverse ready NFT sneaker line created in collaboration with a select range of our favourite major sporting stars.
October:
Wilder Cribs Launch
A rare opportunity to own a piece of our 5D Metaverse with the first land sales of its kind in Wilder World via an unReal Estate auction for Wiami apartments, condo and penthouses.
November:
Wilder NFT Social Network Launch
A live communication feed in Wilder World's NFT platform where you can track comments, rank and see the popularity of digital assets, while being able to follow your favourite creators.
Wilder Fashion Launch
First release of Wilder World's retail fashion brand partnerships and flagship fashion stores in Wiami.
December:
Wilder Community DAO
Wilders will have shared ownership via $WILD token and will use tokens to vote on the direction of community proposals, funding new guilds as well as setting monetary policy.
Wiami Play-to-Earn Racing Loop Launch (invite-only)
It may or may not be very similar to this — score yourself an invite and find out.
The Wilders Salute you!
Let's Get $WILD