Token
Welcome to Wilder World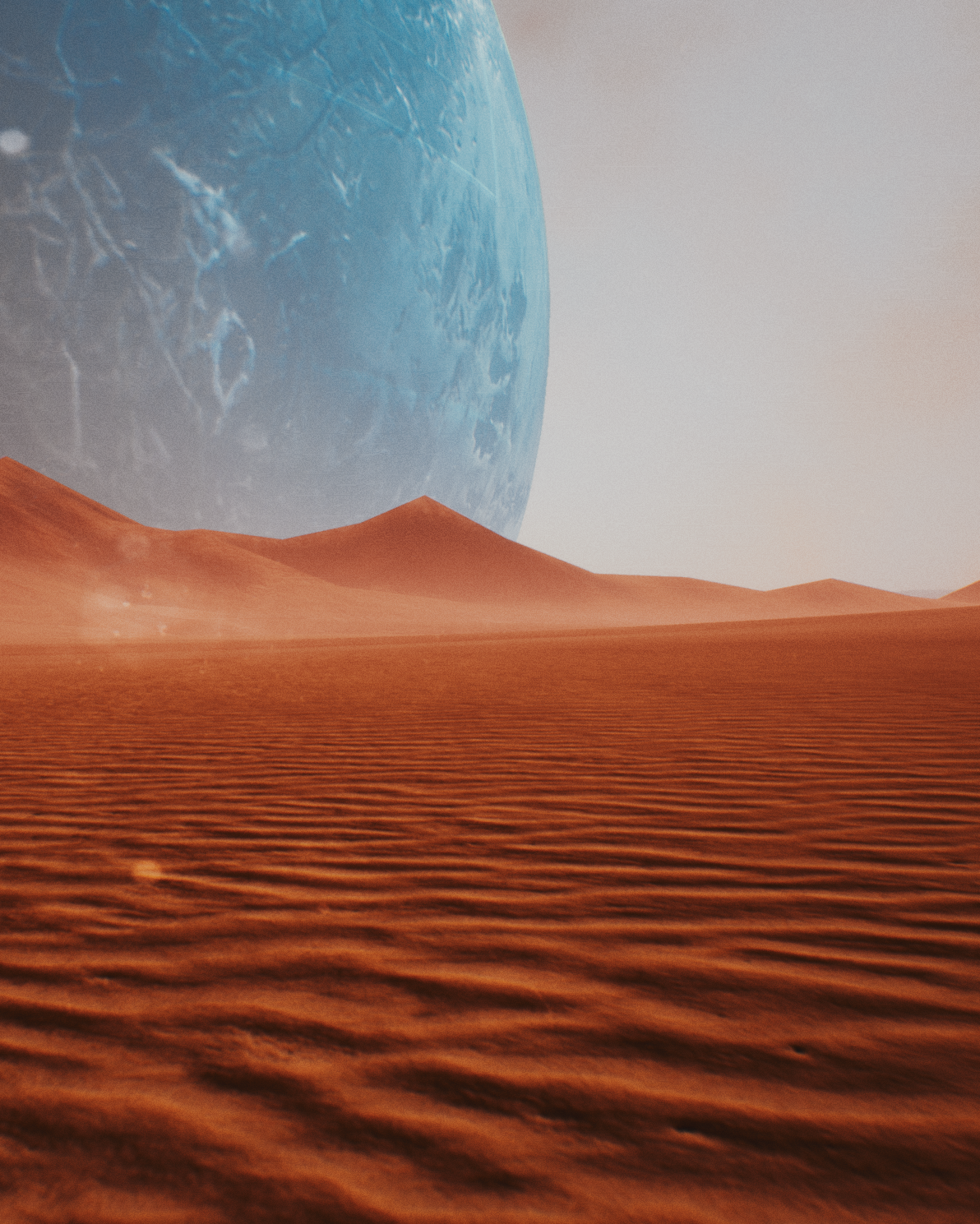 The Cyber Renaissance is here
Just as the Renaissance unleashed an era filled with light, knowledge and art, a Cyber Renaissance fueled by massive technological innovation is unfolding before our eyes.
Wilder World ushers in the impending explosion of unbridled creativity with a Metaverse guided by all the Wilders of the World. Where art, abundance and freedom reign and artists across the globe enjoy a true sense of empowerment.
In the midst of this revolution and fresh off the heels of the first Global Art Gallery in Augmented Reality, the Wilders are proud to announce the latest iteration of Wilder World with a groundbreaking, Decentralized Liquid NFT Marketplace designed entirely by artists, for artists.


To lead the way, the new Wilder World Artist Guild, with the marketplace under its wings, stands ready to lead each and every one of you to your unique vantage point within the Metaverse.
Artists and Creators - We've created a virtual landscape for talented artists like you to do the work they love to do while being motivated and inspired by the collaborative aspects of a movement much larger than themselves. Wilder World is building an infrastructure for creative pursuits elevating digital artistry to the 3D Metaverse. We cherish creators and have built a cyber economy just for you. Our powerful, viral "Drops" propel you into the stratosphere of financial opportunity.
Collectors and Investors - What drives you is the unquenchable thirst to hold what is highly valued by you and your peers. We embrace, curate and nurture the most prestigious 3D art available on the planet while providing a web3-enabled, liquid NFT market. Financialization of art co-exists with (and not against) artist abundance in our Metaverse through the tokenization of digital art and the capitalization of vibrant crypto markets.
Community and Fanbase - You want belonging in a galactic new world and a place of standing within the cyber revolution. Wilder World invites you to build expressive connections with your favorite artists in a community platform built from the ground up to ignite the creator-community bond.
We're building the decentralized version of Marvel Studios
We are living through the greatest technological revolution humans have ever experienced. But so far, this powerful new infrastructure has been under utilised, indicating a clear lack of imagination and long term vision as to where technology will naturally evolve.
With the Web3 phenomenon and a lightning fast rate of innovation at our fingertips, Wilder World is ready to take what is already a massive evolution of technology and infuse it with long term vision, Wilder-style:
The Wilder World vision isn't simply focused on NFTs. We are building out the next version of a decentralized Marvel Studios, bringing the world's top artists together to collaborate on stories, characters, landscapes, and environments, building a Metaverse that is far more ambitious than any single artist could create on their own.
NFTs and Virtual reality are on a collision course, Apple's VR/AR headset is coming in 2022 with an estimated 80m+ headsets set to be shipped by 2024. In-game purchases are set to reach $200B+ by 2025 - the NFT revolution is here to stay.
Everything we are building in Wilder World is game ready and will be able to be experienced both in Augmented and Virtual Reality throughout the Metaverse.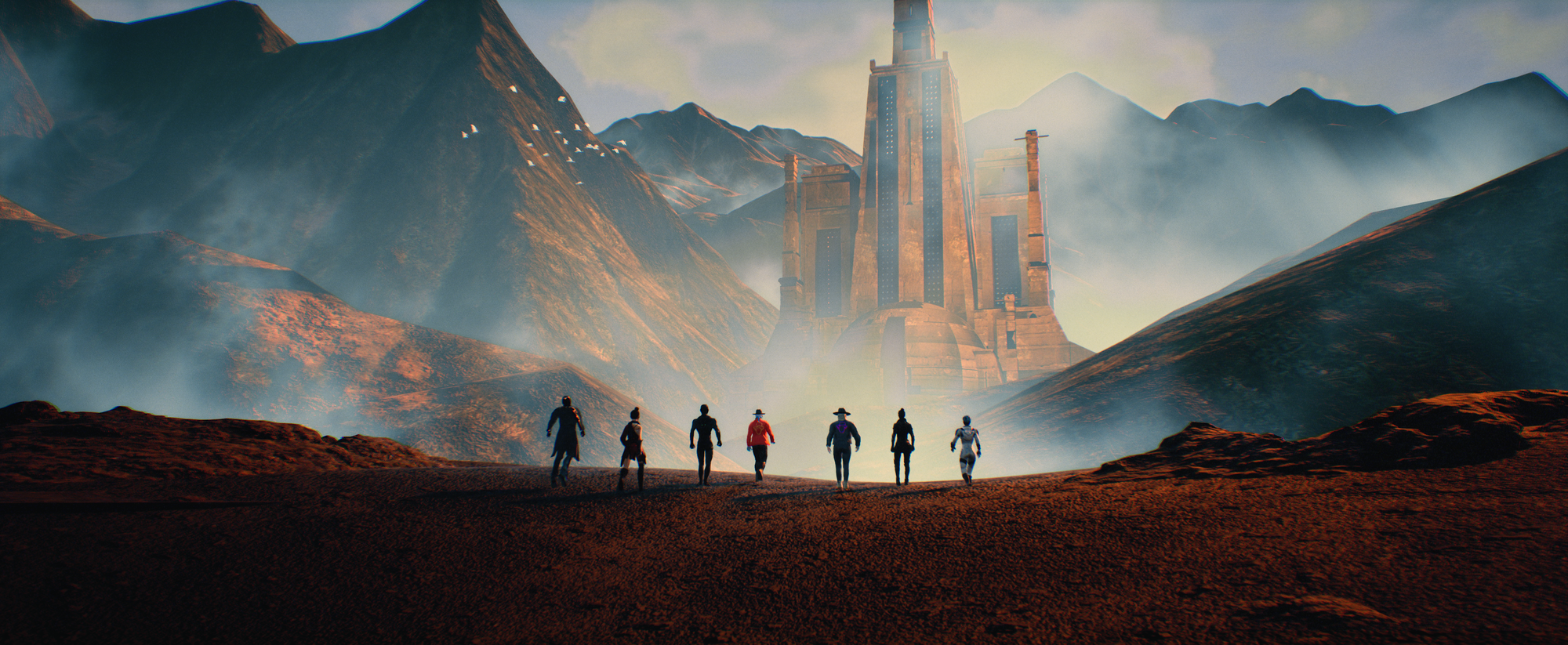 Welcome to Wilder World, a platform built by artists, for artists.
Our philosophy is simple: attract the world's best 3D digital art talent and birth the world's rarest content into existence.
In Wilder World, we have truly built the Artist Guild of the future, where the best digital creators congregate to create all the magic. By accelerating this type of high level cross-collaboration, Wilder World encourages the free flowing of ideas and inspiration to be shared with the world, all while honoring the greatest artists of our time.
Existing platforms have made a great start, but they lack fundamental features for a world class artist experience. As artists ourselves, we have obsessed over the NFT market to build a platform that we think delivers a far superior artist experience.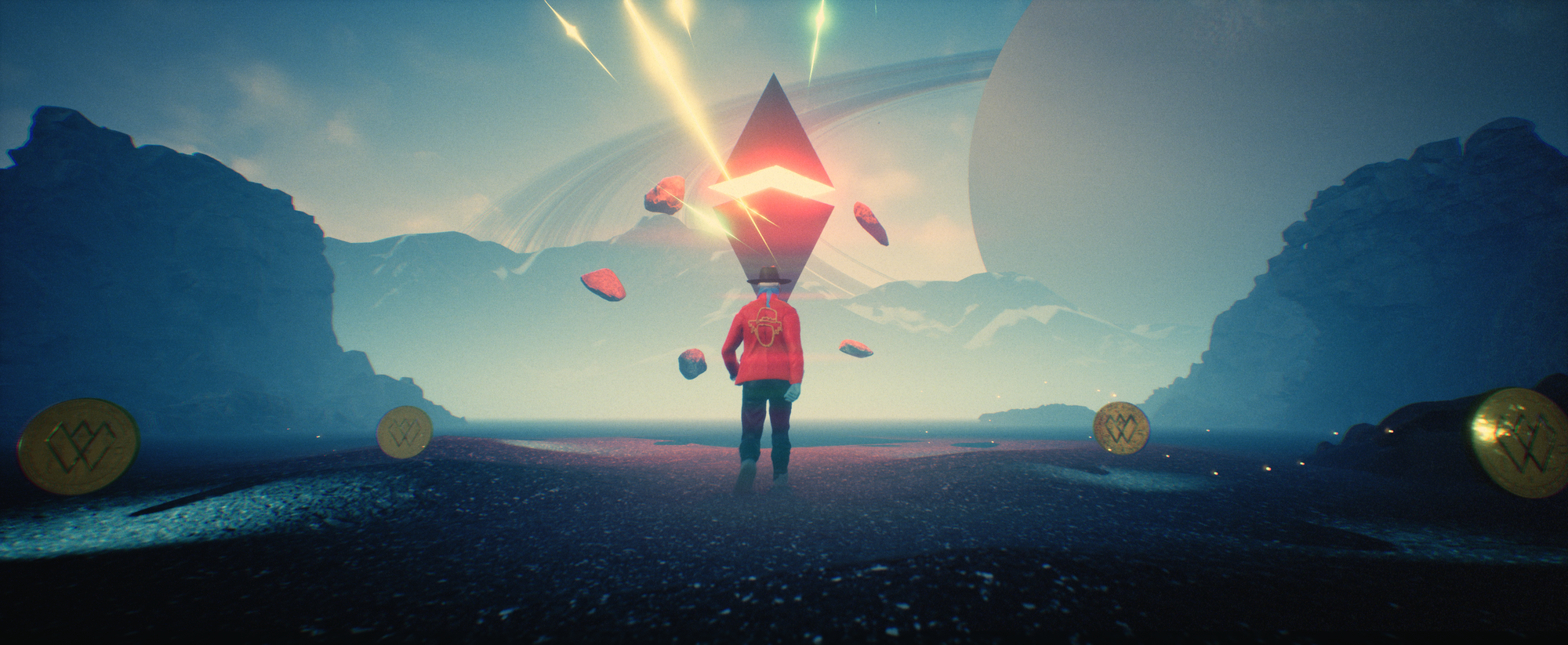 A quote the Wilders keep coming back to:
"Great artists use the tools of their time to tell the stories of their time while honoring the greats"
Democratizing the art market
Wilder World is democratizing art by providing greater access to all levels of the art market to a new generation of artists and art collectors, not just the elites.
We believe in creating wealth for the whole community, not just a handful of individuals or at the expense of any one group. That is why Wilder World begins with rewarding early adopters and content creators with native tokens for the value they contribute to the community.
These OG Wilders will be the big winners and enjoy early access to Wilder World. Their success will be reflected and amplified across the Metaverse, benefitting the larger community who is rewarded the more they participate by buying, selling and trading on the platform.
As a Decentralized Autonomous Organization (DAO), Wilder World is designed to incentivize all participants of the Liquid NFT Market to be rewarded for doing what's good for the entire system.
Wilder than any other platform in the Metaverse
Wilder World is the universe's first truly liquid, fully decentralized, community-led NFT marketplace with zero fees.
Liquidity
One of the biggest problems in the NFT space is that the best content is reserved for the uber-wealthy. We are flipping this paradigm on its head by enabling fully fractionalized NFT ownership, which will not only drive more capital into the space but will make it available to a much wider audience.
Community owned
The Wilder Guild and platform is governed as an onchain DAO (Decentralized Autonomous Organization). This means artists who create value for the platform benefit directly, with no company or platform between the artist and their collectors.
No Artist Fees
Other platforms charge artists between 15% and 30%. We consider this is an antiquated way of thinking, older world not Wilder World. Instead, we have designed our native token to create value for all participants while redistributing wealth directly back into our Wilder community. There's no middleman or platform taking a cut of the artist's hard earned reward.
Wilder's powerful modus operandi

Wilder World is an open and entirely blockchain-based organization that does not operate on centralized servers and is governed by its community.
Powerful decentralized technology lets Wilder World members create, discover, collect and share their favorite NFT artworks via our global art network. The Wilder World DAO utilizes proprietary technology powered by zer0.io, a fast, secure and scalable peer-to-peer application protocol, capable of handling millions of transactions per second.
By revolutionizing the artist experience and distributing more wealth back to the creators who deserve it, the platform emerges as the preeminent artist-facing community in the NFT space.
Mint Factory
As an artist platform for all artists (not just digital creators), our algorithmic artist talent matchmaking tool allows 3D artists to connect with IRL artistic talent (i.e. music, TV and film influencers) to design, mint and drop meme NFTs on our platform.
Mint NFT's directly from your wallet offering up a standard bid and ask on 1 out of 1 NFTs.
Allows a wide variety of creatives to play matchmaker, helping talent find 3D artists to collaborate with and create personalized meme NFTs.
Fractionalized Meme NFTs such as with 1 out of 100 (and so on) will also become available, leading to the creation of liquidity pools.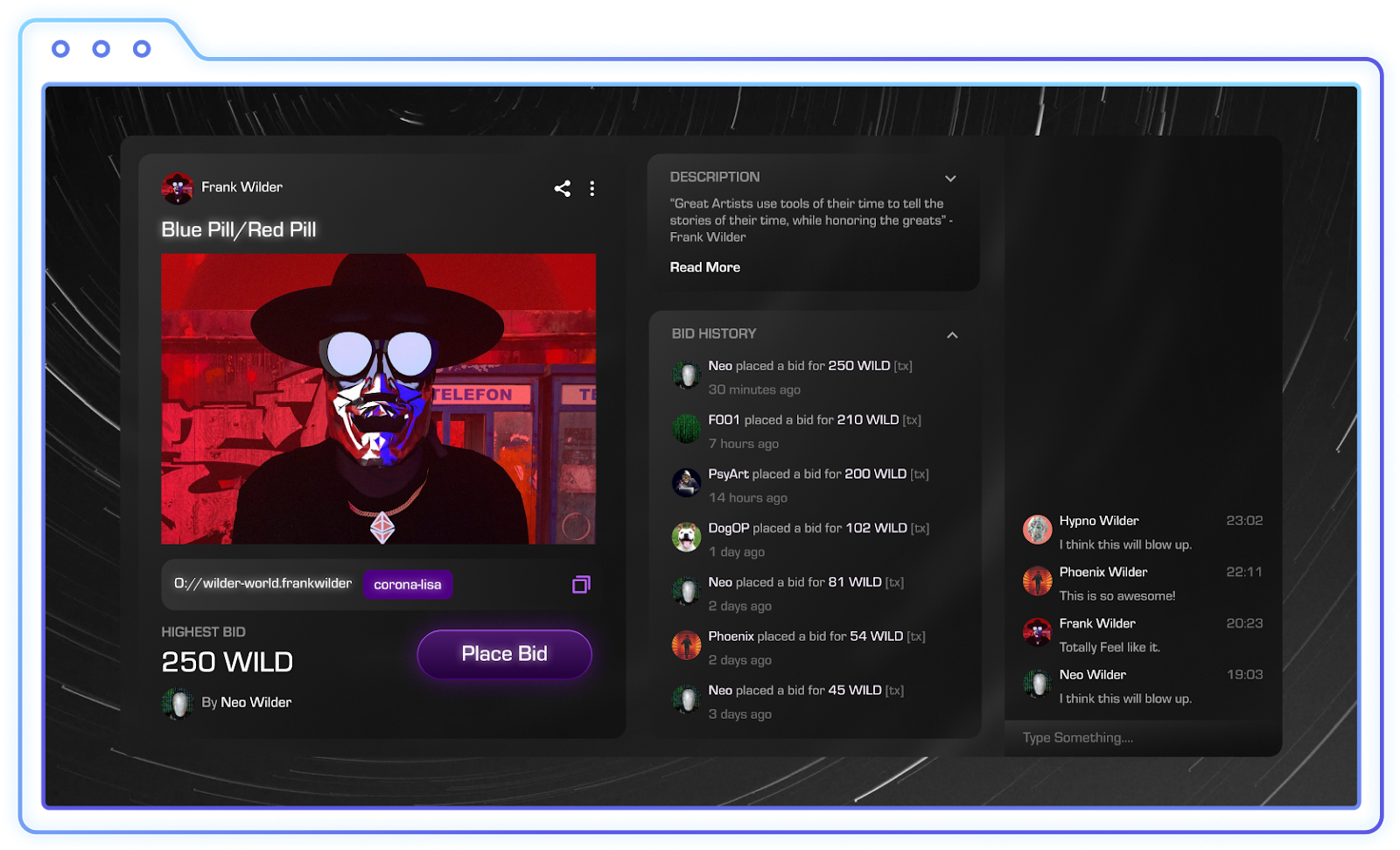 Liquid NFT Exchange App
A full crypto art exchange. Allowing you to collect, trade and sell NFTs. Giving collectors the option to fractionalize ownership of artworks, allowing others to own a portion of your favorite pieces of art. This gives rise to our "liquid art market" with the ability to trade or liquidate at any time.
This unrivaled system of NFT trading leads to increased supply and demand while generating higher sale prices for artists.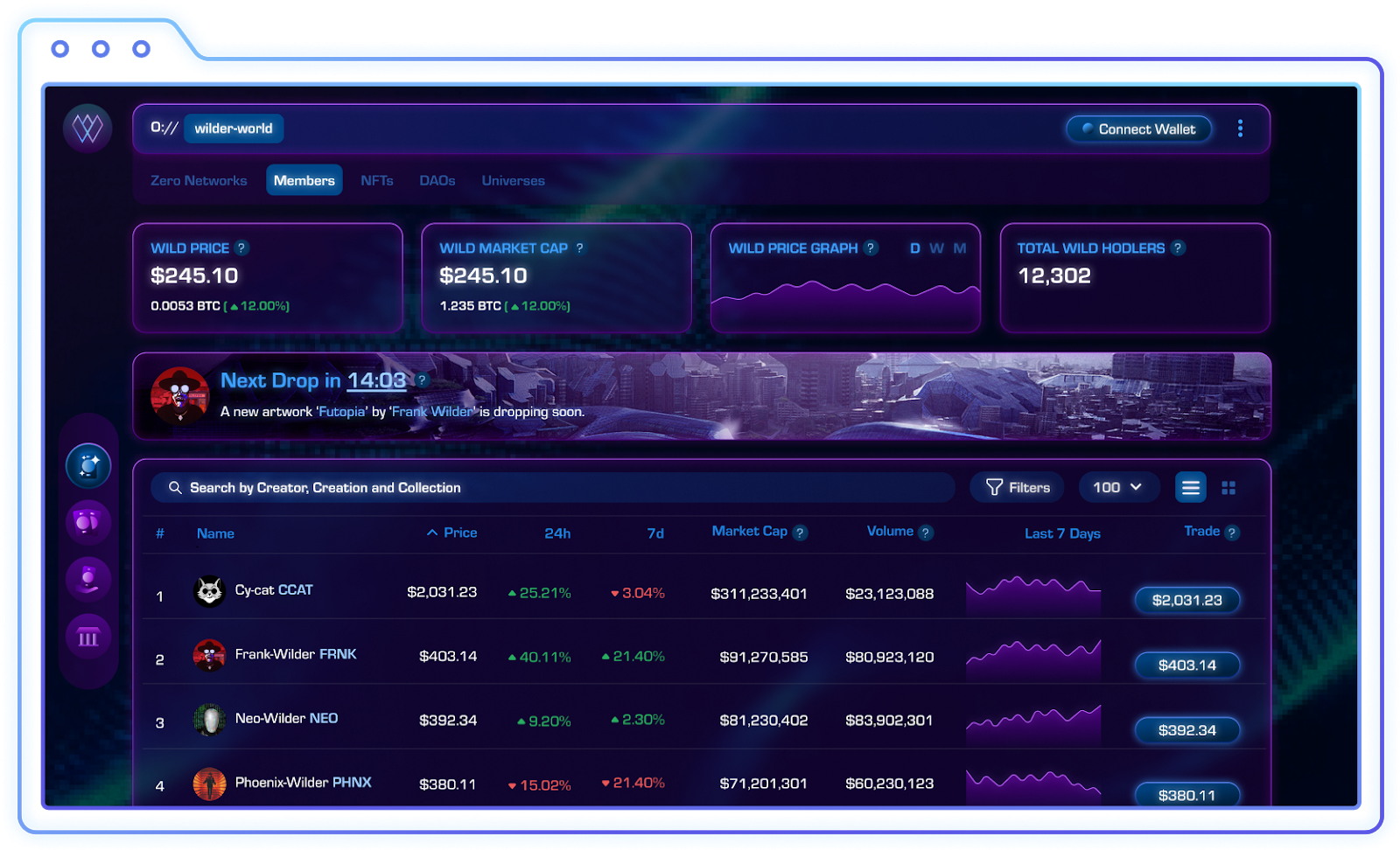 Profile
Curate your profile highlighting your skillset and portfolio to give other members a clear idea of your expertise and offering to the broader community.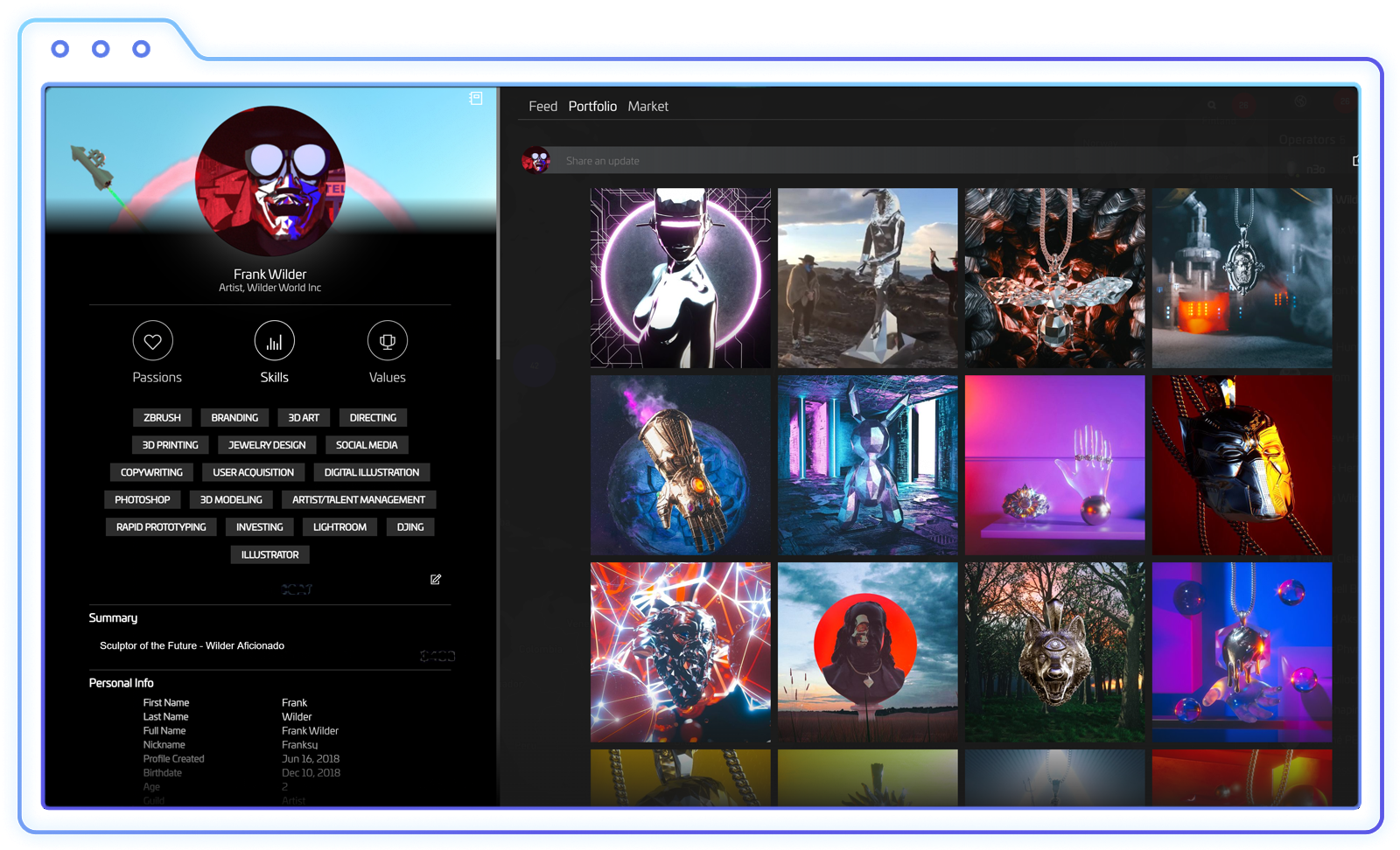 Community access
Browse profiles of other artists and community members, find fellow collaborators and patrons.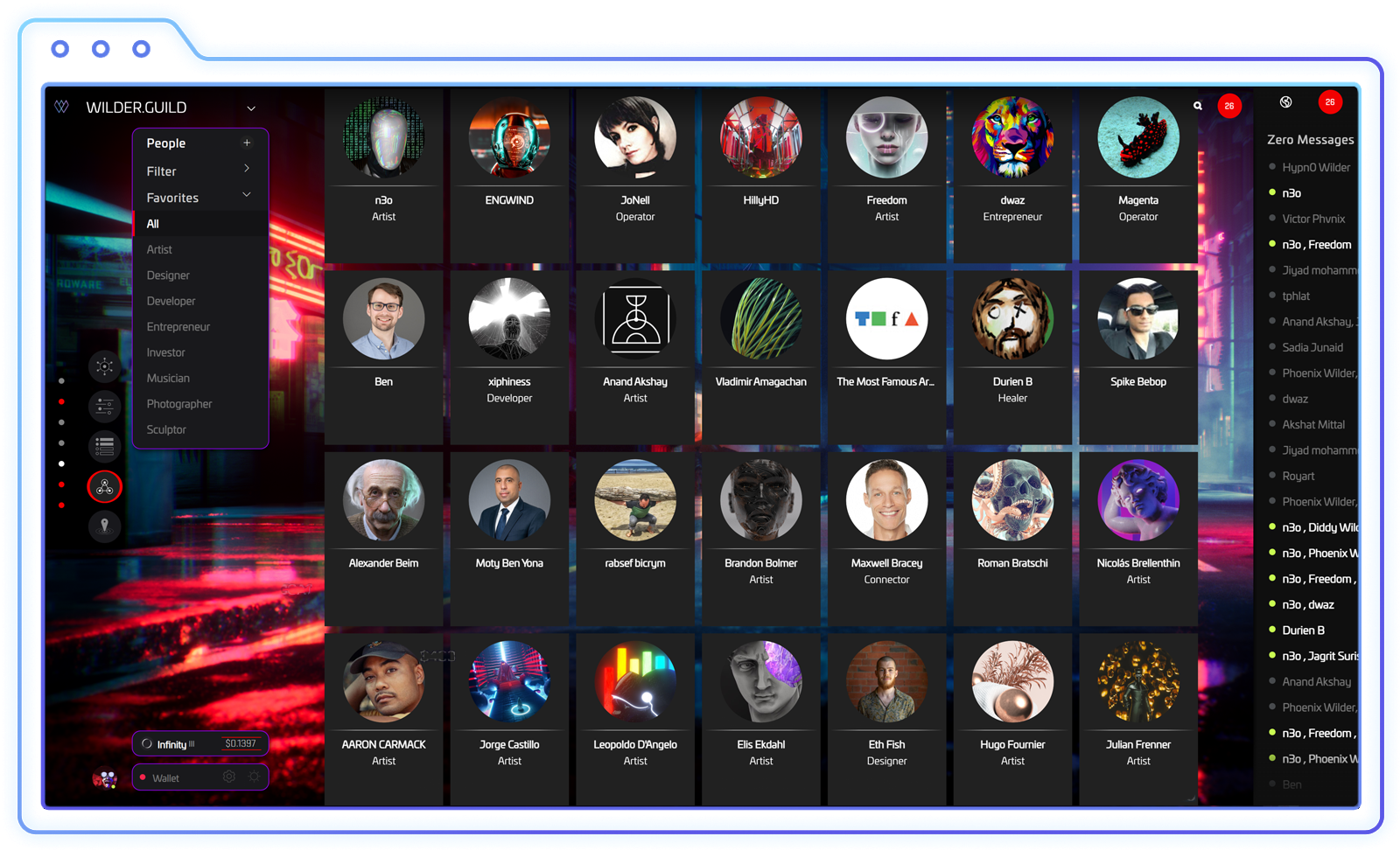 Chat channels
Tailored channels to collaborate, learn and share with members of the Wilder community.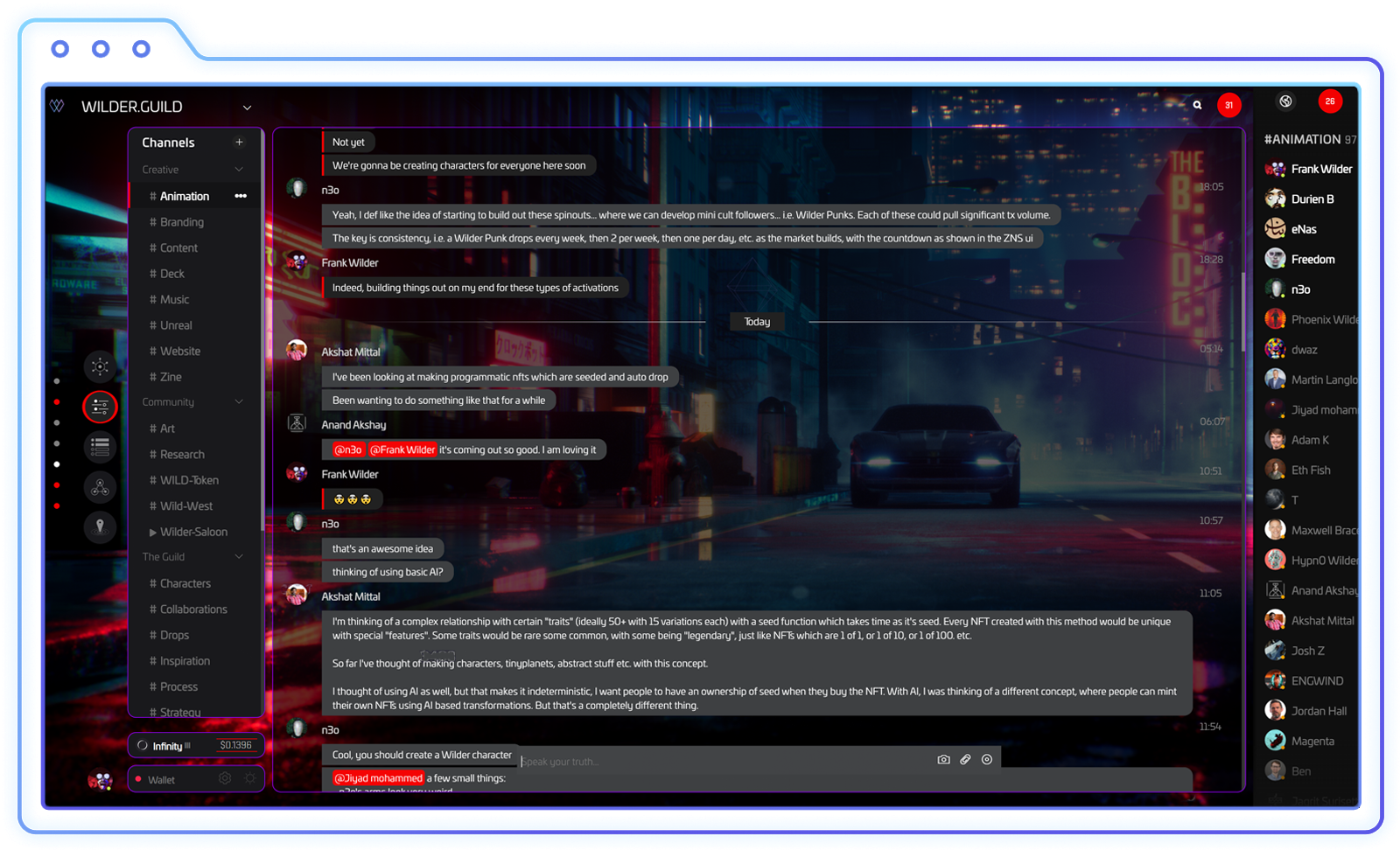 Task boards
Assign and coordinate tasks allowing for distributed collaboration amongst the community with crypto-backed incentives and rewards.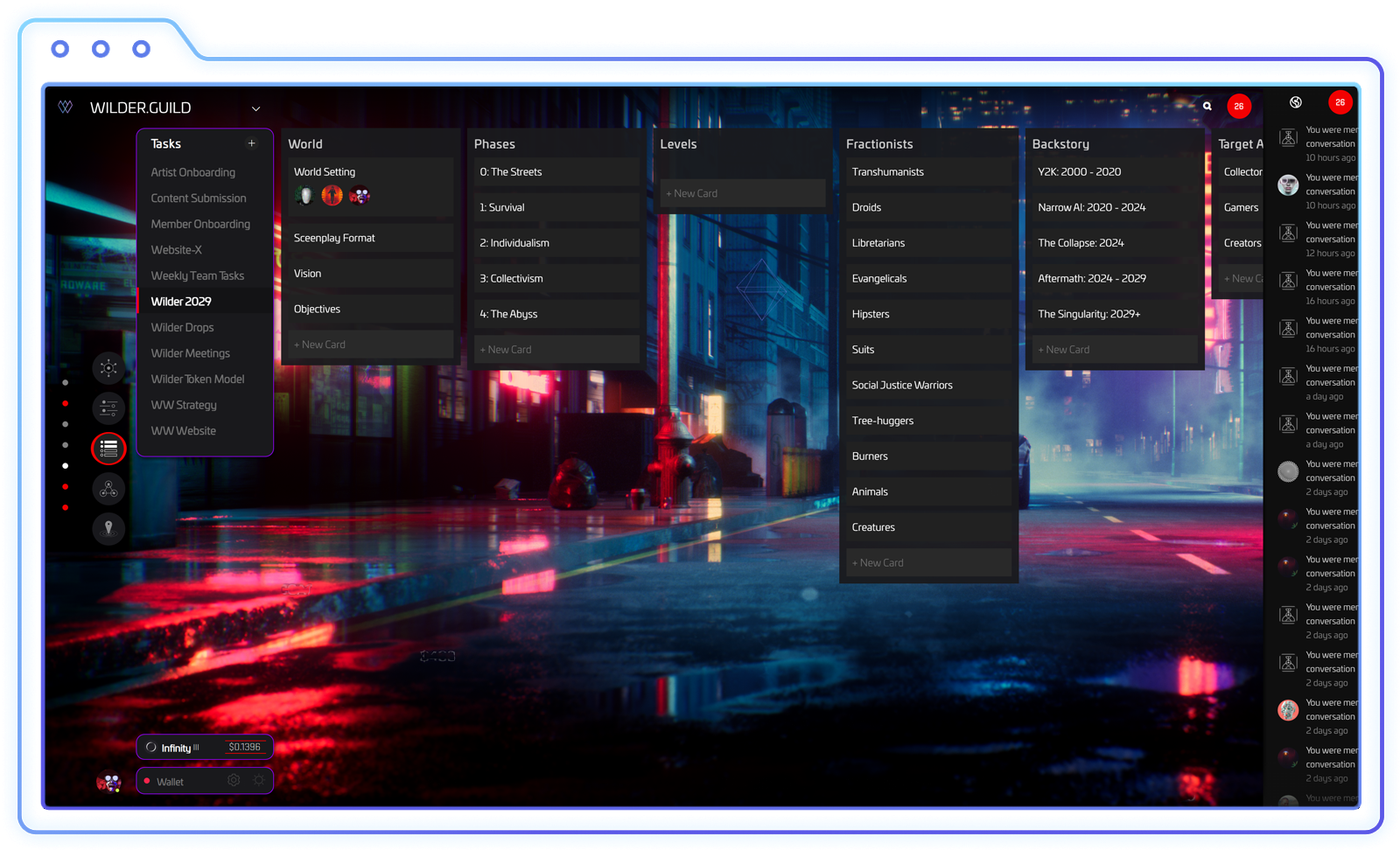 Maps
Connect with nearby community members for local activations and collaborative projects.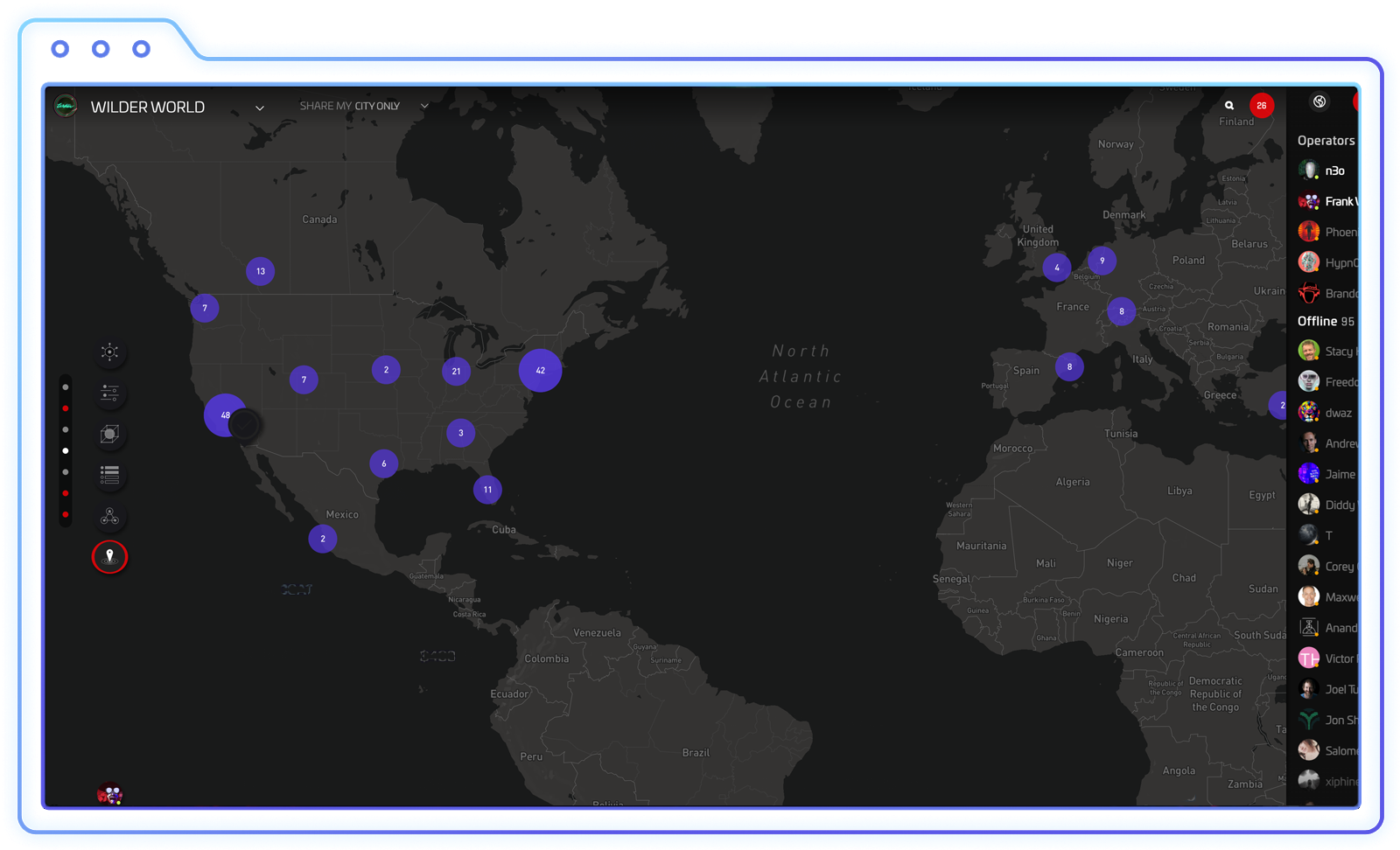 Designed with the artist in mind
Wilder World is for artists, by artists. Including some of the world's top digital creators and collectors, allowing cross collaboration and new ideas to be born across our community. Our platform is designed with the artist in mind, distributing ownership throughout the community with our tokens. Giving you ownership in Wilder World via $WILD and $LOOT tokens.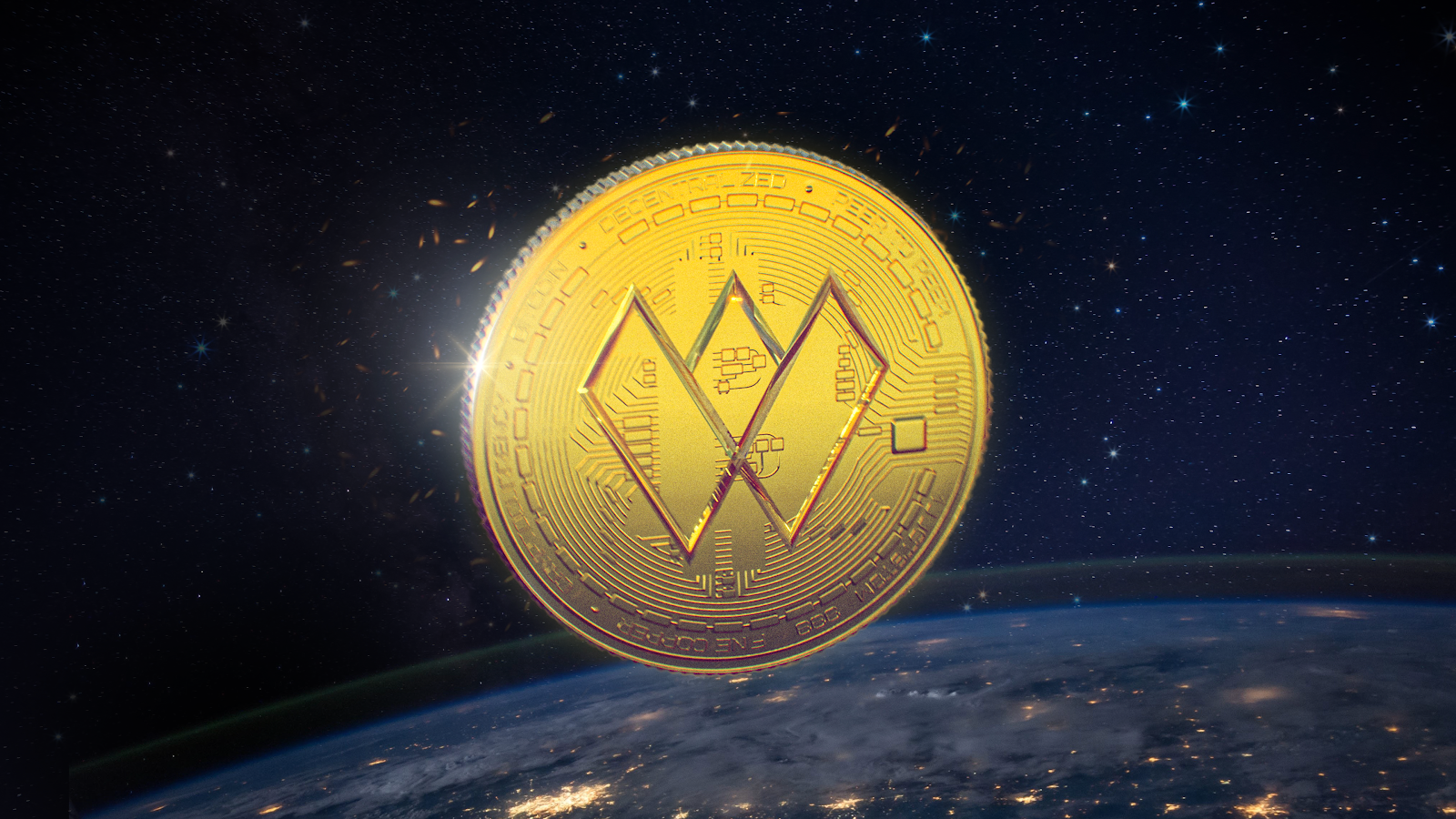 $WILD Token
$WILD governs the revolution, is community owned, and gives incentives and rewards to artists and collectors alike. It is the official token for Wilder World's decentralized Artist Guild.
$WILD is the DAO/Governance Token
Used to incentivize network growth
Controls $LOOT reserve
$LOOT Token
Acting as our utility token, $LOOT powers the system, offering a growth-focused model on a bonding curve backed by ETH and unique NFTs from our Guild.
ETH-backed dynamic token (Bonding curve model)
All transactions on Wilder World utilize $LOOT token
The $LOOT reserve grows as users and transactions grow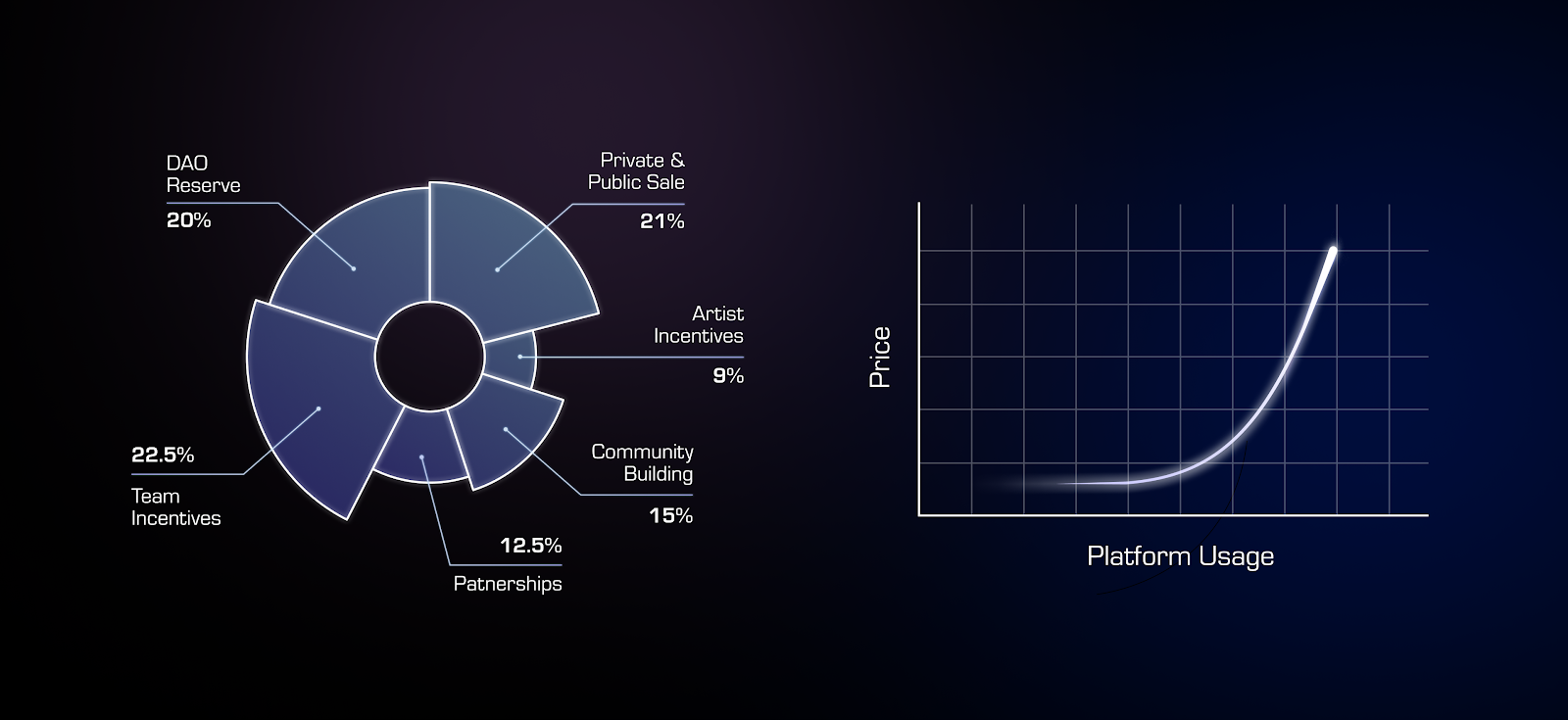 Roadmap
The Wilders are currently in a closed beta and will be initiating our token system in early Q2 2021. We have over 250+ of the world's top digital artists activated with a waitlist of over 20,000 community members. In addition, we are deep into execution on a number of partnerships we look forward to sharing with the community. Be sure to visit wilderworld.com to learn more and join our waitlist.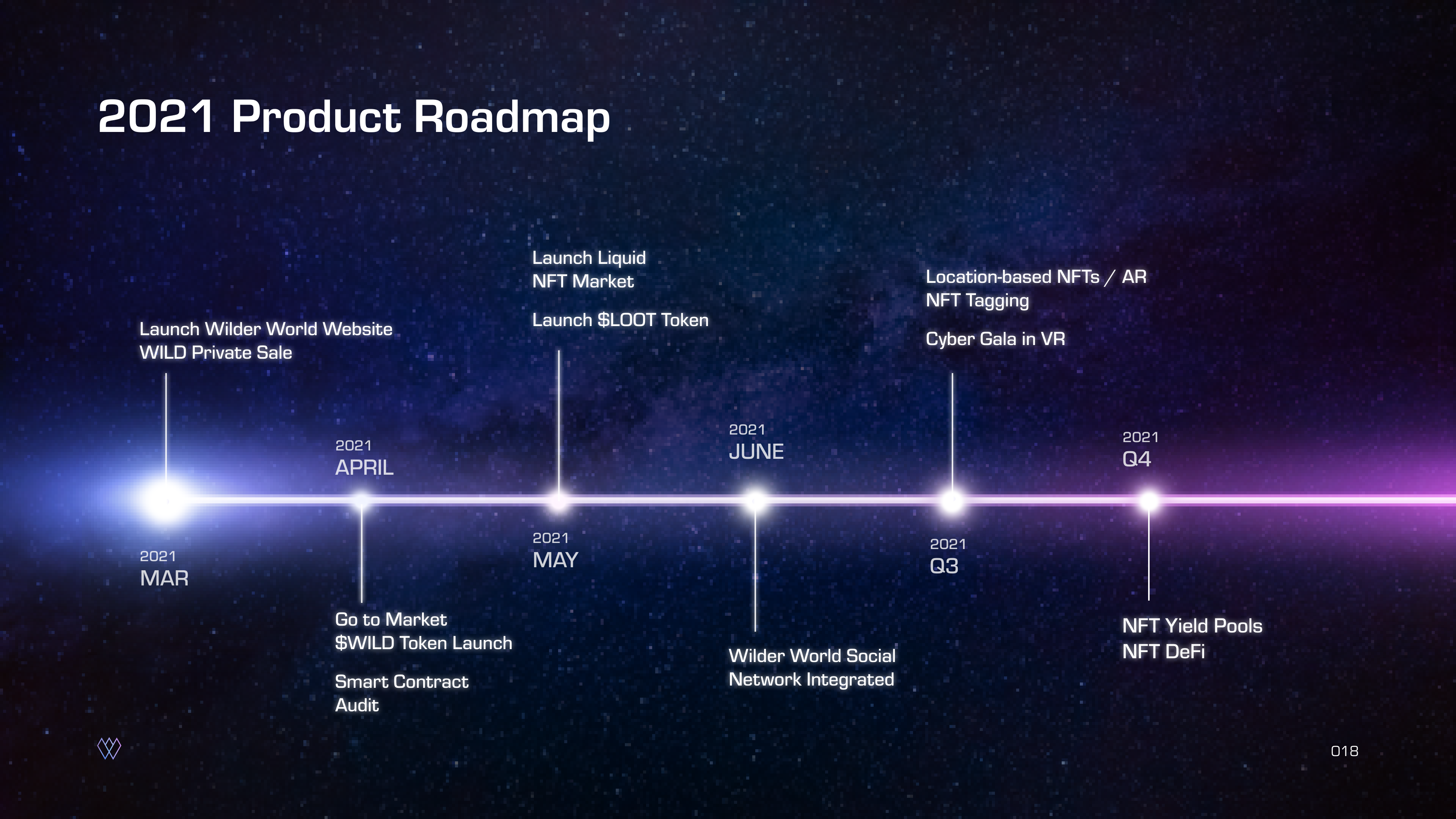 March 2021
Launch Wilder World Website
$WILD Private Sale
April 2021
Go to Market
$WILD Token Launch
Smart Contract Audit
May 2021
Launch Liquid NFT Art Market
$LOOT Token Launch
NFT Liquid Market Launch
June 2021
Wilder World Social Network Integration
Q3 2021
Location Based NFTs in Augmented Reality
NFT Tagging
Cyber Gala in VR
Q4 2021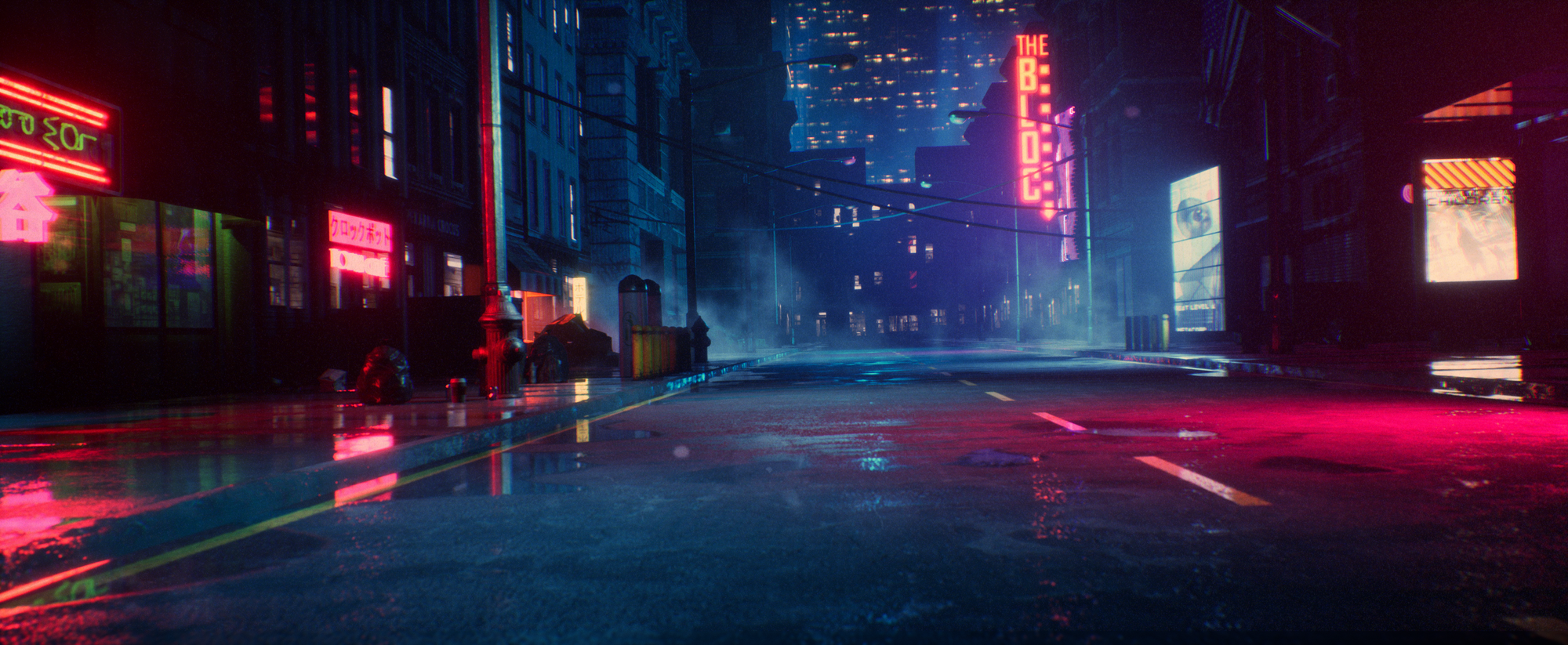 We look forward to inviting you in to the Wilder World Metaverse. Be sure to stay up-to-date through our Zine and social channels. Join our waitlist for your invite at www.wilderworld.com.
Until then, the Wilders salute you.