A New Genesis Collection is Born: Introducing Wilder GENs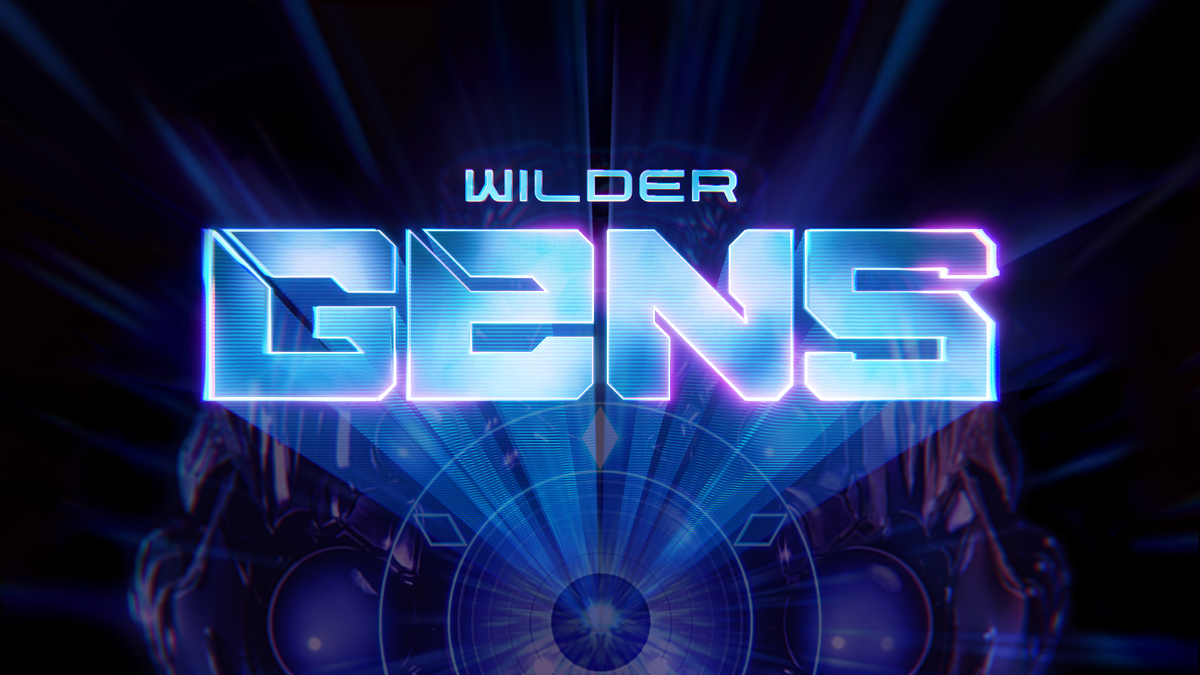 Key Drop Details TLDR:
Collection Size: 3,696 GENs
Mint Type: Two Phase Mint (#1 Trinity Keeper Claim, #2 Trinity Keeper Private Sale)
Snapshot: Wednesday March 1st @ 11:59 pm PST (This snapshot will also be used for the Trinity Totem NFTs)
Snapshot List Release: Wednesday March 8th @ 12:30 PM PT
Link to Trinity Keeper Snapshot Mintlist: Check Mintlist here
Art Reveal: Instant
Mint Phase#1: Trinity Keeper Claim
Claim Details:  1 Trinity = 1 GEN
Claim Date: Thursday March 16th @ 12:30 pm PST
Claim Duration: 11 days
Claim Price: Free + ETH Gas Fee
Mint Phase #2: Trinity Keeper Private Sale for remaining supply
Private Trinity Keeper Sale Date: Monday March 27th @ 12:30 pm PST
Private Trinity Keeper Sale Duration: 48 hrs
Private Trinity Keeper Sale Price: 0.2 ETH + ETH Gas Fee
Private Trinity Keeper Sale Limit: 3 per tx (Unlimited Transactions)
***GENs will not count toward your Trinity for Land Sale 1 Snapshot, but will count towards your Trinity for Land Sale 2 and 3 Snapshots.***
Trinity Keeper Claim Details:
The Trinity Keeper Claim will open up on March 16th at 12:30 PM PST and will close March 27th at 12:30 PM PST, which gives Wilders about 11 days to claim their GENs. This date also creates space for Wilders to double check the Trinity Keeper Mintlist that will be released on March 8th here ask any questions and ensure you are rightfully included. The price to claim is FREE + gas so please be prepared to check prices and ensure you have the ETH in your wallet.
There is a dedicated portion of GENs that will go to the DAO and to the marketing wallet for unique activations guided by the Wilder Team. The total quantity open for claim/sale is 3,438 and if not all GENs are claimed, then the claim will turn over into a Trinity Keeper Private Mintlist Sale, which will only allow Trinity Keepers access to collect unclaimed GENs. GENs will instantly reveal upon mint.
Trinity Keeper Private Mintlist Sale:
The Trinity Keeper Mintlist sale will automatically go live as soon as the claim window closes on March 27th @ 12:30 pm PST and will close March 29th @ 12:30 pm PST or upon sell out. If your ETH address is on the Trinity Keeper Mintlist announced March 8th, you will have the ability to purchase a GEN. The price per GEN is 0.2 ETH + ETH Gas Fee and there will be a limit to purchase 3 GENs per transaction with no maximum mint limit per wallet. We chose this direction to allow for more keepers to collect beyond their original claim, if they so choose to. Any unminted GENs will then be minted to the DAO.
Trinity Keeper Safety:
Please be sure to DOUBLE CHECK any links or accounts you interact with. All information regarding the GENs drop will come from Official Wilder World Channels:
WW Market: https://app.wilderworld.com/market/
WW Zine: https://zine.wilderworld.com/
WW Twitter: https://twitter.com/wilderworld
WW Discord: https://discord.com/invite/wilderworld
WW IG: https://instagram.com/wilder.world
Trinity Snapshot Details:
You must hold a Trinity in order to claim or mint GEN! The Trinity Snapshot will be taken on Wednesday, March 1st 2023 @ 11:59 pm PST. Please ensure that you have your Trinity(s) in your wallet(s) by this date. The snapshot takes roughly 10 minutes to process so if you plan on trading or moving Trinity asset please don't do so until Thursday, March 2nd 2023 @ 12:15am PST.
If you have questions about your wallet or transferring assets for readability, please reach out to our team on Discord or Telegram. While your Genesis assets may be held in different wallets now, to form a valid Trinity and earn a spot on the Trinity Keeper Mintlist for the GEN claim and sale, you MUST hold three Genesis assets from different industries in the same wallet by the time the snapshot takes place on Wednesday, March 1st 2023 at 11:59 PM PST.
NOTE: Wilder World will not require you to connect your wallet as a validation factor to the snapshot. If you see something like this, please report it and reach out to our community team. Be sure to DOUBLE CHECK any links or accounts you interact with. All information regarding the GENs drop will come from official Wilder World Channels.
The Materialization of A New Industry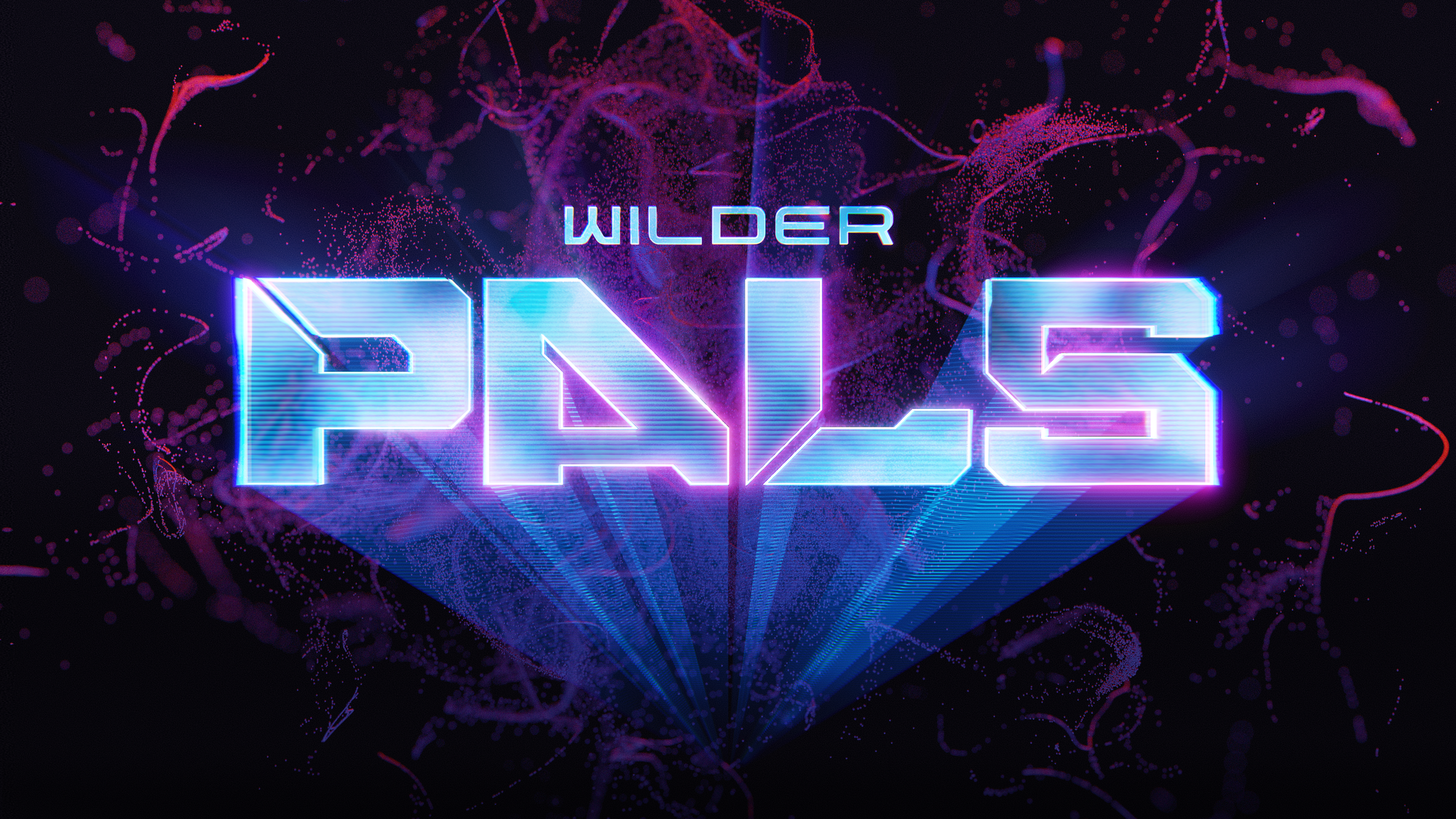 Wilder BEINGs, previously known as Wilder PALs, have been almost a year in the making. We originally first teased them on Twitter, offering a glimpse into the future of Wilder World and a metaverse industry like no other. In an ode to the original concept, the industry will be known as Wilder PALs and will spawn both GENs, as the Genesis collection, and BEINGs as a subsequent collection.
PALs, Short for "Polydimensional Autonomous Lifeforces," are invisible forces omnipresent all around the metaverse as a type of energy unbound by space or time. They exist in all dimensions simultaneously as a cosmic substrate creating equilibrium between dimensions and the metaverse at large.
Now known across the Wilder Nation as GENs, or Generators, will indeed be the Genesis collection of the PALs industry as Wilder PALs: GEN and are the first materialized physical form of PALs, like a body for a soul.
Since GENs are a Genesis asset they will have the same reward benefits that all Wilder Genesis assets have in that they count towards a Trinity, however they will not count in Trinity forming towards the first Land Sale Snapshot & Claim.
Formed into multi-functional, telekinetic life forms whose bodies appear as a collection of solidified material chunks arranged in an orb-like composition. Created through the compression of cosmic energy particles entangled with PAL energy in a vortex energy field materialized by n3o's particle collider. These mysterious levitating companions known as GENs have a bespoke aesthetic packed with an abundance of utility unlike anything in the metaverse currently!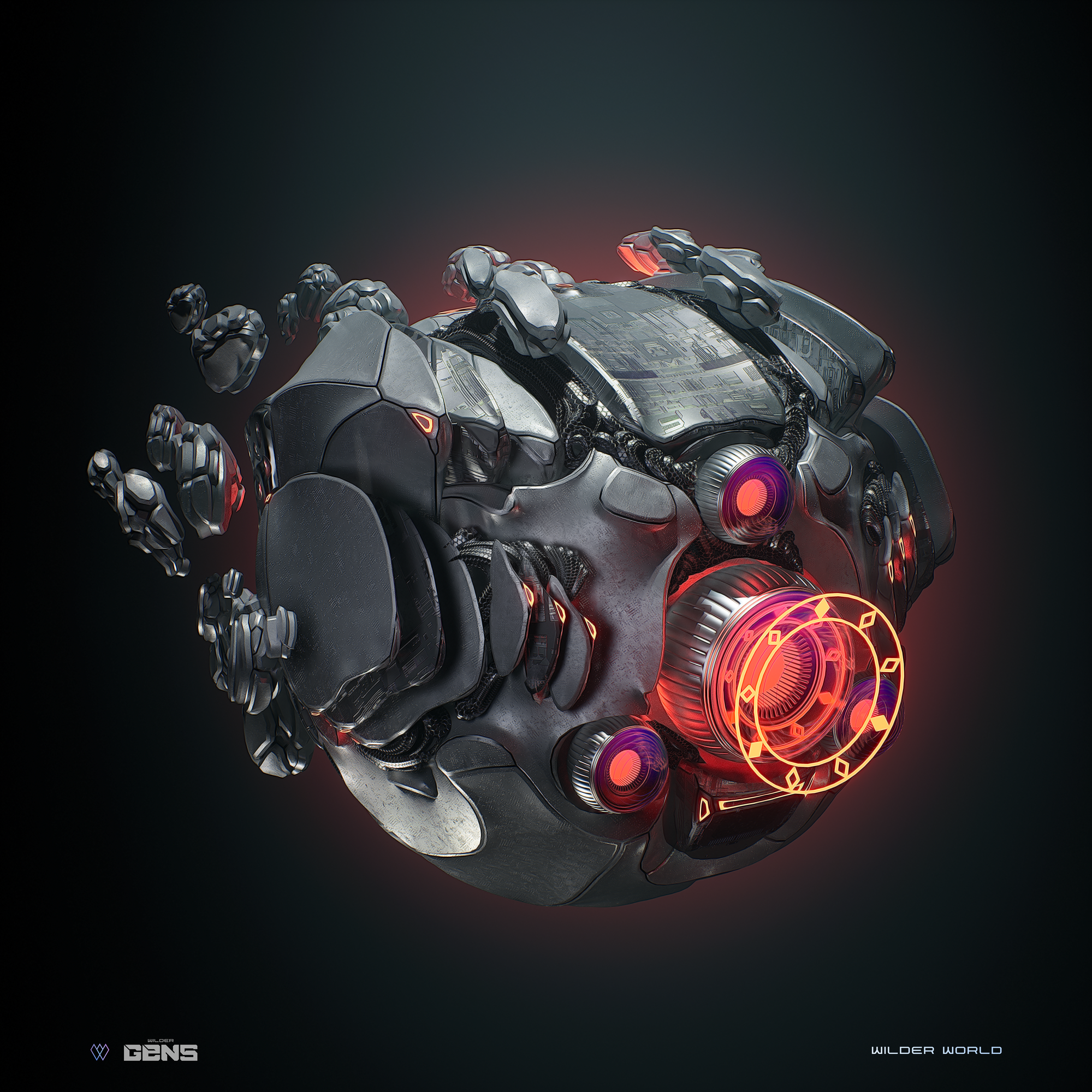 ---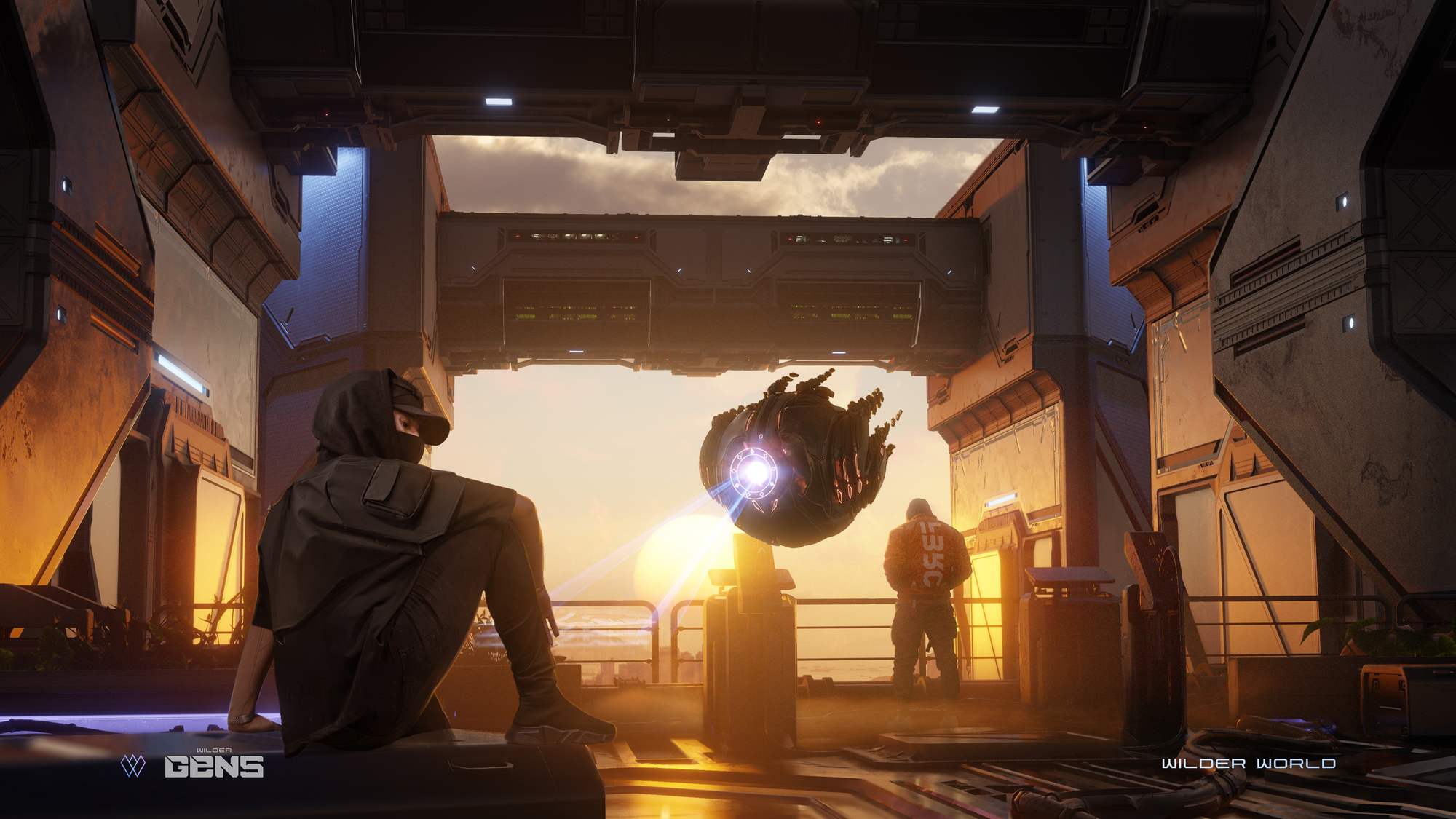 The Ultimate Utility
GENs have a variety of capabilities, including resource collection, data processing, code decryption, hologram projecting, player guidance, recording, surveillance, levitation, channeling, and more. However, their primary purpose is as a generator. A GEN can process various resources and energy particles through its Reactor Cores and output them back into the environment as repurposed matter, generating novel animate and inanimate creations.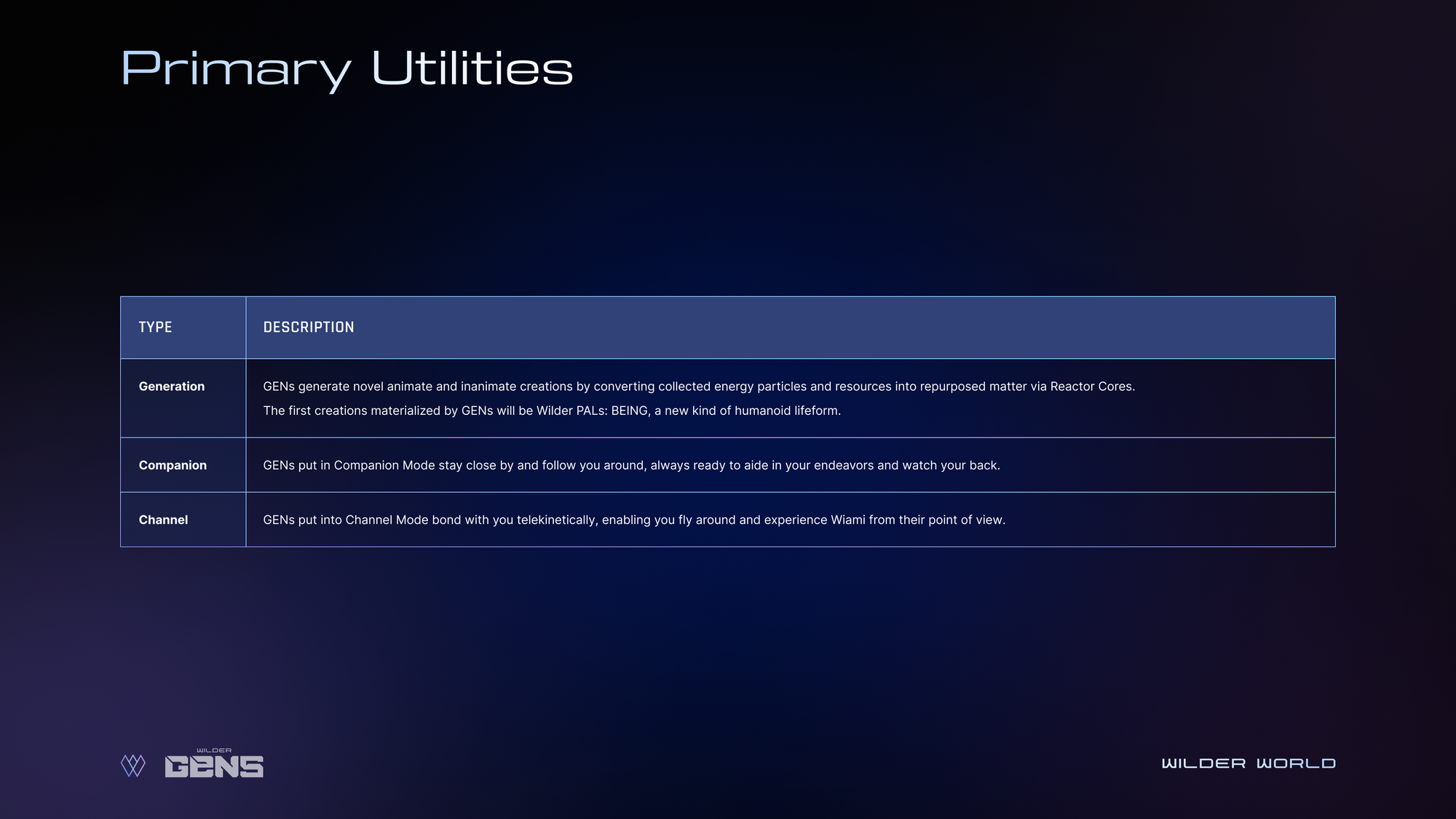 Wilder BEINGs
The first creations materialized by GENs will be BEINGs, a new kind of humanoid life form. BEINGs can already be seen riding Moto's in the Wilder Moto Trailer and roaming the Streets of Wiami in the Wilder World: Pre-Alpha Gameplay Teaser. Both GENs and BEINGs are PALs, with GENs being the Genesis life form. GENs and BEINGs will be integral to building in Wiami. GEN holders will get priority access to the BEINGs mint, although the supply of BEINGs will also support a public sale. Any other details regarding the mint have yet to be determined.
What You'll Get at Mint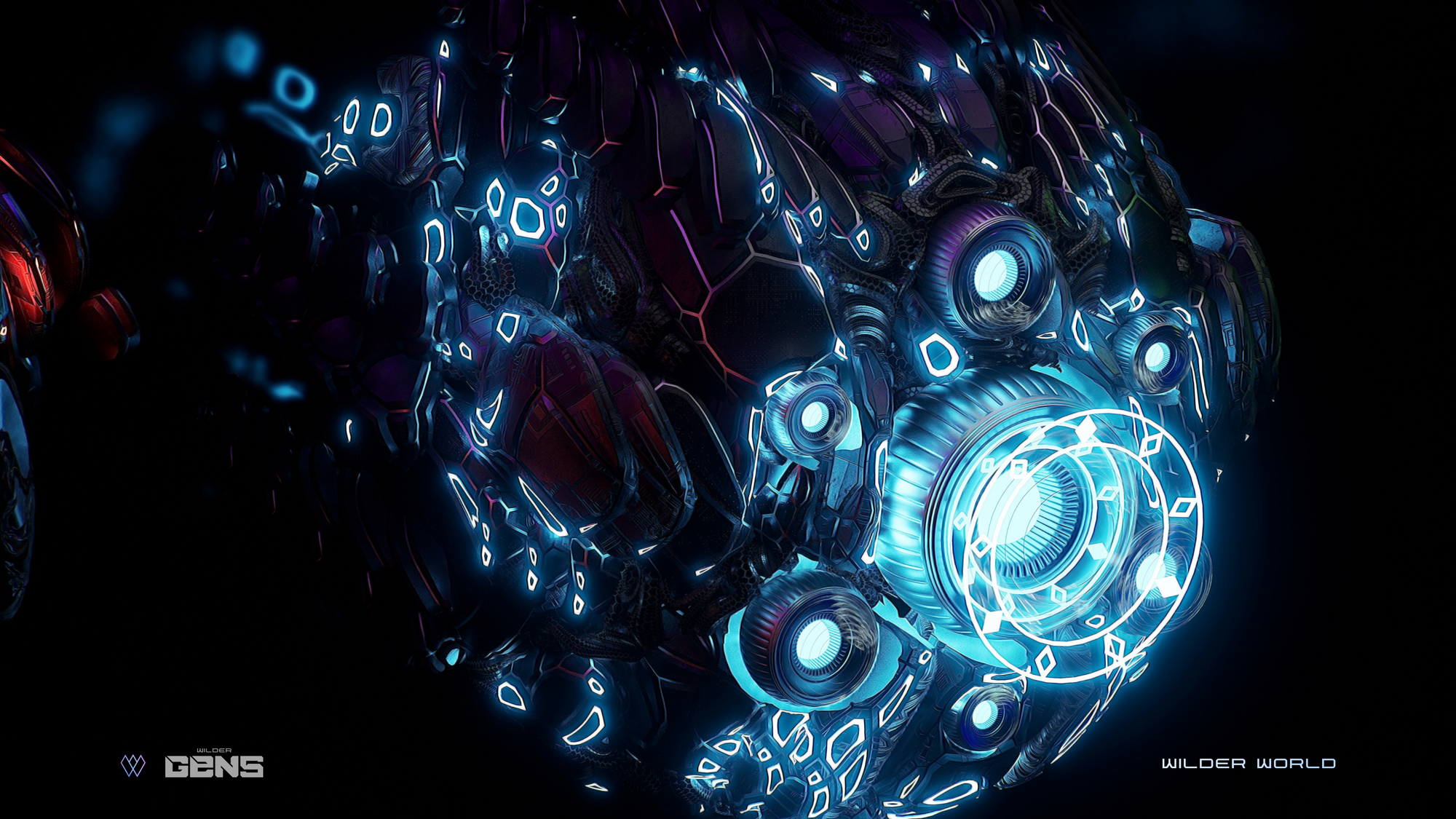 While dropping the GENs collection, we wanted to provide satisfaction right from the start. So, as soon as you mint your GEN, it will reveal instantly with an animation video as well as a unique PFP image of your GEN.
For a little extra fun, every GENs animation scene has slightly different smoke amounts, particle arrangement, and spark timing, which is the cherry on top of the unique procedural ideology we are after with this collection.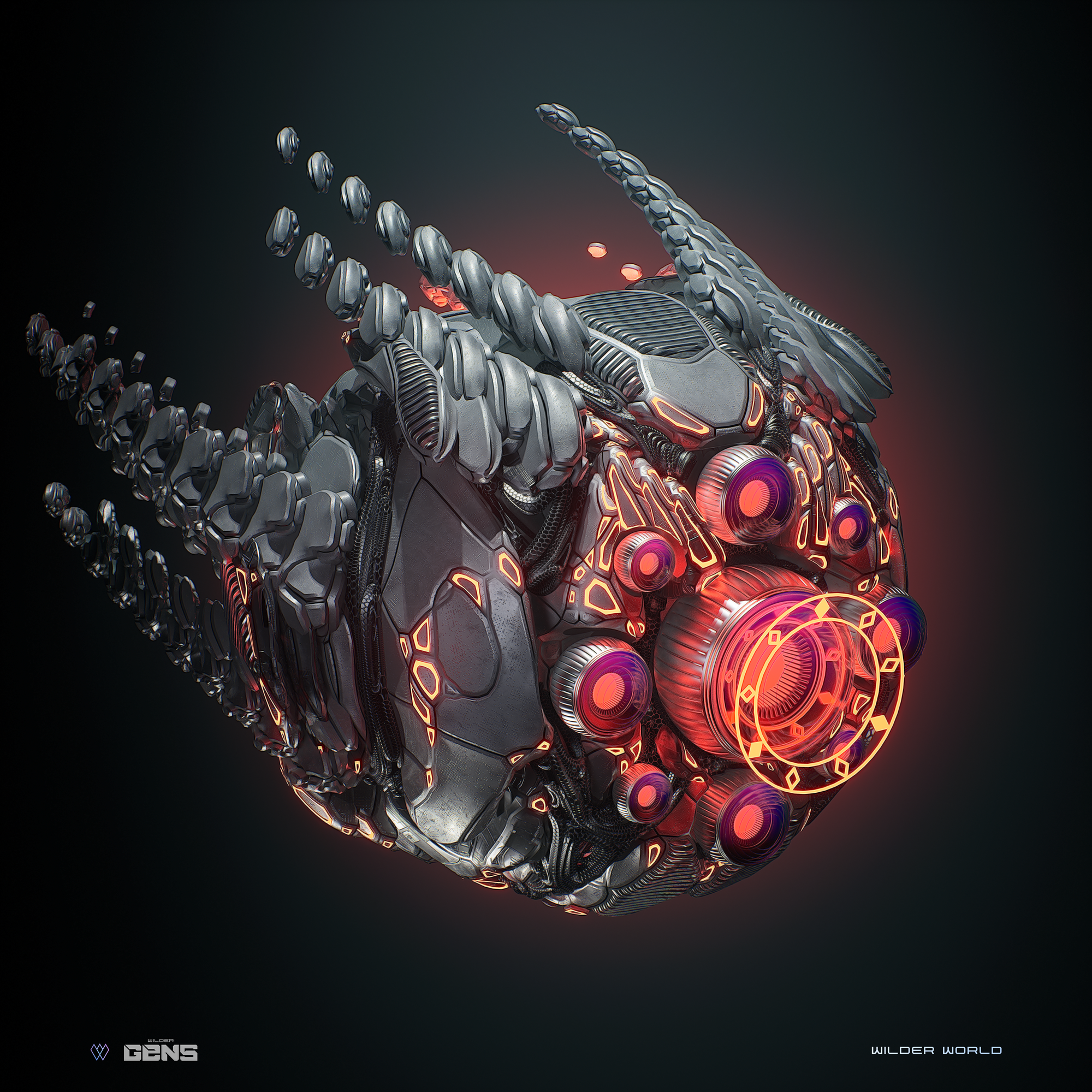 A Masterwork of True Procedural Generation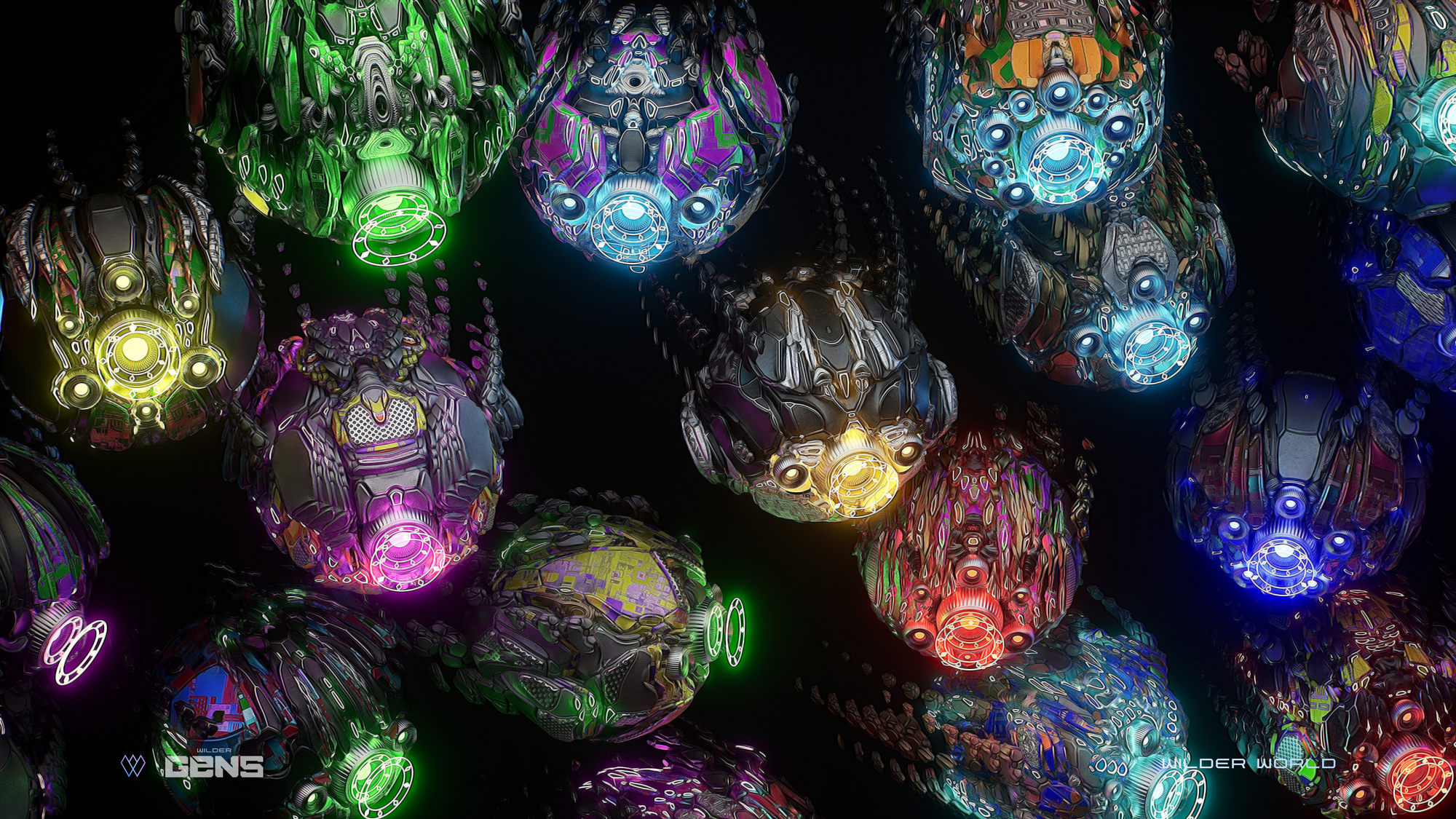 GENs are the first fully and truly procedural metaverse-ready digital assets to date. While most metaverse collections are developed by creating a library of pre-made parts that are then procedurally assembled and swapped in and out with each other, GENs take procedural generation to an entirely new level!
Each time a new GEN is generated, its body form is unknown until complete. Instead of traits adding already-existing objects to a character, each GEN is uniquely grown; all of its attribute traits contribute to the growth process and final unique outcome. No main part of the GENs body is pre-determined or manually made, every GEN is entirely unique, even if the attribute trait values are the same. In this way the attribute traits are directly related to the GEN forming, as opposed to being an additive process or assembly. Each GEN is made up of 10 defining attribute categories with a total of 93 possible traits across them.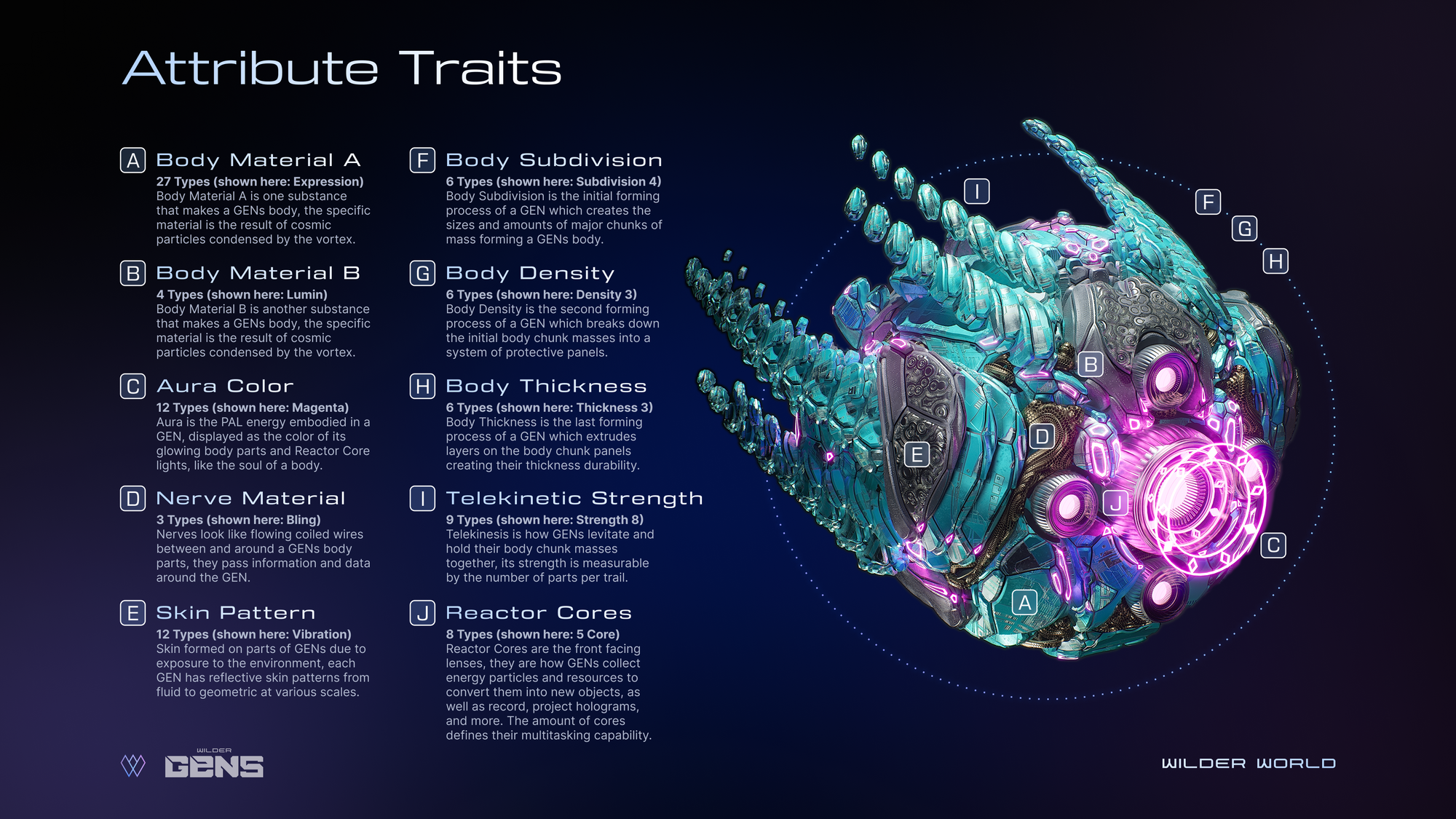 GENs have 3 distinct attribute categories that make up its body forming: Body Subdivision, Body Density, and Body Thickness. These define the GEN's overall form; the longer the particles were in the vortex, the higher the values. Higher values result in greater body complexity and durability. Every GEN is entirely unique, even if the attribute trait values are the same, this is because the body forming traits of a GEN defines the general size and amount of body parts a GEN has, but not the location and shape of those parts. Location and shape of body parts are randomized per GEN but done so within the confides of the overall GEN shape, along with the traits defining their size and amount. This is procedurally confined randomness!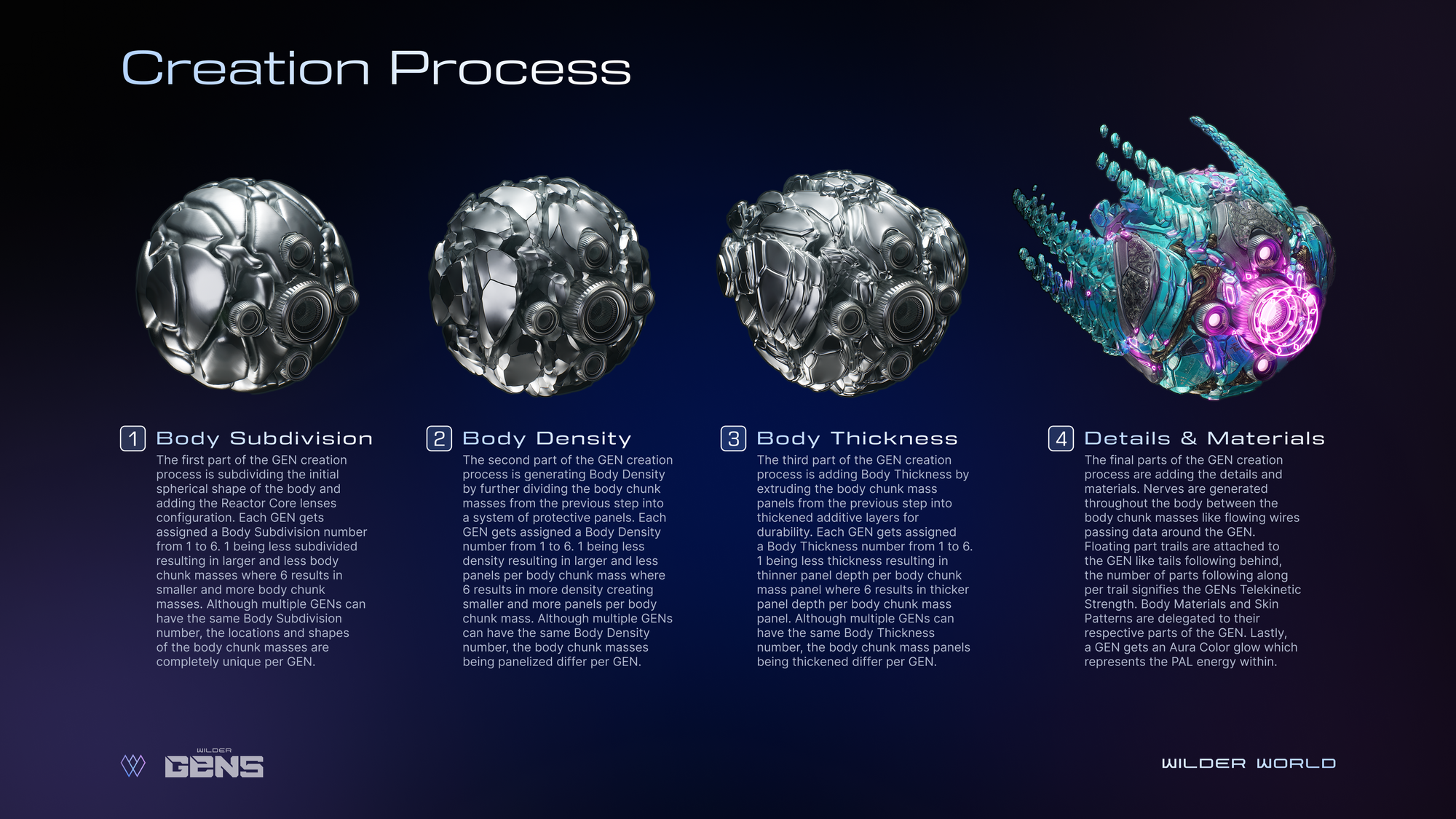 GEN traits are like DNA—take human faces, for example which are made up of eyes, noses, mouths, etc., but come in all different shapes, sizes, and colors. Facial features are unique within the parameters of a pre-determined function and facial location; generated via DNA under controlled randomness. In a similar fashion, algorithmic-controlled randomness lets each GENs body be unique but quantifiable.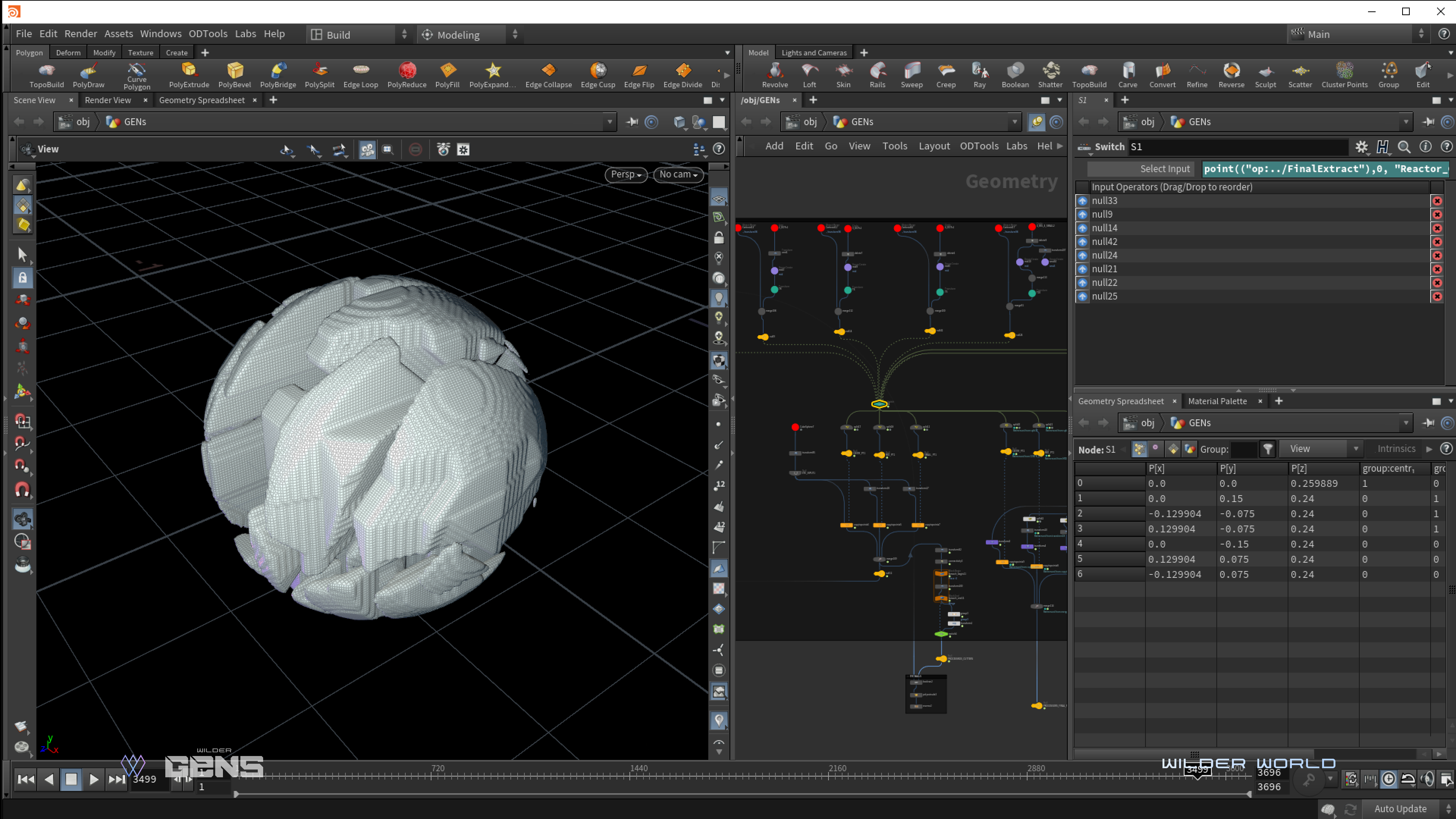 An advanced procedural system was developed with SideFX Houdini to automate and streamline the entire GEN creation process. With a single click, the system pre-computes rarity values for proper rarity ranking, creates a GEN via attribute traits, textures it based on the rarity values, optimizes it, and results in a 100% metaverse-ready GEN.
"With the PALs industry, our goal is to challenge the standards of metaverse asset creation. Through extensive research, we looked into bespoke and streamlined ways of designing procedurally. We are passionate about developing top-quality, uniquely designed assets aesthetics you won't see anywhere else, which are first and foremost, in-world metaverse ready from the start. GENs are the first manifestation of this journey and are a successful proof of concept for other collections to follow."
- Oleg & Ekim, Wilder GENs creators and Co-Heads of Procedural Generation at Wilder World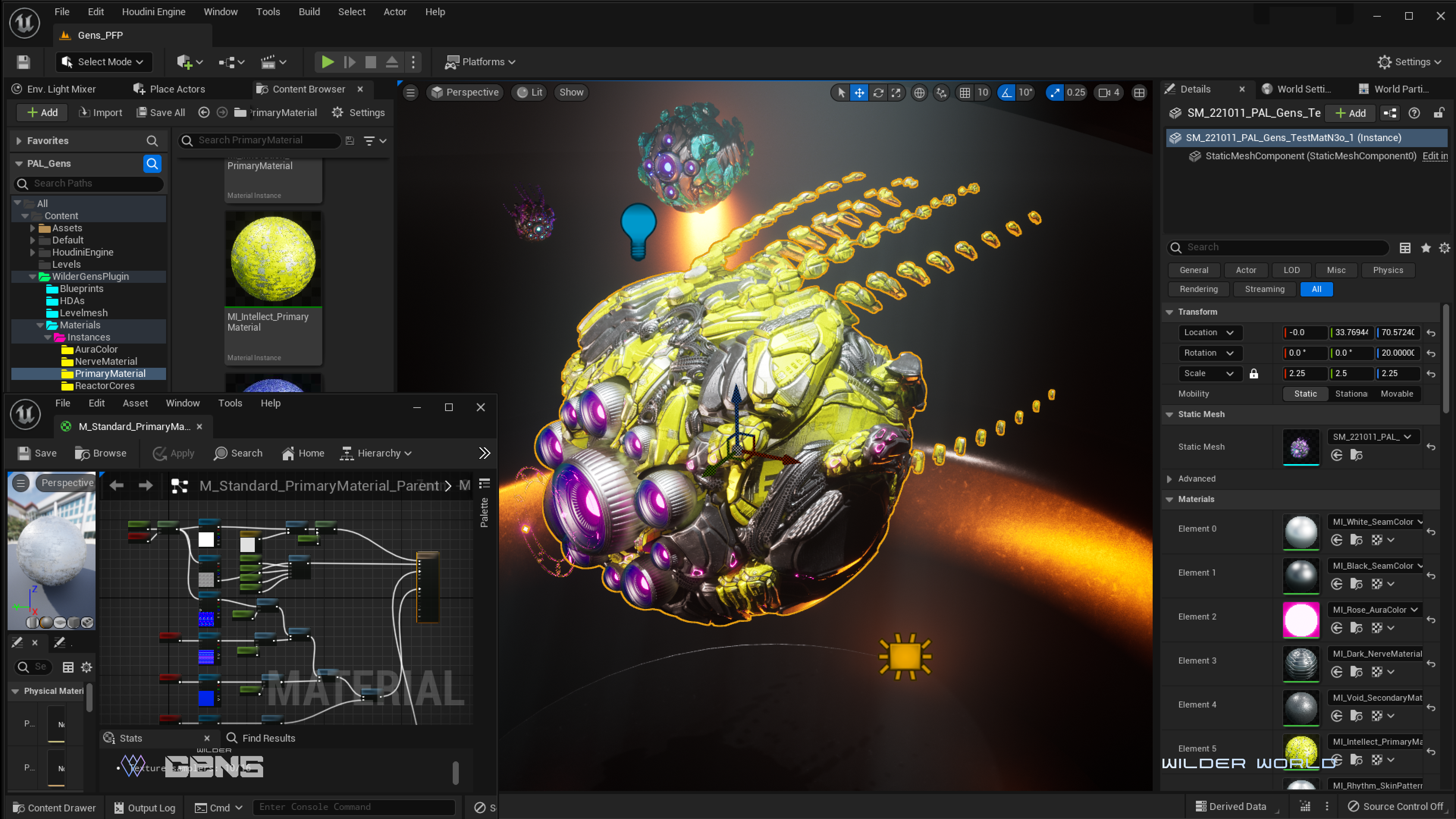 After each GEN is formed through the procedural pipeline, it automatically imports directly into Unreal Engine 5 optimized and ready to go with its materials and all, metaverse-ready to use in Wiami and beyond.
In fact, GENs are so metaverse-ready that a GEN has already made its in-world debut during the "Waking up in Wiami" gameplay demo, where you can see it hovering around n3o's apartment assisting him. GENs currently operate in gameplay via a custom NPC AI system.
How the Collection Came to Be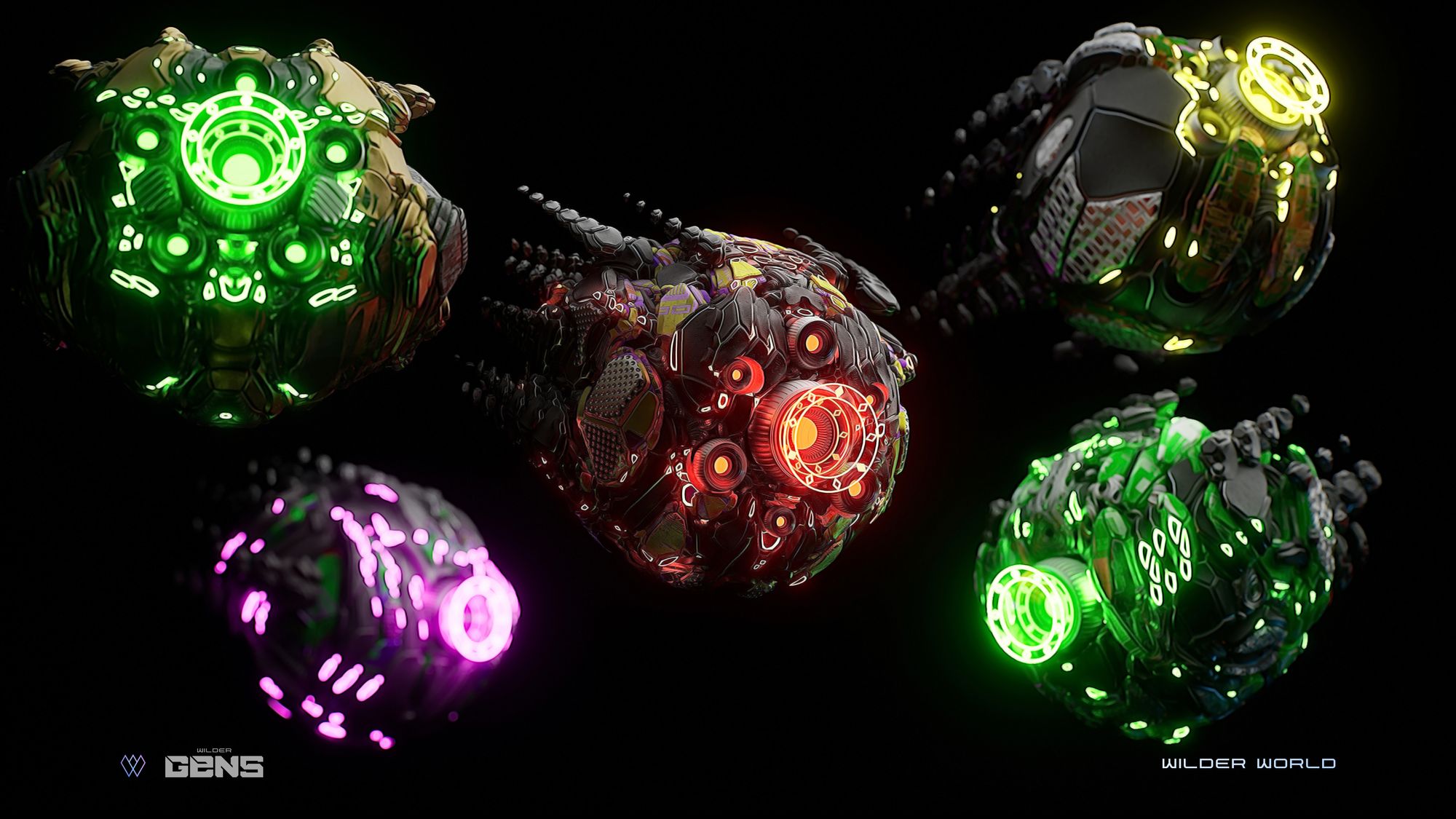 GENs are an unexpected by-product of a journey that began when PALs were first getting worked on in July of 2021 before Ekim and Oleg joined Wilder World. In August, 2022, Chad Knight asked Ekim and Oleg to make a drone for a Wiami concept art. They used the PALs algorithm on a sphere to create something quickly and the first GENs were created. Frank and n3o ended up liking the unique look of the drones, and it was decided that a lore and metaverse collection should be created around them. Since then the team has made substantial advancements in their creation process, storyline and collection detail, which we are excited to unveil in the upcoming release.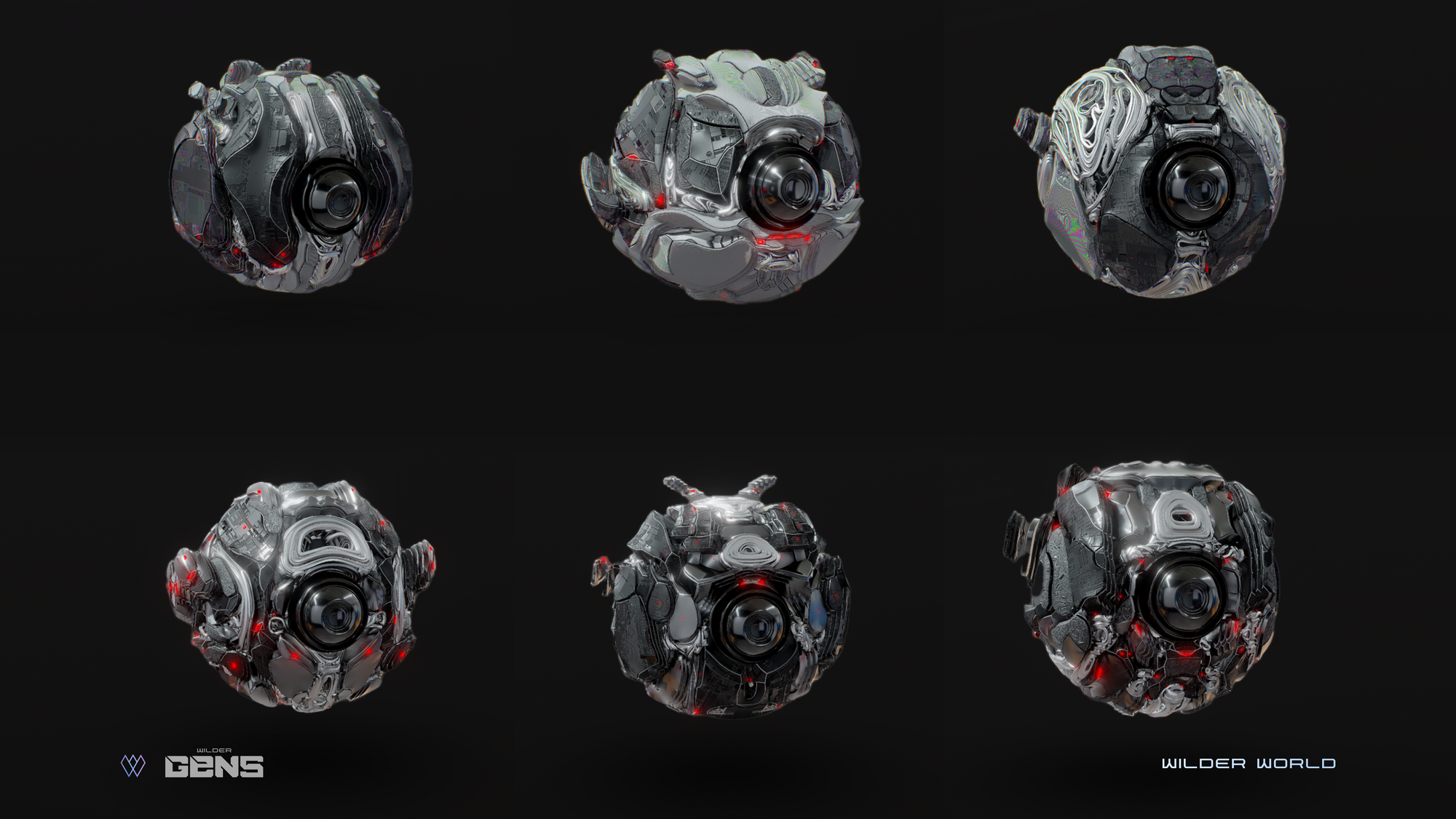 The Beginning of a Promise Fulfilled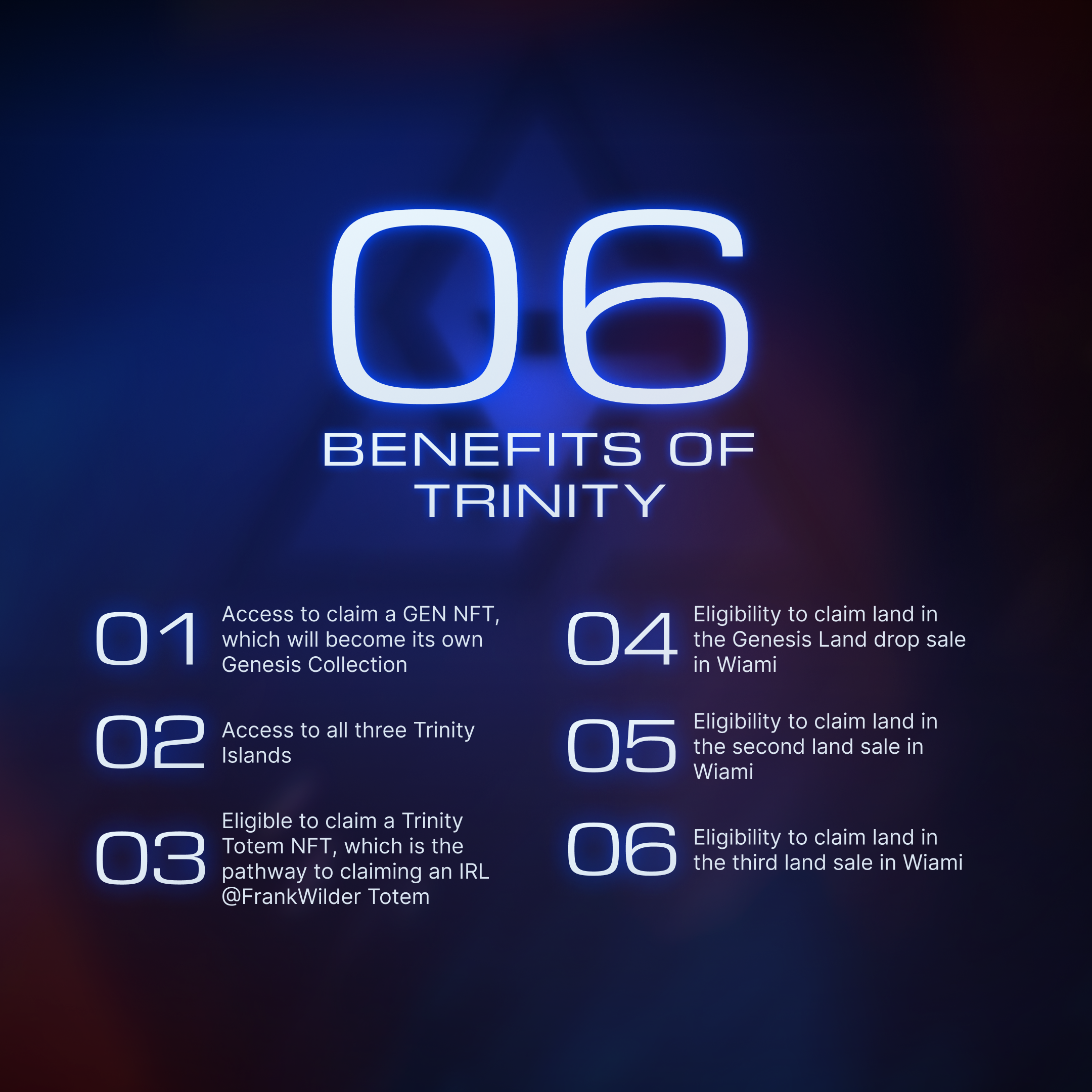 We couldn't be happier to kick off 2023 by delivering the first promised Trinity Keeper reward! Head to our recently upgraded Wilder Wiki to get comprehensive details on how to get started on your journey toward becoming a Trinity Keeper.

To celebrate the release of the PALs industry and the GENs Claim & Private Sale, we will be hosting a Twitter Spaces tomorrow, March 1st at 11 AM PST. Please join us for a chance to dig into the Collection with Sunshine, Ekim, Oleg & Frank Wilder!
The Wilders Salute You.
MEOW