Partners
Protecting the Power of Trinity with Ledger Security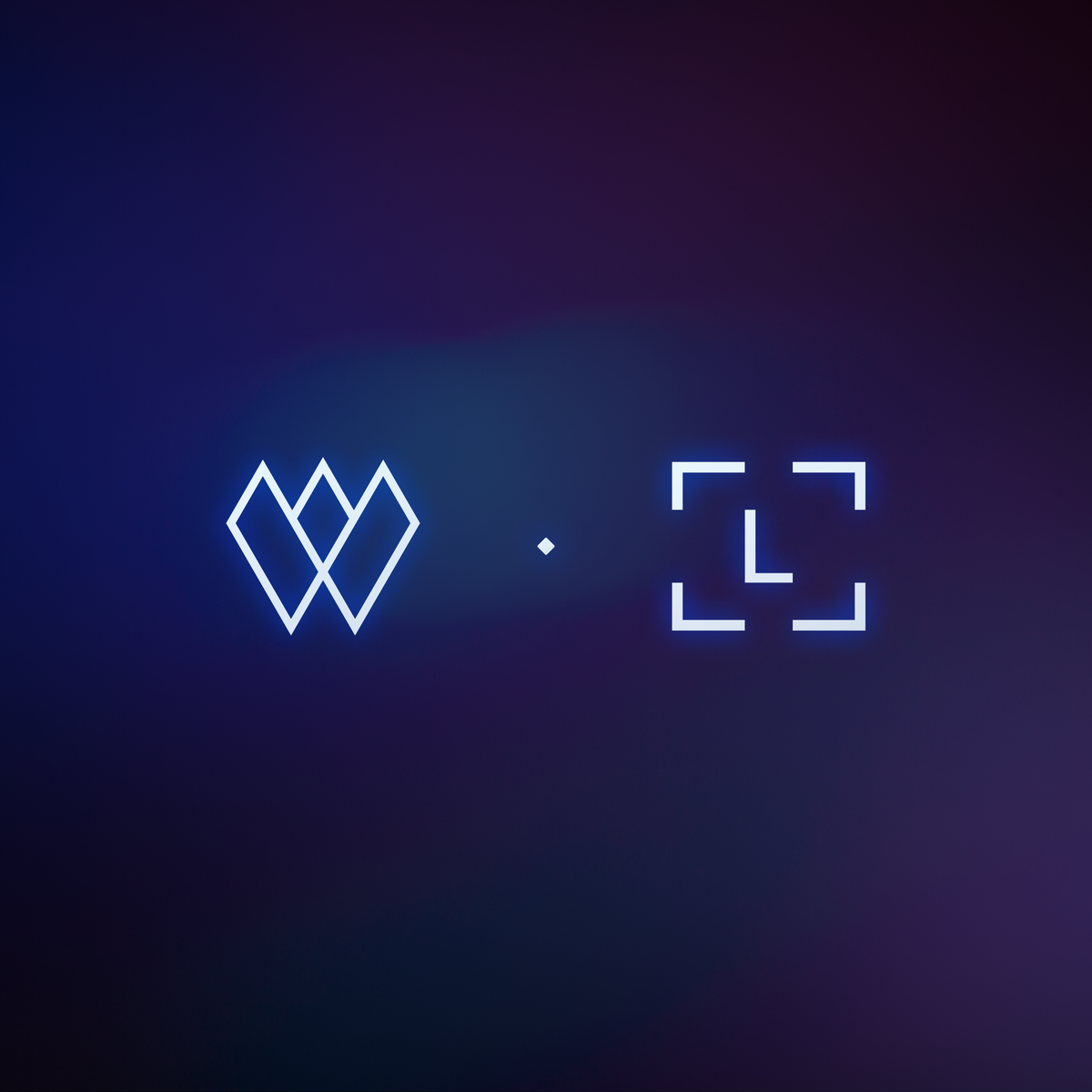 TRANSMISSION 02 CONT.
As Wolf, GEN and I continued our exploration of Trinity Islands, the surrounding scenery was distorting and warping our perceptions somehow… the natural beauty made me feel a strange connection to this place… there was something enchanting… I don't know how to explain.
Nearby, a faint glow of indigo was shining from a rock formation. Curious, we moved in closer to examine the source. As we approached the voice of a woman... an angelic melody, almost as if familiar from a dream.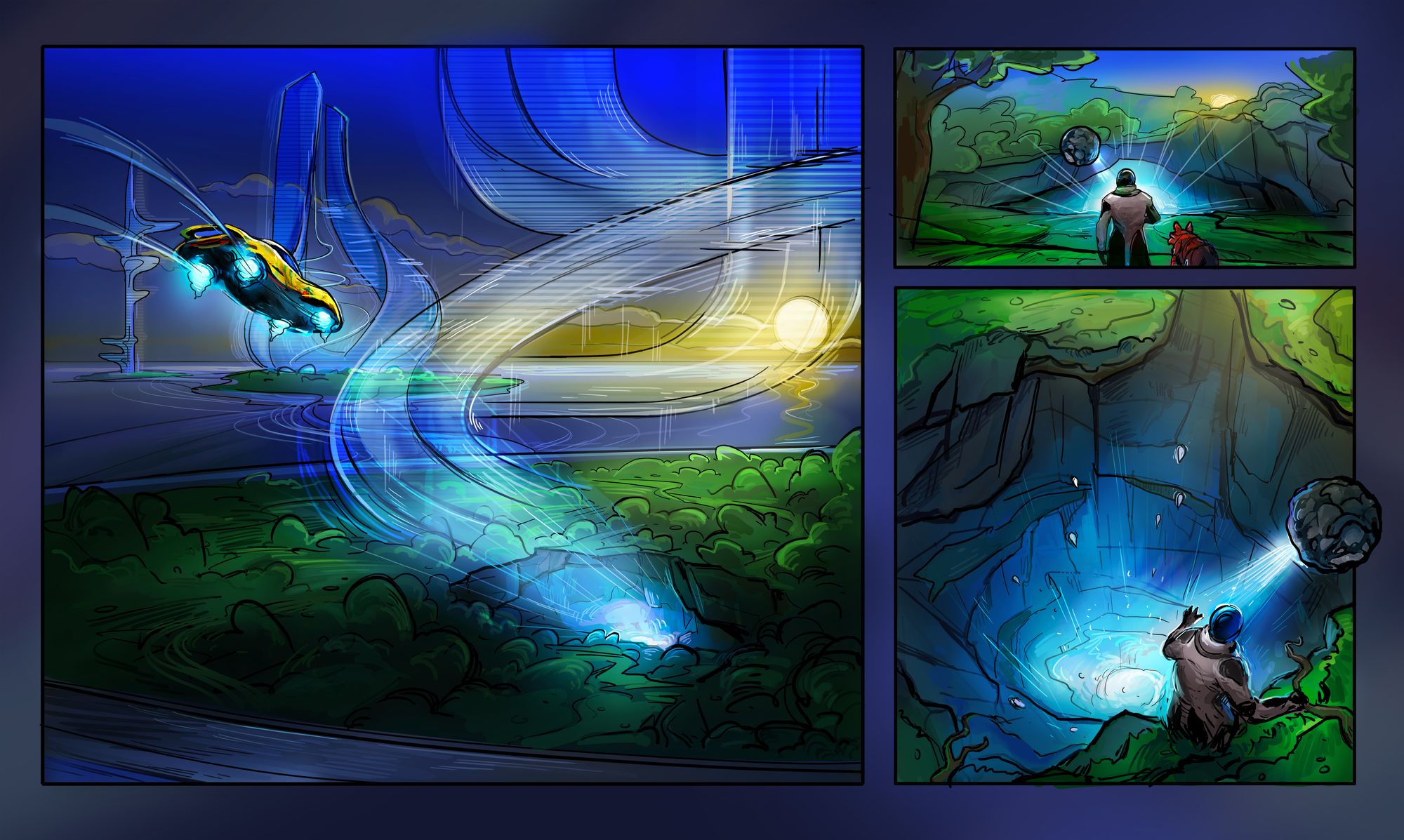 We arrived at the opening; a grand cave of radiating crystals going down below ground. For some reason the Wolf and GEN stopped by the opening, and I made my way down into the cave alone. After a while I arrived at lake within the cave. A female figure emerged from the lake, arms wide, she smiled as if to say "welcome." Her beauty was haunting and ethereal – slowly she bowed and began to speak.
"Welcome n3o… I hoped you would find your way here, I've been expecting your arrival… I am the guardian of this island — you may call me Trin. I've been feeling myself getting stronger and stronger, as you and the other Wilders are connecting and keeping your Trinities – for this I want to offer you something that will assist you in securing this energy."
Trin placed her hands on a crystal ball, closing her eyes, the crystal began to display rapidly flickering images of Wiami, thousands of parcels of land spread across the city appeared. Then, a flash of words began to faintly overlay this birds eye view of the land; 'Genesis,' 'Trinity,' 'Ledger,' 'Device,' 'Protect'… she softly declared "Above all else, protect the power of Trinity."
Silence fell as the crystal ball returned to its dormant state and Trin vanished into the shimmering light of the cave. As I walked my way up and out of the cave, I found myself puzzled as I repeated the words that emerged in the crystal ball over and over to myself. 'Genesis,' 'Trinity,' 'Ledger,' 'Device,' 'Protect'…'Genesis,' 'Trinity,' 'Ledger…' – it made no sense to me.
But when I returned up to the surface and GEN had recorded my words, it began to light up and spin – as if it had just received a highly specific prompt –  it began to project a small object materializing in the light. I reached in and grabbed the small piece of machinery, and as I was holding the device, I again heard the voice of Trin "protect the power of Trinity."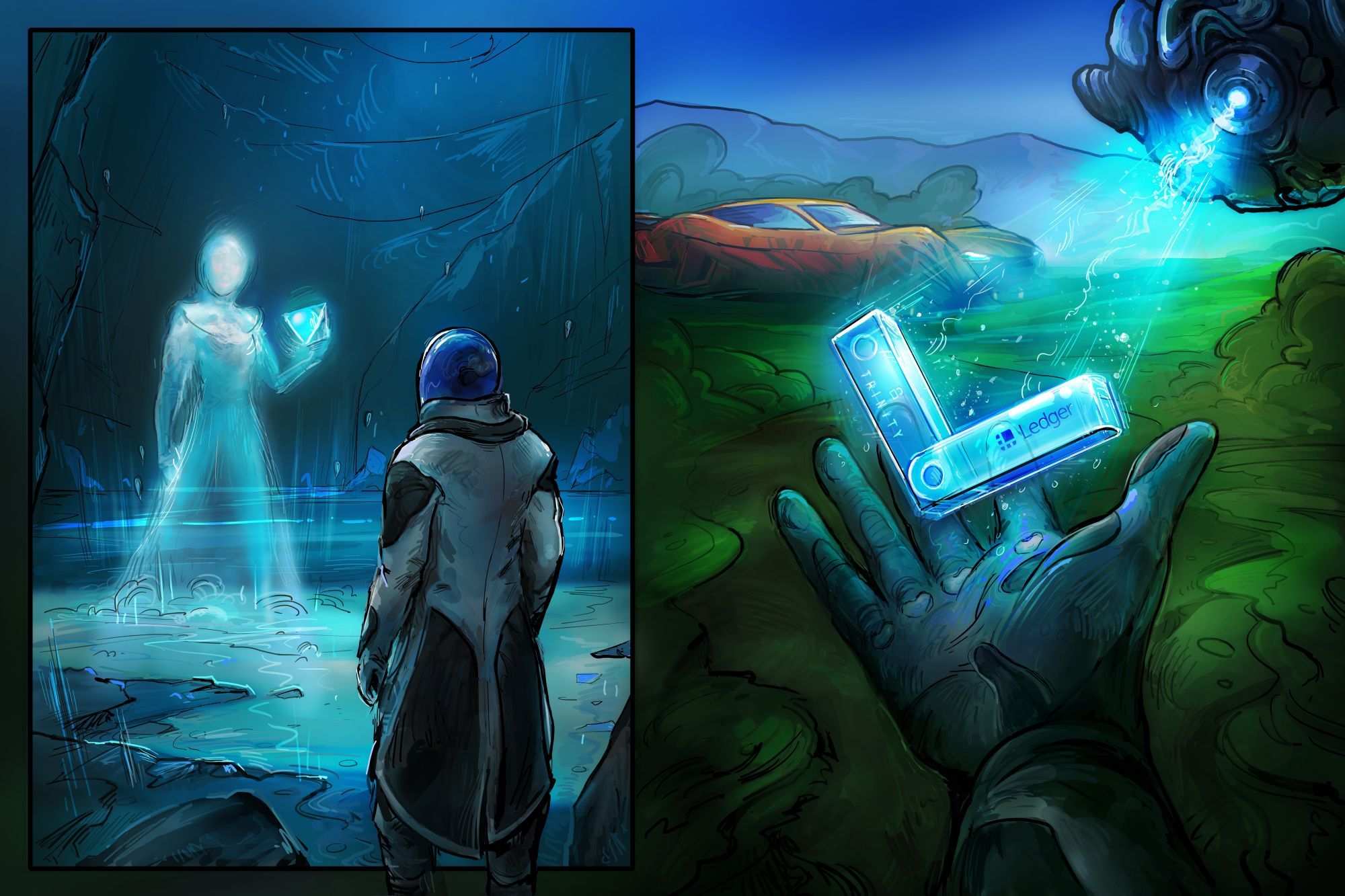 To be continued...
---
Transmission Notes

About Ledger
In 2014, only 2 years after Frank first entered into OBR, Ledger launched. Since then it has succeeded in becoming a global leading platform for digital assets and Web3 – and it seems as if destined to cross paths with Wilder World.
Ledger is a multi currency wallet that is used to store private keys for cryptocurrencies offline. As Wilders continue to collect more and more assets, especially with the knowledge surrounding the power of threes/Trinities. A Trinity of WW Genesis NFTs will come to power the city of Wiami. Wilders now have a burning need to learn how to keep their assets safe and secure.
Of all the world's crypto assets, over 15% are secured through Ledger Nanos. Headquartered in Paris, with offices in London, New York, and Singapore, Ledger has a team of more than 900 professionals developing a variety of products and services to enable individuals and companies to securely buy, store, swap, grow, and manage crypto assets – including the Ledger hardware wallets with more than 4 millions units already sold in 180 countries.
As Trin told n3o, Wilders must protect the power of Trinity. Learn how to protect your Trinities with our Wilder Wiki Ledger How-to Guide HERE.
About Trinity Season
Trinities power the metropolis of Wiami and are formed by collecting three (or more) Genesis NFTs from unique Wilder industries in a single wallet.

In the spirit of protection, Frank also has something share... as Transmission 02 stated, IRL components for Trinity Keepers will be revealed throughout the remainder of Trinity Season. Trinity Keepers will be led to unlock and materialize Trinity in the form of a Frank Wilder Totem.
Trinity Totem NFT
Access to claim a Trinity Totem NFT is the third of six distinct Trinity Season benefits that will be revealed alongside other community events and giveaways. As a Trinity Keeper, you will be able to claim a Trinity Totem NFT. Learn all of the Trinity Totem FAQs on the Wilder World Wiki here.
What is a Totem
"A Totem is a portal into the transcendent. Used as a ritualistic artifact — created with precious metals & gems. Worn on the skin — to be kept close, as a reminder and means of protection." - Frank Wilder
Claiming A Trinity Totem NFT
Trinity Totem NFTs will be free (plus ETH gas) to claim by each Trinity holder.
1 Trinity Totem NFT will be claimable for each Trinity held.
A snapshot for all Trinity holders will be taken to establish the mint-list for the Trinity Totem NFT claim (Trinity Totem NFT and GENs will be the same snapshot. Date to be announced).
There will be a future 'casting date' when Trinity Totem NFT holders will have the opportunity to materialize their NFT for an IRL Totem (material costs may apply).
Twitter Spaces
Join the Wilders live on Twitter Spaces at 9:00am PDT on Tuesday, September 20th to discuss Trinity Season with the Wilder Nation and our friends at Ledger.

END OF TRANSMISSION