NFTs
Information on the #AIRWILD auction closing: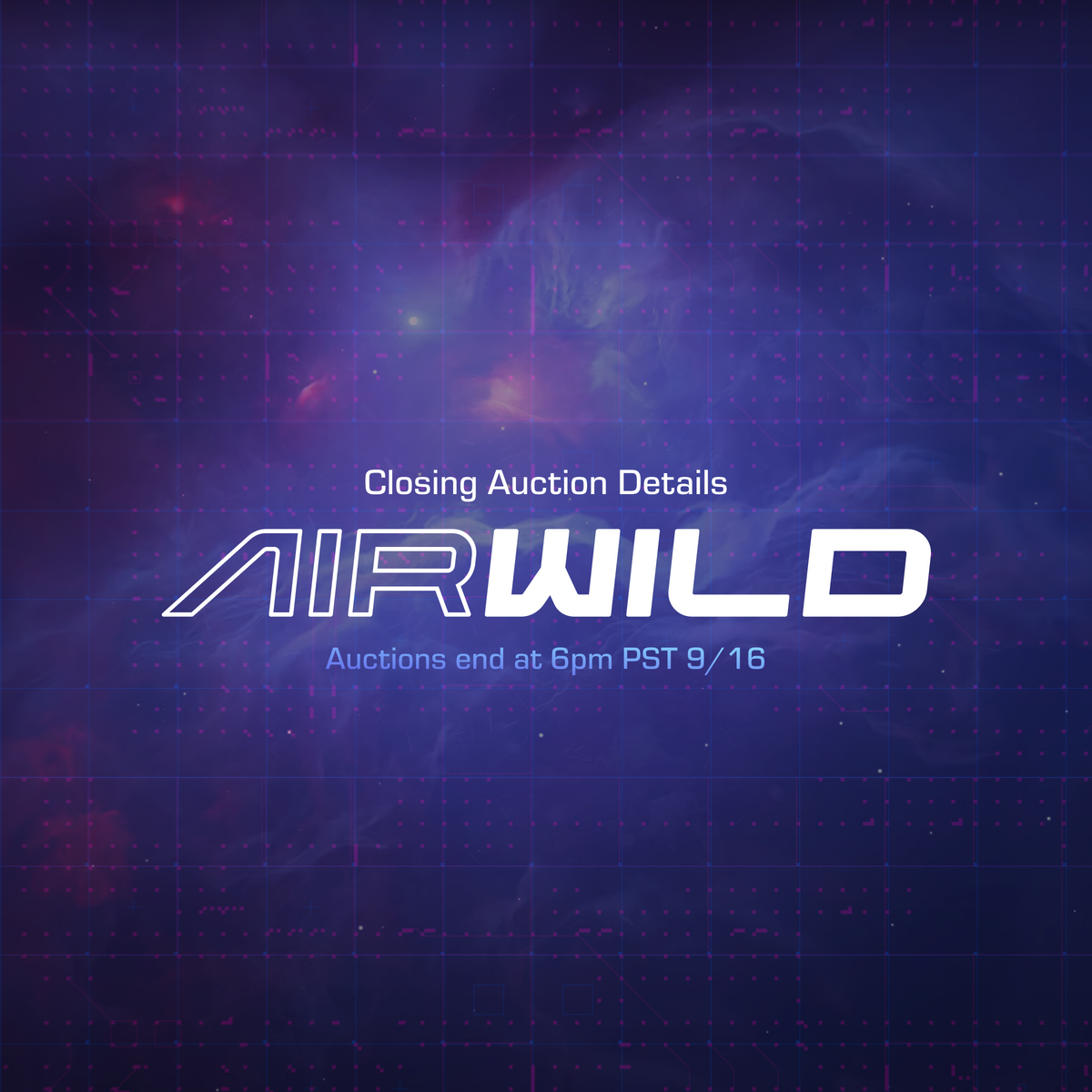 On Thursday at 6pm PST 9/16 we will begin accepting bids on all AIR WILD kicks. Bidding on the WWMM is currently only accessible via desktop here:
We will accept bids manually in sequence one by one from the first shoe on the list (1) 'Abyss Monster' onward. It will take approximately 5 minutes per shoe to accept the auction, meaning we will move on to accept the auction for the second shoe (2) 'Amber Wave' at around 6:05 pm PST and so on.
If there has been a bid in the last 5 minutes, we will extend that auction for an additional 5 minutes for every subsequent bid until bidding has stopped on that shoe.
Other things to note:
Wambassador Kicks
All Wambassador kicks have been given to each individual party and it is their choice whether they want to accept bids or not. This is no longer in control of the Wilder team and to the best of our knowledge each Wambassador plans to keep their kicks for now (unless you *really* want their shoe and make a great offer they can't refuse).
All Wambassador kicks are listed below:
Anti Fund Circle
Baron Animal
Champs Circle
Disorder Acid Drip
Greek Freak Acid Drip
Mavericks Circle
MCW Acid Drip
Sugar Wave
Swift Acid Drip
Community Pre-Drop Kicks
Nine kicks from our community pre-drop have already been transferred to the collectors prior to the public launch. Whether these kicks are up for grabs or not is up to the collector. Though bidding is still open on these, they are no longer in our possession and we can't ensure you will receive them if you have an active bid open.
The Nine kicks sold in our community pre-drop are listed below:
Berry Monster
Demon Animal
Gamma Animal
Heart Circle
Island Element
OG Lightning
Polar Animal
Sky Animal
Sunset Acid Drip
Cyber Heist Kicks
Three kicks have been reserved for our community giveaway through the Cyber Heist which ends at 3pm PST 9/16 and can be accessed here:
https://info.wilderworld.com/cyberheist
These kicks have been randomly selected from the lot as well and are listed below:
OG Wave
Nectar Lines
Hot Acid Drip
Wilder DAO Kicks
Nine additional kicks will remain in the Wilder DAO as mentioned in our previous ZINE. The kicks that will stay in the Wilder DAO have been randomly selected from the lot after the pre-launch kicks, Wambassador kicks and Cyber Heist kicks were subtracted.
The kicks that remain in the Wilder DAO are listed below:
Desert Circle
Green Monster
Gold Wave
Heaven Lines
Mastic Animal
OG Rice Krispy
Shell Monster
Snow Acid Drip
Stealth Wave
If you have any questions or issues please direct them to the AIR WILD channel in our ZERO network that can be joined here:
https://zer0.io/a/invite/5HsCdVXy4q3E
We are working around the clock to improve the platform by adding helpful features for the collectors experience. We hear you, and we are shipping updates daily. We're very appreciative of the Wilder communities response and feedback from this drop. This is the first of many and we look forward to evolving & refining these drops together.
You are appreciated, good luck collecting Wilders!