NFTs
The Wilder Way: Wheels Update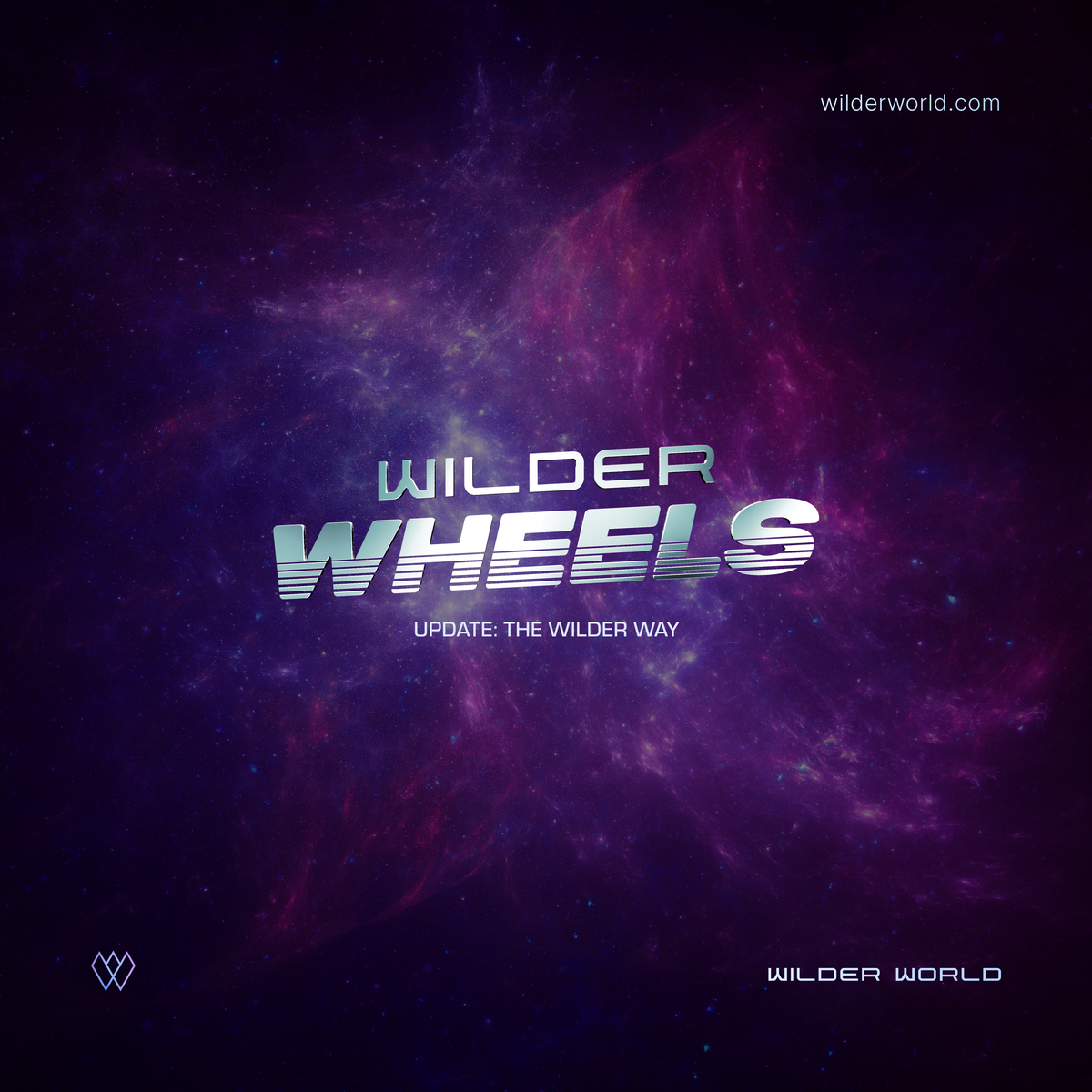 We write to send our gratitude to the Wilder Nation for a successful Wheels campaign over the past 48 hours. We minted over 3,000 5D vehicles and generated roughly $5 million USD in revenue for the Wilder Nation and newly founded Wilder Wheels Industry. Remember, we just dropped Metropolis where we announced that 100% of profit generated from within the Wilder Nation will be redistributed back to our nation and our citizens. This is a monumental success—the Wilders salute you!
Building Wilder World and the transportation industry is a long-term play with significant potential. Wilder Wheels is the first major automotive drop and will be followed by an entire industry similar to how the automotive industry works IRL; think manufacturers, dealerships, aftermarket parts, shops, racing events, etc.—the possibilities are endless.
Given incredibly high GAS prices due to ETH hitting an ATH, not as many people purchased Wheels as we had thought in the first 24 hours (relative to the size of our initial 13k whitelist). In some cases, GAS was several thousand dollars to mint a set of three Wheels, and the NFT market as a whole came to a screeching halt. Ouch!
Once Layer 2's come online (which we and the industry as a whole are actively working on), there will be millions, and eventually billions of NFTs created for the Metaverse. We believe that these early vehicles will one day be rare classics. Regardless however, our long-term success will always be determined by doing the right thing for our community, and especially rewarding our early backers for any new industry. This is one of the main reasons that $WILD has 100x'd in only six months.
Today n3o and Frank spent a significant amount of time in our ZERO and Discord talking with Wilders far and wide, to get feedback on how, as the Wilder Nation, we should collectively manage the sale of the remaining unminted Wilder Wheels.
We looked at several potential strategies, and after a vibrant discussion we realized there were significant drawbacks to most obvious options:
Airdrop to Wheels Holders: This would cost roughly $1.5 million in GAS at current fees to the Wilder Nation. Not feasible from a financial standpoint or a good move for WILD/Wheels Holders.
Burning Wheels: 20 of the most rare models are yet to be minted, including the most rare 1 of 1 vehicle. Burning Wheels would remove some of the most rare models, thereby decreasing the value of everyone's Wheels. We want to see all of the art cars make it to the blockchain and have our original vision manifest.
Moving remaining Wheels to the DAO: We could move remaining Wheels to the Wilder Nation DAO, but then the value would be distributed pro-rata to WILD token holders, and not to early supporters of Wheels. That's not fair.
Together with the community, we developed a fourth and a slightly wilder idea. It's important to note that we are in no rush to sell these vehicles. Crypto moves at warp speed, but Wilders are long-term thinkers. Our token is performing exceptionally well and thus far the drop has done very well from a purely financial perspective. Both the Wilder Nation and Wilder Wheels Industry are thriving.
So instead of the options above, we are going to take our time selling the remaining units, and do so at higher prices. This will move new Wheels demand to the Wilder World Metaverse Marketplace and Wilder World OpenSea secondary market, which will give time for GAS prices to settle and demand to pick up as we pave the way to the Metaverse.
The following table illustrates the Wheels Prices that will go in effect immediately, along with associated staking rewards and land benefits:
As you can see, the Wilder Nation will heavily reward the early Wilder Wheels holders and supporters, with the intention of increasing the value for Wheels holders immediately in the 0 - 5,000 bracket.
If you want to Wambo into the Wheels campaign, now is the time to get in early before the prices increase. We also ask for patience as there will be a slight delay when each pricing tier ticks over due to the Smart Contracts updating.
As mentioned above, we are all building for the long-term with the vision to create a fully decentralized and community-owned virtual nation that creates real value for our citizens through NFTs with in-world utility.
We have only just begun, the first pitch has only just been thrown, we see Wilder Wheels as being the number one Digital Auto Manufacturer of the Metaverse and always open for business.
We feel very blessed to be on this journey with the Wilder Nation as we continue our quest into the 5D and galaxies beyond.
May the Wilder Spirit guide you now and forever.
The Wilders salute you.