DAOs
zDAO Proposal 0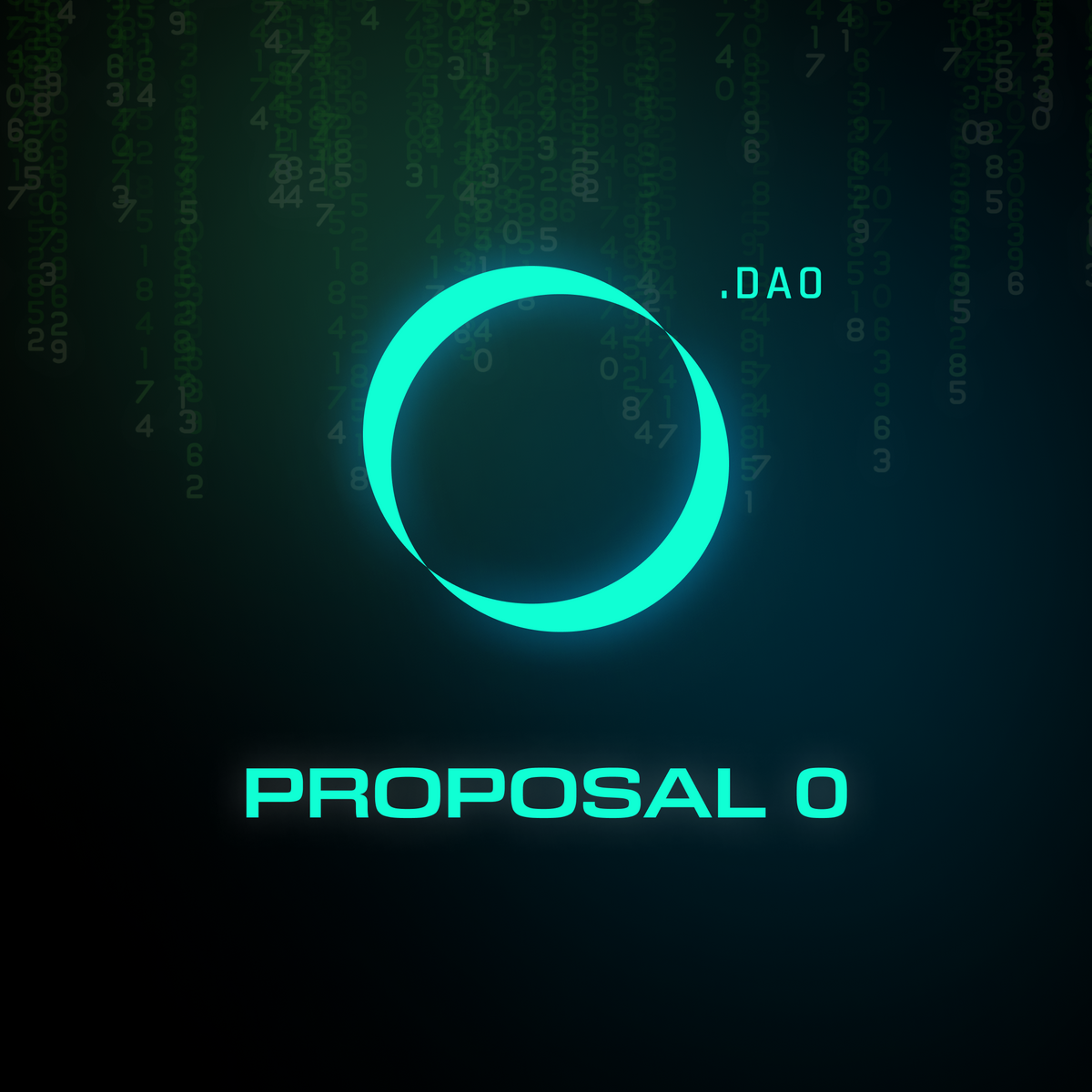 Blessings Moto Holders!
From August 19th (10:00am PDT) to August 26th (10:00am PDT), you will be among the legendary inaugural group to participate in a governance vote on the zDAO protocol.
❗
For full details on voting requirements and an overview of the zDAO experimentation phase we are entering, read our previous Zine
HERE.
It's time to make history Wilders, let's dive into it.
---
Target Goals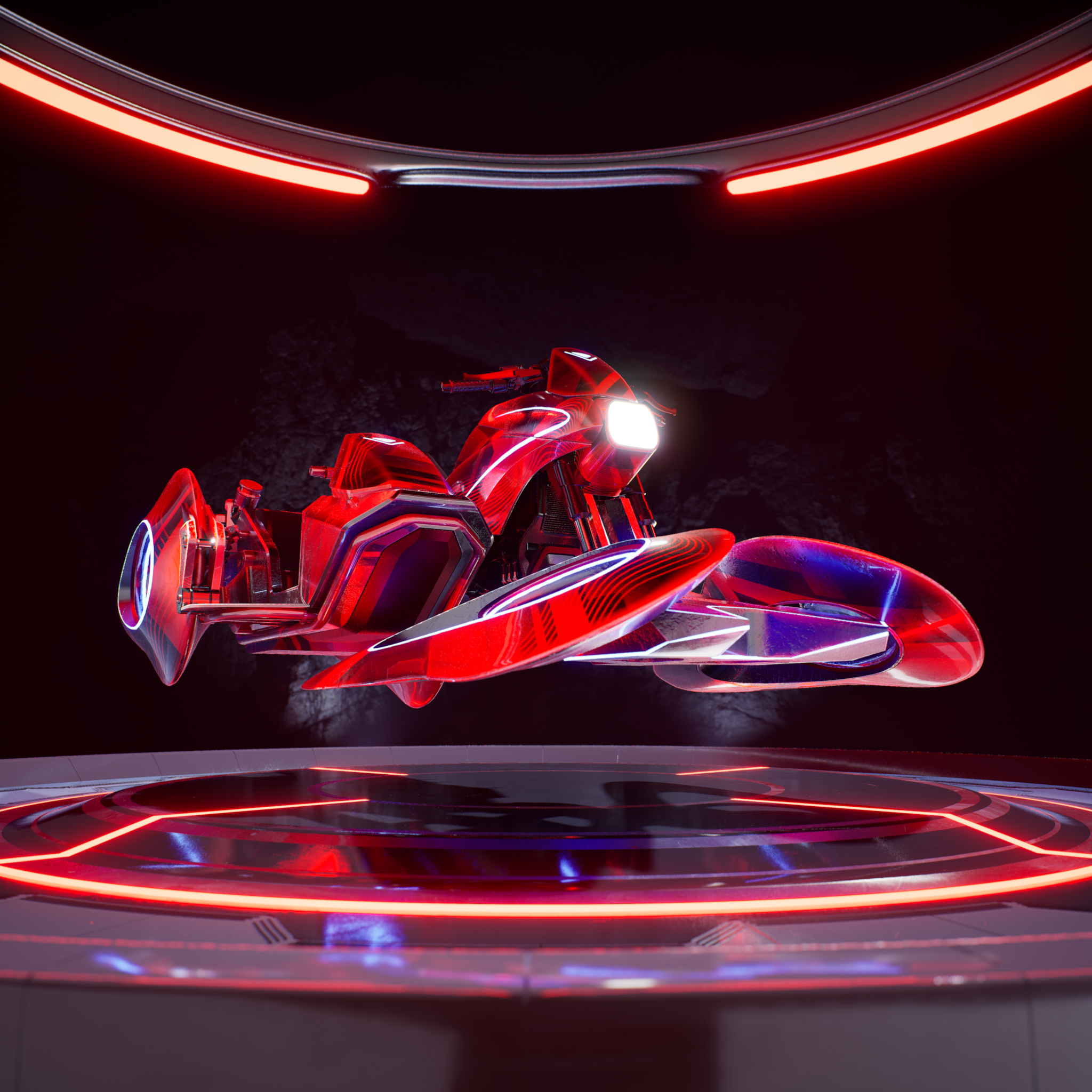 The primary goals of Proposal 0 are as follows:
18 wallets that previously did not hold a Wilder World NFT asset are holding a Moto Genesis NFT that was given away as a part of the Proposal 0 initiative at the end of three months (.7% increase of holder base).
Reduce the number of Motos within the Moto DAO (1,564) by 60
3 recipients of Motos go on to form a Trinity by December 31st, 2022
3 recipients of Motos purchase land in the Wiami land sale.
Progress will be open and transparent for Wilders to view in real time. Our target goals will be tracked at this LINK as Proposal 0 execution is carried out by Team Wilder.
---
Summary
Proposal 0 is a community outreach initiative that utilizes Wilder Motos from the Moto DAO as tools to open doors to previously untouched environments where the story of Wilder World can be told and the broader NFT space can become educated about our project.
This Proposal is designed to increase awareness of Wilder World in the NFT space, reduce the number of NFTs held in the Moto DAO, boost the project's cultural relevance, birth new relationships between Team Wilder and other outstanding Web3 projects, and bring forth new people and increased NFT demand into The Wilder Nation.
---
Abstract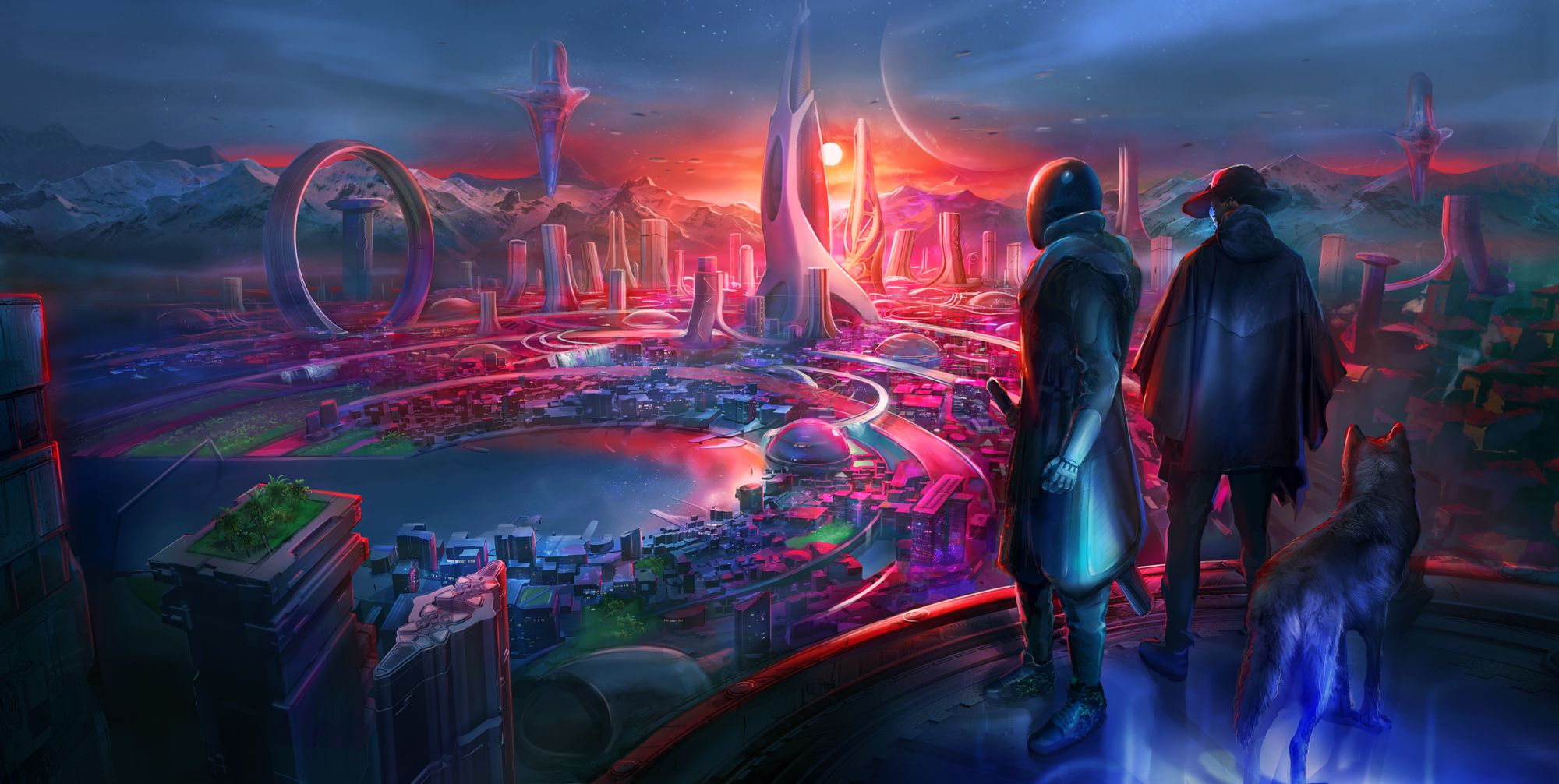 If passed by Moto holders, this proposal will greenlight Team Wilder to proceed with the actions described as follows.
To start, 23.5% (1,504) of the Moto Genesis Collection will remain in the Moto DAO, leaving room for future initiatives to utilize Motos to grow our community.
Then, in exchange for the opportunity to host social events like Twitter Spaces, Discord AMAs, etc. designed to educate people on Wilder World and cross-pollinate The Wilder Nation with other communities, Wilder Moto NFTs will be provided to targets for use in giveaways for their NFT holders, fans, followers, etc.
Between September 1st, 2022 and October 31st, 2022, 60 Motos will be given away to targets that fit into one of the following three descriptions:
Outstanding NFT project with notable cultural relevance
Well-respected NFT key opinion leader (KOL)
Popular NFT media outlets like regularly scheduled Twitter Spaces shows and podcasts that consistently demonstrate an ability to garner an audience over 1,000 people.
Potential targets will be initially filtered based on the following criteria:
NFT Project
Greater than 2,500 unique holders
Greater than 30,000 Twitter followers
KOL
Greater than 50,000 followers
Media Outlet
Based on sample week surveyed, maintains a daily audience of 1,000 people or more
The above criteria is a starting point for selection. If not enough projects within the described criteria agree to participate, Team Wilder will be flexible and find the best possible alternatives.
Once there is a clearly defined list of choices to pick from, qualitative aspects of each potential target will be considered. These could be questions like "Does the KOL maintain strong integrity in the NFT space?", "Does the NFT project have a strong, passionate community?", and "What type of people are typically in attendance for this media outlet's Twitter Spaces?".
The giveaways will bring in brand new Wilders to our project, further spread the reach of the Wilder Spirit, serve as foundational acts to build long lasting relationships across the Web3 industry, and heighten the cultural relevance of Wilder World.
There is no one size fits all for selection. Our goal is to cast a wide net and reach as much of NFT culture as possible with the available Motos.
We're taking everything that we've learned from our experiences and observations of the space to execute this strategy so that it has lasting benefits to Wilders and a noticeable positive impact on the project.
They will not be surface-level giveaways as typically seen in the NFT space where NFTs are handed over to influencers for a single Twitter post promoting the project. Education and building relationships between The Wilder Nation and other great communities and key well-respected individuals in the industry will be essential components of the rollout of Proposal 0.
There will be no middleman for NFT giveaways. The Wilder Moto NFTs will be directly transferred from Team Wilder to winners of the giveaways that target projects, media outlets, etc. run for their community.
❗
The rollout of Proposal 0 will be a fluid process. Our initial hypothesis is that co-hosting social events such as Twitter Spaces and Discord voice channel discussions with giveaway targets will provide the best opportunities to educate people about Wilder World and yield the best results in regards to our target goals. Each opportunity will vary in some way, and as such, we will be adapting the execution plan based on real time data, results, and new ideas that may surface (both internally and from the community) as time progresses.
Hypothetical Example 1
"UltraMega Avatar 0101" is an NFT project with 35,283 Twitter followers and 4,000 holders. Team Wilder reaches out to Team UltraMega Avatar 0101 to create plans for a social experience between the two projects' communities where knowledge about each can be spread to the audience. A joint hour-long Discord AMA is held with 30 minutes dedicated to discussing Wilder World. 5 Wilder Motos are allocated for use at the end of the experience for UltraMega Avatar 0101 to give to their newly educated community members. The gesture serves as an initial relationship building step between the projects, provides an invitation to join the Wilders on the road to the metaverse, and brings five new people into the Wilder ecosystem.
Hypothetical Example 2
"NFTfan369" runs a daily Twitter Spaces for late night degens at 11:00pm EST. The show averages 528 listeners per day. Team Wilder reaches out to NFTfan23 and offers 10 Motos for their audience in exchange for allowing a Team Wilder representative to speak about Wilder World for 45 minutes and educate the audience on the project. Some of their listeners join our Discord, learn about the project, and start buying Wilder NFTs off of secondary markets. They then bring up Wilder World in other Twitter Spaces they participate in long into the future.
In each hypothetical example provided and every real world future application of this outreach initiative, the theme remains consistent throughout: Wilder Motos being used as tools to raise awareness for Wilder World, ignite Web3 relationships, drive our project deep into the culture of NFTs, and bring fresh new holders into our community.

To generate a target percentage increase of unique holder count, we must consider that some recipients will list their Motos for sale. If 50% of recipients hold onto their Motos, our unique holder count will increase by 1%. This perspective is the reason we've chosen .7% as our target increase in unique holders.
Motivation
Proposal 0 aims to solve three primary challenges.
Wilder NFT unique wallet holder count
Wilder world Web3 cultural relevance
There are too many Moto NFTs in the Moto DAO

Wiami Needs Citizens to Fill the Nation
Today there are an estimated 2,656 unique wallet holders of Wilder NFT assets.
As an organization building a massive metaverse platform (Wiami alone is 13.5x the size of Grand Theft Auto 5), we have a much higher need for holders than a typical NFT project!
With that in mind, becoming an industry leader of holder count is the primary objective of multiple initiatives that our team will be rolling out over the remainder of 2022.
Go Forth and Spread the Wilder Spirit
Our team has found through industry observations and research that it would be advantageous to Wilder World for us to be more extroverted as an organization. It is our belief that running activations to penetrate the NFT culture through increased brand awareness and education, building more relationships with other projects, and higher participation in social settings will be highly beneficial to the project, especially leading into our land sale.

As Wilders, we want to lead the current Web3 industry into the metaverse and bring other projects with us as we transcend into the new dimension of reality. Proposal 0 will serve as an initial touchpoint with projects at a level lower than an official partnership with room to grow into a long term relationship. It will also generate opportunities for our community to engage with non-Wilders and get more active in the broader NFT ecosystem as new friendships form. A more extroverted Wilder Nation is one that we believe will contribute to hosting more Wiami citizens on launch day and a more diverse population of Wilders.

Locked Up
A sizable portion of the Genesis Moto Collection is stowed away. As it currently stands, the DAO holds 24% (1,564) of the collection.
This results in:
Reduced ability for new people to enter The Wilder Nation
1,564 Moto sitting idle in the DAO instead of serving a higher purpose for the greater good of all Wilder citizens
A barrier to entry for new people who see a high % of the Moto Collection held in one wallet and view it as a red flag
Our team has interviewed NFT influencers and traders who have expressed that maintaining a high concentration of collection assets within one wallet (in Moto's case, the DAO) is a red flag that they intentionally avoid. In the Moto Industry's case, currently holding 24% of the NFTs in one wallet is a reflection of this concern.
To increase the strength of the Moto DAO, it is important to reduce the number of Motos held by the DAO to closer align with other Wilder industry DAOs (numbers vary, but all hold close to 10% of their collection). In doing so, the described investor barrier to entry will be resolved, there will be more opportunity for new Wilders to join the project, and the NFTs can be used to carry out the vision of Proposal 0.
Execution Timeline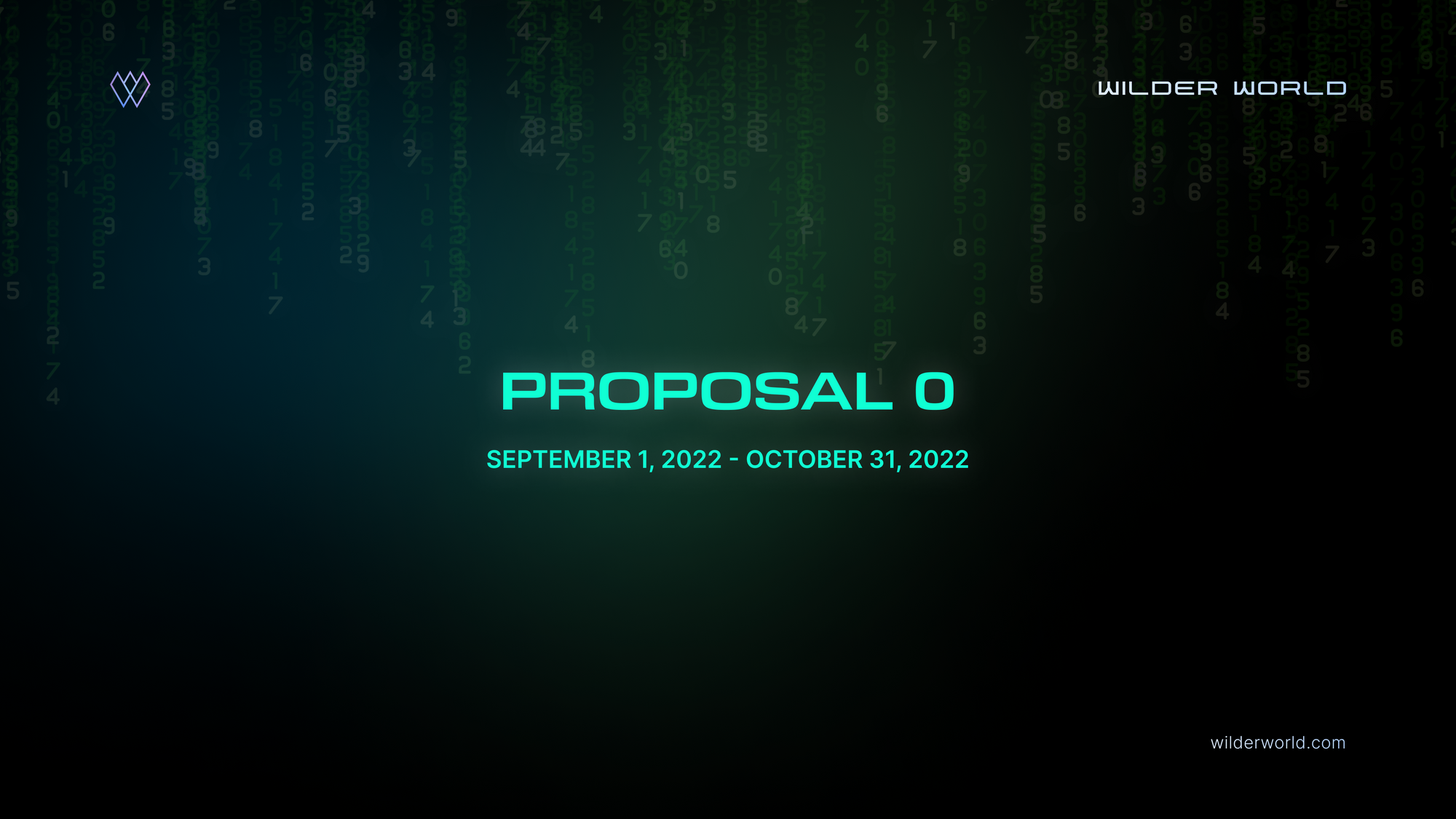 Proposal 0 will be executed across a 60 day timeline between September 1st, 2022 and October 31st, 2022
Assets Requested
60 Wilder Moto NFTs currently held in the Wilder Moto Industry DAO
Gas fees needed to transfer Wilder Moto NFTs to recipients
The type of Motos allocated for giveaways will be reflective of each model's % of the total Genesis Collection. You may view the model rarity in the Moto Rarity and Utility Zine.
With this standard in place, the requested Moto breakdown is as follows:
34 Cruisers (56%)
15 Sport (24%)
9 Exotic (15%)
2 Hover (4%)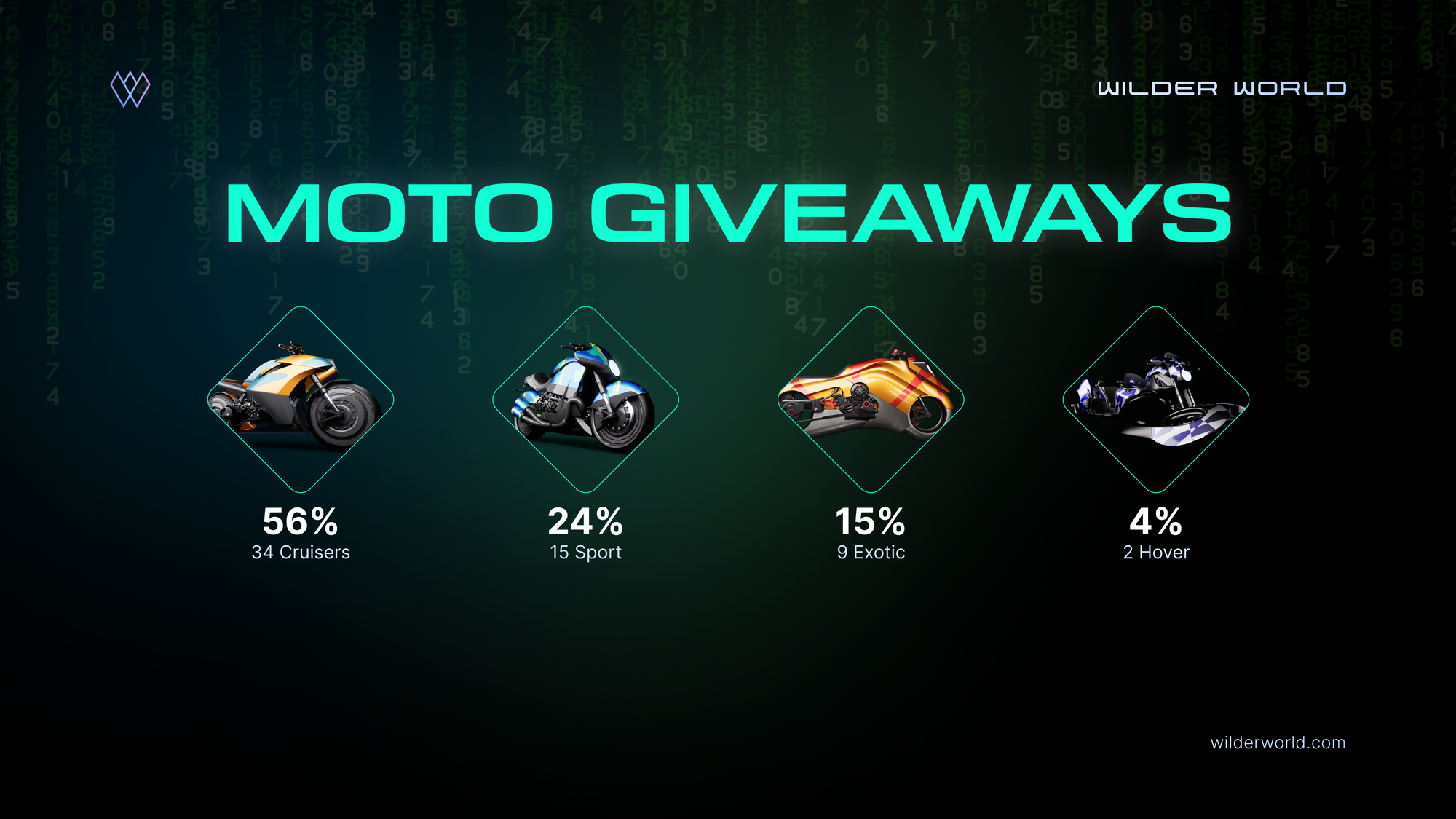 Benefits
Generate new demand for Wilder NFTs
Expand The Wilder Nation with new holders
Generate higher trading volume of Moto NFTs and increase the Moto DAO treasury balance through royalties made on each sale
Form new relationships with other Web3 projects, KOLs, and media outlets
Decrease the supply of Motos held within the Moto DAO
Drawbacks
The additional supply of Wilder Motos in circulation could potentially negatively impact the short-term floor price of Wilder Motos if they are sold by recipients
The Moto treasury loses value that is derived from its Moto NFT holdings
Vote
Voting will go live August 19th (10:00am PDT) and conclude August 26th (10:00am PDT).
A vote against Proposal 0 means voting to leave all Motos currently held by the Moto DAO within the DAO.
A vote for Proposal 0 is a vote to enable Team Wilder to utilize 60 of the Moto DAO's Moto NFTs to execute Proposal 0.
How to Vote
Wilders must own a Wilder Moto Genesis NFT to participate in the voting process for Proposal 0. If you haven't yet secured the newest iteration of 5D speed, head over to OpenSea or WWMM to secure your Motos.
🏍️
Wilders must own a Moto BEFORE Proposal 0 goes live on August 5th in order to participate.
Each Moto held by Wilders will equate to one vote for the Proposal.
To vote, first head over to the Wilder Moto "Proposals" section of WWMM HERE.
The voting process Wilders will follow is showcased in the video below:

---
FAQ
What is the Purpose of Proposal 0?
Proposal 0 is a community expansion initiative. Its primary purpose is to increase the number of Wilder NFT holders. The Proposal maintains the following primary goals:
18 wallets that previously did not hold a Wilder World NFT asset are holding a Moto Genesis NFT that was given away as a part of the Proposal 0 initiative at the end of three months (.7% increase of holder base).
Reduce the number of Motos within the Moto DAO (1,564) by 60
3 recipients of Motos go on to form a Trinity by December 31st, 2022
3 recipients of Motos purchase land in the Wiami land sale.
Where do I Go to Vote for Proposal 0?
Navigate to this page for voting: https://app.wilderworld.com/dao/wilder.moto/proposals
Is Proposal 0 the Only Initiative in the Works to Expand the Number of Unique Wilder NFT Holders?
No! Our team has been working on a number of incredible initiatives that focus on community growth. Proposal 0 is just the beginning, there's much more in store over the remainder of the year!
What are the Token Requirements for Voting on Proposal 0?
Wilders must own a Wilder Moto BEFORE the proposal goes live in order to participate in the vote.
Will Motos held in the Wheels DAO be used to vote in Proposal 0?
No they will not.
How do I Vote?
Please read our Zine and head to the "How to Vote" section.
How many Votes do I Get?
Wilders get one vote per Moto that they own prior to the launch of the proposal in question.
What's next for zDAO?
We are at the very beginning of a 90 day zDAO experimentation phase for Moto holders to participate in. There's more to come, stay tuned for our next announcement!
---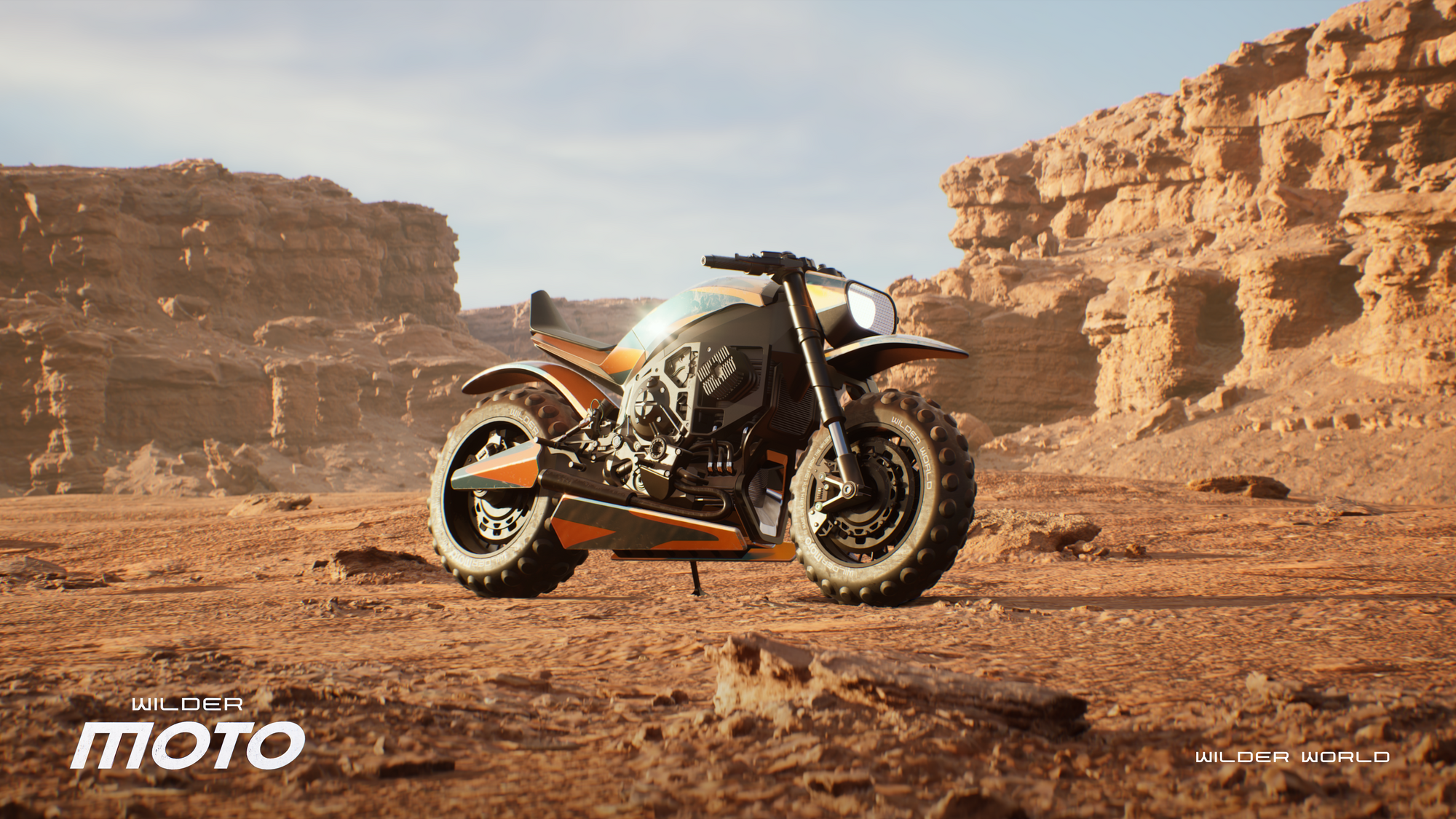 Successfully implementing growth strategies like Proposal 0 are our primary objective as we head into the latter chapters of 2022 and Wiami Land Sale.
We look forward to the completion of voting and hope to get started right away with executing the vision!
The Wilders Salute You.
MEOW