Metaverse
Wilder Roadmap Update: Activate QUANTUM MEOW MODE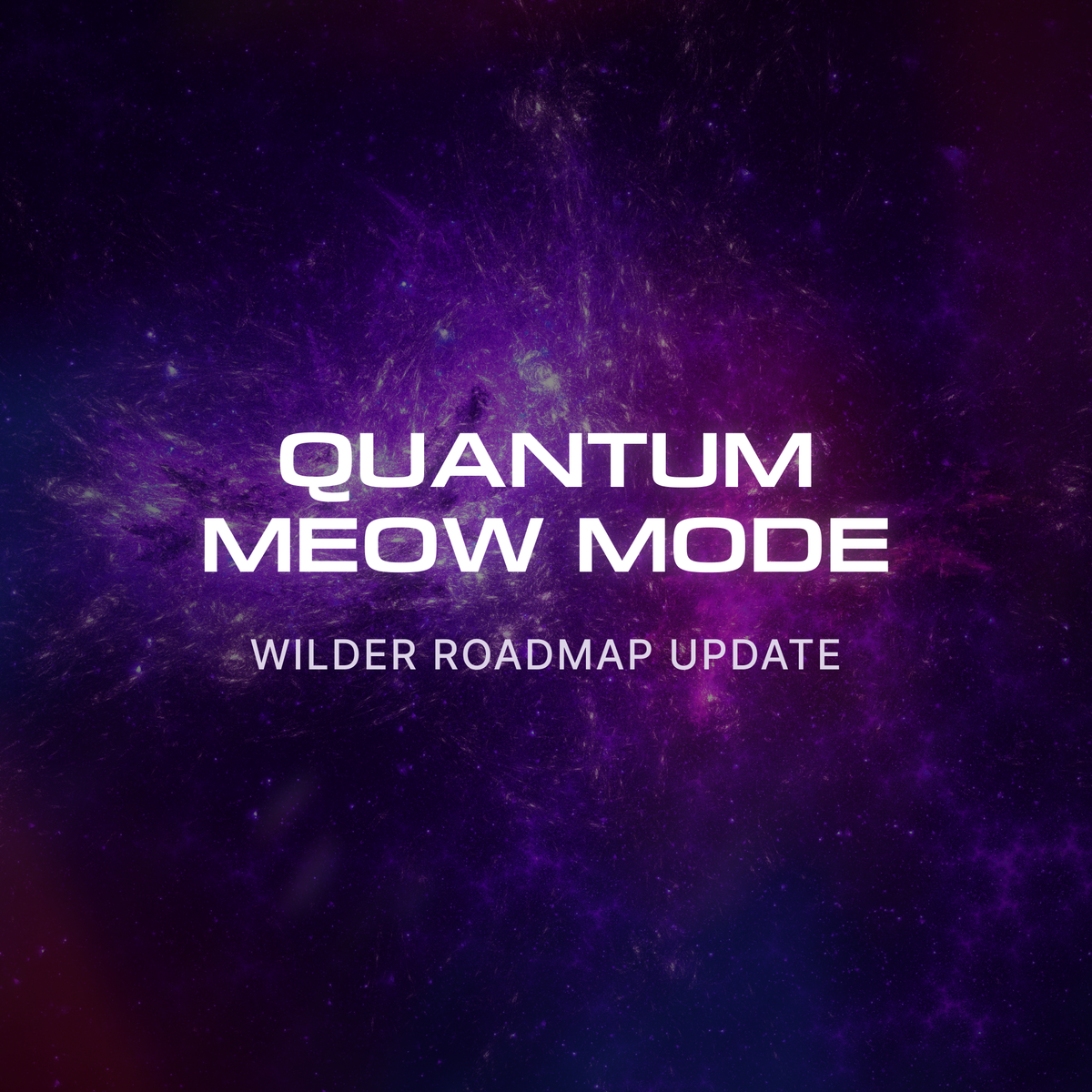 Time flies when you are having as much fun as we do in the Wilder Nation. It's been barely three months since we launched our Wilder World Tour 2021 - The Road To The Metaverse and what a $WILD ride it has been.
We are super proud of the team for executing on a number of roadmap initiatives that have added immense value to our project and our token holders, including the launch of the $LOOT Token, WW Metaverse Market, WOW, Wilder Wheels, Wilder Concept Studio, Wilder Artist Guild and AIR WILD Kicks Season ZERO to name a few.
As we like to say around the ZERO chat rooms, a day in the cryptoverse is like a year in the real world. That's why we are bringing the heat with a revamped roadmap to align with how our strategy has evolved to meet community demands and to stay fresh, MEOW.
The Wilders hereby evoke the Wilder Spirit to give us strength, vitality, and quantum capabilities to co-manifest the Wildest set of Wilder objectives yet. We will need the support of all Wilders, far and wide, in order to shift the timeline appropriately. To maintain QUANTUM flexibility, we have decided to share the sequence of events without sharing key dates. Below is a list of the ambitious product drops we aim to deliver before the end of this year:
Wilder.Cribs
A rare opportunity to own a piece of the 5D Metaverse, a place to call home with the first property sales of its kind in Wilder World. Cribs will be released via a whitelist raffle, offering Wilders the opportunity to collect the first condos and penthouses in Wiami.
AIR WILD Season #1
The second release of AIR WILD Kicks. Fully wearable in-game Metaverse ready NFT sneakers created in collaboration with 5D artist and visionary Chad Knight.
ZERO Token
We will be launching the $ZERO Token to the Ethereum mainnet. ZERO is our sister organization and the primary set of protocols / layer 2 infrastructure that Wilder World is built on. For more information please check out zero.tech.
ZERO QDO
We promised we would reward those Wilders who bought $WILD early and HODL'd, irrespective of market conditions. With the launch of $ZERO Token we will deliver on this promise delivering the bounty to those who believed in our long-term vision. More info here.
Wilder.Crafts
Vehicles will continue to play a prominent role in Wilder World's major industries and Wilder.Crafts is no exception, there's definitely something in the air in Wiami.
$WILD Staking
Wilders will be able to participate in staking pools to earn rewards for HODL'ing their $WILD. This has been one of the most requested features from the Wilder Nation and will also pave the way for launching industry staking (Wheels, Kicks, etc.) early next year.
Wilder.Pets
The first collection of Wilder.Pets is a series of procedurally generated 5D 1 of 1 NFT Pets that all come with a unique PFP and have dynamic in-game attributes.
AIR WILD Season #2
The third release of AIR WILD Kicks. Fully wearable in-game Metaverse ready NFT sneakers created in collaboration with 5D artist and newly minted virtual sneaker king, Pet Liger.
Wilder Cinematic Trailer
We never miss a good opportunity to display our team's creative prowess and get the Wilder Nation excited about what's to come, plus we have not dropped a cinematic masterpiece since we launched the project.
Wilder.Wheels Phase 3
The next bracket of Wheels is ready to move off the Wiami automotive assembly line at 0.738 ETH that will have 1x staking abilities.
New ZERO iOS App
We have been making significant improvements to our ZERO iOS app and will be unveiling a new user interface as well as several major improvements.
Wiami Wheels Alpha (invite-only)
Play to Earn (P2E) is a key part of Wilder World, which can be engaged through various micro games. The first micro game will be racing for pink slips using our Wilder Wheels NFTs... think GTA with real stakes on the line and less violence!
We know it's a lot to execute on but with our communities continued support and the Wilder Spirit in-tow, we can accomplish anything together.
The Wilders salute you.